Mark Miller Subaru Mission Statement-
Our mission is to treat both customers and employees like family to ensure that every transaction is filled with satisfaction, honesty, and integrity;and to set ourselves apart from other automotive dealers as having a transparent and fair process in all of our business practices.
Mark Miller Subaru Vision-
Our vision is to be the best automotive operation in the industry, where we can ensure customer expectations are exceeded, where people look forward to their experience with us; and where business practices are transparent and ethical.
WE BELIEVE that we cannot afford to have a single dissatisfied customer.
WE BELIEVE that if we endeavor to treat people fairly and with respect, our business will prosper.  We as owners must treat our employees this way, and our employees will reflect this treatment to our customers.
WE BELIEVE that hard work and dedication will be rewarded.  If you put forth the effort sooner or later, the benefit of your labor will surface.
WE BELIEVE that it is our responsibility to give you the opportunity to excel and when we succeed, you will share in the fruits of our labor.
WE BELIEVE that work should be enjoyable.  In order to achieve your true potential you must enjoy what you are doing.  It is our responsibility to provide the proper atmosphere for this enjoyment.
WE BELIEVE that the only constant in our business is change.  We will never reach our peak, we must constantly move our goals forward; and we must never relax.  If we aren't moving forward, we are moving backward. 
WE BELIEVE in doing good works in the community and doing all that we can to make the world a better place through charitable works and ethical business practices.
Our business depends on each and every person that is employed here.  By doing everything in our power to satisfy our customers, our success in the future will be guaranteed.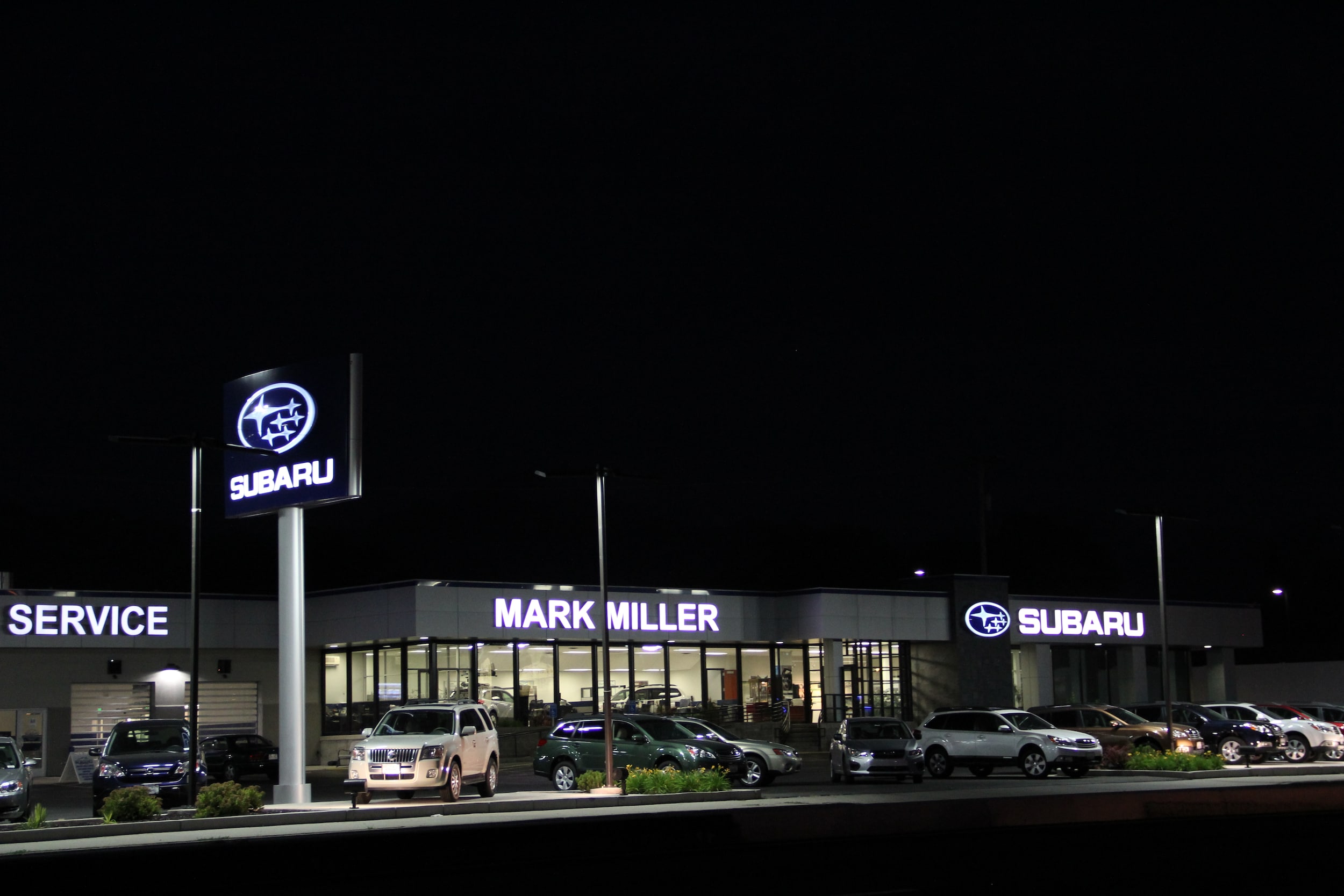 History-

Our business began in 1953 as a Pontiac/Cadillac dealership located at 4919 South State Street in Murray. Started by Laury Miller, the dealership later added GMC trucks and eventually Rambler. The company remained at that location until the fall of 1967, when it moved into its current facility at 3535 South State Street.



In 1971, the dealership took on Subaru, a small company which was importing a new front-wheel drive car from Japan. Also in 1971, Laury's son Mark joined the company on a full time basis. Having worked in the Service, Parts, and Used Car Departments

, he had just completed his first year as a salesperson and in January, 1971 started his duties as the dealership's Accounting Manager.



In July of 1975, Laury and Mark signed a buy-sell agreement which was completed in November of 1976. On December 1st of 1976, Mark was awarded the Pontiac and Subaru franchises and became one of the youngest General Motors dealers in the country.



In 1985, the decision was made to separate into its own corporation and facility, and in May of that year, Mark Miller Subaru opened at its location at 3734 South State Street. At that time, Glen Krinke, who had been the General Sales Manager at the main dealership, was promoted to General Manager and took over the day-to-day operations of the Subaru Dealership. In December of 1985, Steve McIntyre was promoted to General Manager of Mark Miller Pontiac.



In April of 1990, Mark purchased a Toyota dealership in downtown

 

Salt Lake City. Mark Miller Toyota opened on April 13th, 1990.

In November of 2009 Mark purchased a second Subaru dealership in Sandy, Utah. Mark Miller Subaru South Towne opened on November 2nd, 2009.

On behalf of our staff, thank you for visiting us on the Web, and giving us an opportunity to aquaint you with our dealership.It is our personal committment to see that your expectations are not only met....but exceeded!

It's what makes

 

Mark Miller Subaru

 

the best Subaru Dealer in the state of Utah!


Best wishes,
Mark Miller
Owner           

 
Mark Miller Subaru
Jeff Miller
General Manager
Mark Miller Subaru
Midtown & South Towne

About Mark Miller Subaru Midtown - Your Salt Lake City Subaru & Used Car Dealer
At Mark Miller Subaru Midtown we offer new Subaru cars in Salt Lake City, along with used cars, used trucks and used SUVs by top manufacturers. Our sales staff will help you find that new or used car you have been searching for in Salt Lake City, or nearby Provo, Sandy, Park City and Murray.
Mark Miller Subaru Midtown is not just a good choice as your Salt Lake City Subaru dealership, we also provide a full line of services dedicated to our Utah customers. From Subaru repair  performed by expert mechanics, to OEM Subaru auto parts , and from car loan assistance to auto body repair, Mark Miller Subaru Midtown is the smart choice for your next vehicle, and all your automotive needs.
You can reach Mark Miller Subaru Midtown any time by filling out our contact form, by calling us at 888-953-2288, or by visiting our Salt Lake City Subaru dealership at 3535 South State Street, Salt Lake City, UT.