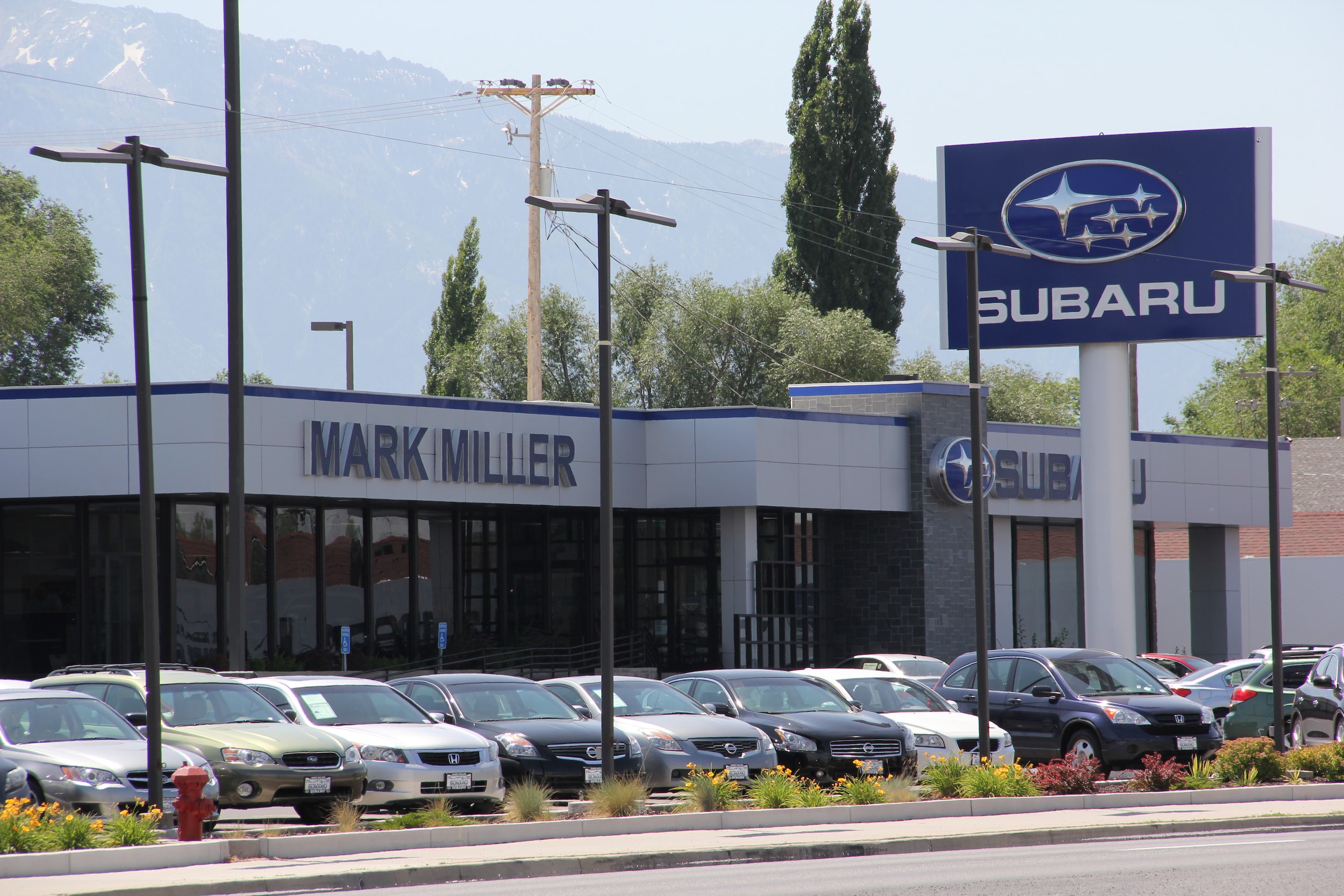 Brand New Subaru Cars, SUVs & Crossovers for Sale at Our Salt Lake City Dealership
Most drivers these days don't just want a car, they want a powerful, safe and comfortable driving experience and the Subaru brand has been there to meet the demand. For decades now, here in Salt Lake City, lots of Utah residents have come to Mark Miller Subaru Midtown over other dealerships in Utah because of our knowledge and expertise on the Subaru Brand as well as our commitment to bringing our customers top-notch service to find them the right Subaru model that they can be proud of. So, come see for yourself and take a look at our 2018 Subaru models for sale in Salt Lake City.




Subaru Forester
If you're looking into a new mid-sized SUV, consider the versatility of the 2018 Subaru Forester for sale in Salt Lake City. No matter where you go, no matter what you carry with you, the Subaru Forester has your back with up to 103.3 cubic feet of passenger volume and 69 cubic feet of maximum cargo space. Whether you're taking the family out kayaking on the Great Salt Lake or just making a grocery store run the Subaru Forester mid-sized SUV is with you every step of the way.




Subaru Outback
For an SUV with a more classic look, check out the Subaru Outback Here at Mark Miller Subaru Midtown. This is the classic Subaru wagon that does more than your average SUV thanks to its 2,700-pound maximum towing capacity and 73 cubic feet of cargo space. Check out all the available trims and packages for this SUV, such as the Subaru Outback 2.5i Limited, which gives this SUV upgrades like premium leather upholstery, dual zone climate control, a power moonroof and heated front and rear seats.




Subaru Crosstrek
What happens when you combine the efficiency of a sedan with the aesthetics and durability of an SUV? You get the 2018 Subaru Crosstrek, which combines elements from the Subaru Impreza with the looks and abilities of an SUV for a one-of-a-kind crossover SUV that you can enjoy on or off the road in Salt Lake CIty. The engine of the Subaru Crosstrek is capable of 27 miles per gallon in the city and 33 miles per gallon on the highway, making the drive to Kings Peak a lot easier with fewer stops at the pump along the way.




Subaru Impreza
Check out the sedan and hatchback that inspire greatness: the 2018 Subaru Impreza. This comfortable sedan is capable of 28 miles per gallon in the city and 37 miles per gallon on the highway, plus it's drivetrain comes available in automatic or manual transmission. If you need a bit more space in your sedan, then take a look at the Impreza five-door hatchback with up to 55 cubic feet of cargo space. Whether you're camping on Mount Olympus or just making a grocery store run, you'll have all the space you'll need for wherever life brings you!




Subaru Legacy
All Subaru models here in Salt Lake City are available in a wide variety of trims and packages; the Subaru Legacy is no exception. The Legacy combines a powerful engine, fuel efficiency and luxurious comfort into one elegant sedan. Check out all that the different trims of this sedan have to offer, like the Legacy 2.5i Limited 50th Anniversary edition, for sale here in Salt Lake City. The Legacy 50th Anniversary Edition gives you this same elegant SUV, but with added bonus features such as SiriusXM Satellite Radio, a blind spot sensor, and rear collision warning.




Subaru WRX
While our sedans and SUVs for sale have exceptional powertrain capabilities, we also have an inventory of exceptional sports cars, ready for people who want to kick it up a notch, like the Subaru WRX. This high-performance sports sedan can coast throughout Utah and beyond with it's 268 horsepower engine and turbocharger for any fun-filled joy ride. With electronic stability and Symmetrical All-Wheel Drive, you'll be able to maintain total control over the handling as you glide through sharp turns on the racetrack.




Subaru BRZ
The Subaru BRZ is the top-of-the-line sports car for all the most knowledgeable car enthusiasts out there. It might not be for everyone, but if you're an aficionado of all things fast, then you'll appreciate the power of the Subaru BRZ. The Subaru BRZ is our only sports car with rear-wheel drive; if you know cars well enough, then you know about the advantages of rear wheel drive and its ability to improve traction and handling. With its low center of gravity, sport-tuned suspension and quick-ratio steering, this is the car that satisfies your need for speed.




The 2019 Subaru Ascent
Coming soon to your driveway is the 2019 Subaru Ascent, the full-sized SUV that's ready to take your family wherever you need to go with its third-row seating and capacity for up to eight passengers. The Subaru Ascent is built to last with high-strength steel that's rigid and resistant to vibration. Your Utah driving experience is made all the more exciting with the standard X-MODE drivetrain that utilizes the Symmetrical All-Wheel Drive system for optimal traction on any terrain. This impressive new SUV won't be available until next year, but you can reserve a 2019 Subaru Ascent of your own today here at Mark Miller Subaru Midtown.

Click here to check out our current selection of Subaru vehicles!


Get the Most for Your Money Here in Salt Lake City
Whether you're financing or leasing an all-new Subaru model, we have the Subaru coupons here for you at our specials page. We're also offering Subaru coupons for our service center, for when your all-new Subaru model is in need of maintenance. Then, come test drive any of the all-new Subaru models in our inventory and find the right sedan, hatchback, SUV or sports car for your future! We're conveniently located in Salt Lake City, Utah and our sales team is standing by to answer any questions you might have! See you soon!