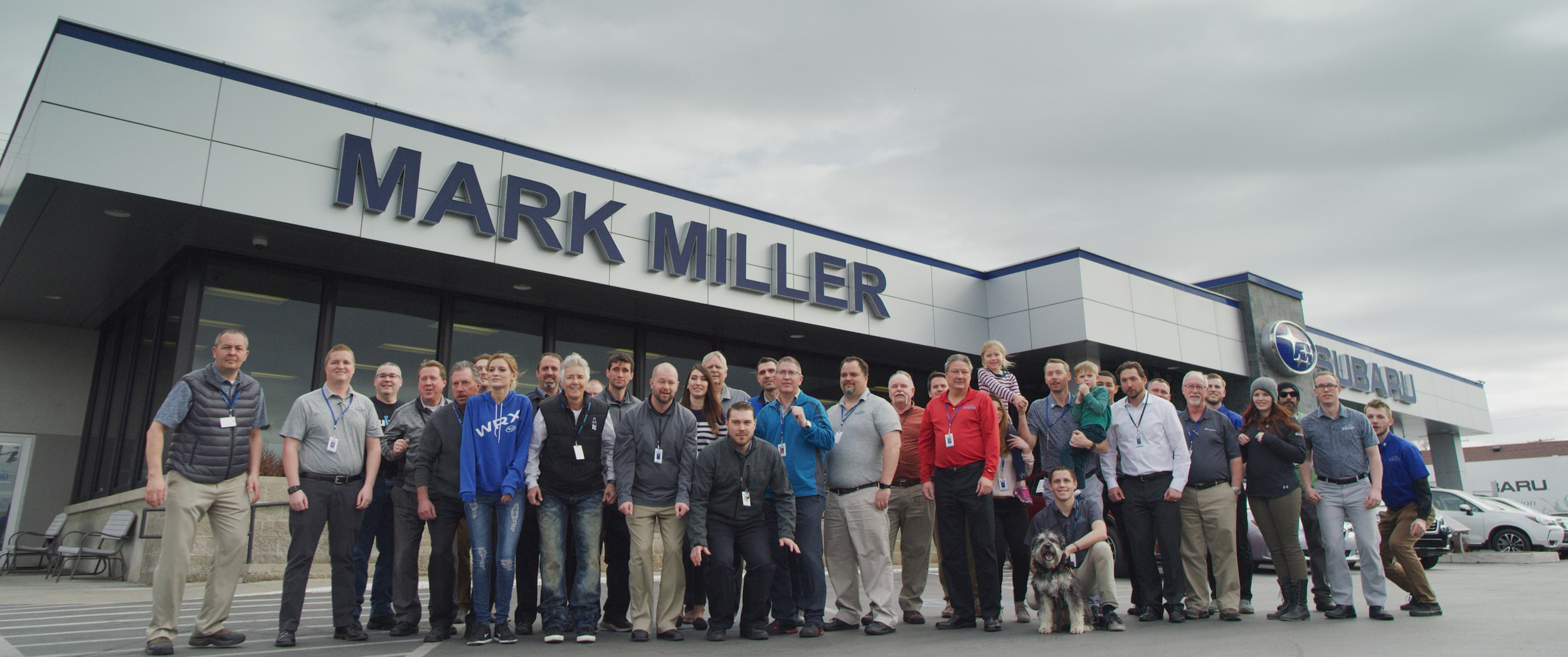 History of Mark Miller Subaru
The Miller family has been in the automotive industry since the 1930s, starting a family business that has been handed down for multiple generations. The current iteration of Mark Miller Subaru started in 1971 and continues to proudly serve the communities along the Wasatch Front and throughout Utah.
Mark Miller Subaru is now in the fourth generation of family ownership, led by General Manager and Chief Executive Officer Jeff Miller, a legacy and title only 3% of family business owners have achieved (according to 
Harvard Business Review
).
On behalf of the Mark Miller Subaru staff, thank you for visiting our website and giving us an opportunity to acquaint you with our retailer locations. It is our personal commitment to see that your expectations are not only met but exceeded! It's what makes Mark Miller Subaru the best Subaru Dealer in the state of Utah!
Timeline
1953 - Our business began as a Pontiac/Cadillac dealership located at 4919 South State Street in Murray. Started by Laury Miller, the dealership later added GMC trucks and eventually Rambler.
1967 - The company moved into its current facility at 3535 South State Street.
1971 

- The dealership took on Subaru, a small company which was importing a new front-wheel drive car from Japan. Also in 1971, Laury's son Mark joined the company on a full time basis. Having worked in the Service, Parts, and Used Car Departments, he had just completed his first year as a salesperson, and in January 1971 he started his duties as the dealership's Accounting Manager.

1976 - Laury and Mark completed a buy-sell agreement, awarding Mark the Pontiac and Subaru franchises and making him one of the youngest General Motors dealers in the country at that time.
1990 - Mark purchased a Toyota dealership, opening Mark Miller Toyota on April 13, 1990.
2009 - Mark purchased a second Subaru dealership in Sandy, Utah, opening Mark Miller Subaru South Towne on November 2, 2009.
2018 - In recognition of excellence in customer experience and extraordinary commitment to our community, Mark Miller Subaru received the coveted honor of being awarded Subaru's Love Promise Retailer of the Year Award.
2020 

- 

After acting as General Manager for 8 years of both Mark Miller Subaru Midtown and South Towne retailers, Jeff Miller officially purchased the two stores from Mark on May 1, 2020, marking the milestone of the fourth generation family business. Click here to read the full "Passing the Torch" transition story.
---
Searching For A High Quality Vehicle? Join the Subaru Family
When looking for a new or used vehicle in South Salt Lake, every shopper looks for different features. Some are all about performance, while others are looking for fuel-efficient vehicle. Some drivers are all about price and interior space. Regardless of what are looking for in a vehicle, you'll get all of the above when you join the Subaru family. Pat us a visit at our Salt Lake City area dealership and check out our large inventory of new and used Subaru vehicles.
Dealership Overview
We have a really nice selection of used and new Subaru vehicles, which include cars and SUVs. We may not have every model of used Subaru's you want to see, but we have many. Our inventory of new Subaru vehicles includes the following:
Subaru WRX 
Subaru BRZ
Subaru Legacy 
Subaru Impreza 
Subaru Crosstrek 
Subaru Forester 
Subaru Outback 
Subaru Ascent 
Customer Service 
We have a great reputation for not only selling high value vehicles but also offering great customer service. We're there to assist you with every step of the car buying process, from choosing a vehicle, getting credit checks and obtaining financing. We also service our Subaru vehicles as well. When servicing them, we use genuine Subaru parts, and we have a very large parts department.
Visit Us Near Park City
The best way to find the Subaru that best fits your needs is to visit our South Salt Lake showroom. Come see the extensive stock of new and used vehicles of all makes and models! Mark Miller Subaru is here to make sure you get the right car for your needs. If time is an issue check out our online express store and get started before you come! Once you've narrowed down your search, contact us in South Salt Lake, and we can get you rolling in your new car!