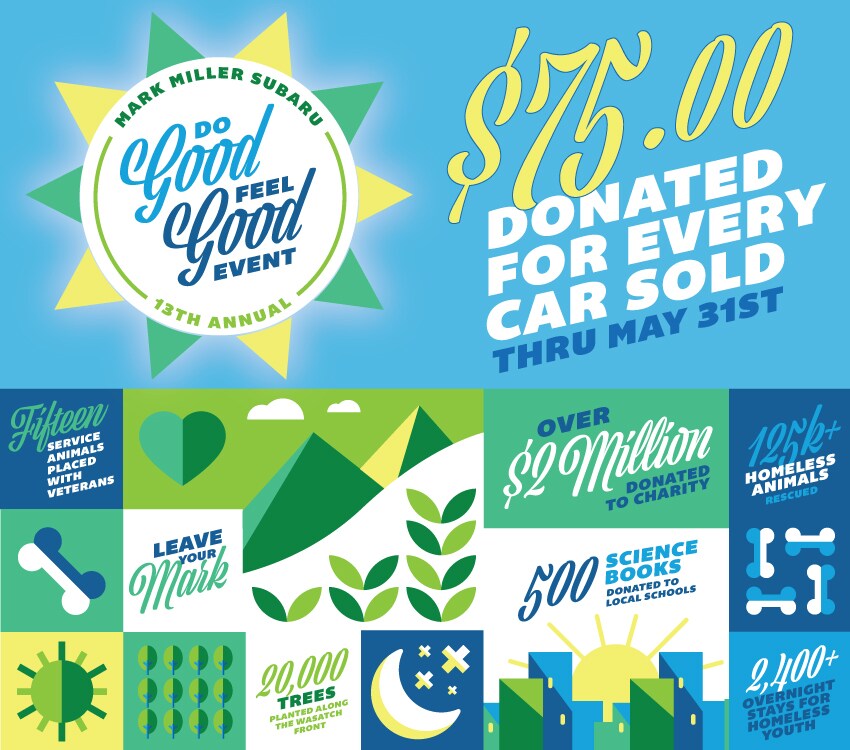 Mark Miller Subaru is thrilled to announce its 13th annual Do Good Feel Good event! Now through the end of May, Mark Miller Subaru will donate $75.00 to charity for every new or used car sold! With your help, Mark Miller Subaru has donated more than $2.6 million dollars to local charity! It feels good to do good!
---
2021 Impreza Giveaway
To celebrate our 13th annual Do Good Feel Good event, Mark Miller Subaru is giving away a 3 year lease on a 2021 Subaru Impreza, plus a $1,500.00 Mark Miller Design credit to help you customize your dream Subie. Mark Miller Design can help you create your perfect Impreza with roof racks, car top carrier, lift kit, or whatever your heart desires.
Listen to the Mix 105.1 Jon & Chantel Morning Show or visit the Mix 105.1 website for your chance to register. Once registered, we will narrow down all submissions to 105 qualifiers who will join us at our Community Day on June 19th, and then narrow down our qualifiers one more time to 15 individuals (including the Golden Key winners) who will receive keys to try and win the Subaru Impreza.  Keep reading for more information on how to win a Golden Key!
**Mark Miller Subaru employees and their direct family members are not eligible to win**
____________________________________
"Heart MARKS the Spot" Golden Key
Riddle Me This: To open a door you can knock or use this item to unlock.
Our Golden Key riddles will take place on Facebook and Instagram accounts. We highly recommend you follow us @mmsubaru and turn on notifications for posts, live videos, stories, IGTV.
Think you have what it takes to crack our riddles and find a Golden Key for your chance to win our Impreza giveaway?  During the month of May, visit us on Facebook or Instagram each Monday at 5pm to view our weekly riddle that will lead you to a Golden Key.  These special keys will be hidden in places throughout Salt Lake City, and you'll need to crack the riddle to find the key.  If you find the key, you're automatically added to the final group of 15 to try their shot at winning the Subaru Impreza on June 19!!
When the key is found, we'll announce it on our social accounts. To receive an extra hint, post our riddle to your Facebook or Instagram story and tag us @mmsubaru -- we'll DM you the hint. If the key is not found by Wednesday at noon, we will start releasing hints on our Facebook and Instagram accounts (search stories, posts, lives, etc) to help lead you to the key. Post your search on your social stories tagging @mmsubaru and we will drop you a fire emoji or ice emoji letting you know if you're close or not.  Question? DM us.  Good luck!
---
Social Voting Contest
Help your favorite charity partner win $1,500.00!! During the month of May, visit our Facebook voting page to vote for your favorite of our seven Love Promise charity partners. The top three charity partners with the most votes at the end of the contest will win a cash donation prize from Mark Miller Subaru (1st place: $1,500.00, 2nd place: $1,000.00, 3rd place: $500).
Voters are Winners -- Each week we will select a random voter to win a special prize as our way of saying 'thank you' for supporting our charity partners ($50 Maverick gas card, tickets to Hale Centre Theatre, Megaplex gift basket, and more)!
---
Meet Our Love Promise Charity Partners
Summit Land Conservancy

Summit Land Conservancy is the only nonprofit dedicated to saving the open spaces of Park City and the Wasatch Back by protecting local landscapes, including 42 permanent conservation easements on 6,992 acres of land, and 5,000+ acres in the works.

   
Big Brothers Big Sisters of Utah

Big Brothers Big Sisters of Utah works to create and support one-to-one mentoring relationships that ignite the power and promise of youth. Every child has the innate ability to achieve great success given the resources and opportunity.

  

Street Dawg Crew of Utah

Street Dawg Crew of Utah serves the pets and pet owners of the homeless community and other vulnerable and low-income populations by providing pet food, supplies and medical care, promoting positive and responsible pet ownership, and providing information on low-cost pet resources.


 
 

Fit To Recover

Fit to Recover offers a safe place for people recovering from substance misuse disorder to connect with others through fitness, nutrition, creative expression, and community service projects.



Discovery Gateway

Discovery Gateway inspires children of all ages and abilities to imagine, discover, and connect with their world to make a difference. Exhibits and daily programs offer visitors hours of interactive learning, and science outreach programs travel to school districts throughout the state to take informal learning into classrooms.


 

 


The Malinios Foundation

The Malinois Foundation provides service dogs and training to Veterans and Americans in need with both physical and/or mental impairments. Through their efforts, they aim to educate communities to the importance and effectiveness of service animals.


Westminster College

Westminster is a private, non-profit, accredited, and comprehensive liberal arts college in Salt Lake City, Utah. The Office of Diversity, Equity & Inclusion assists the Westminster College community in creating a healthy and inclusive campus and culture.

Make an Inquiry
Hours
Monday

09:00am - 08:00pm

Tuesday

09:00am - 08:00pm

Wednesday

09:00am - 08:00pm

Thursday

09:00am - 08:00pm

Friday

09:00am - 08:00pm

Saturday

09:00am - 07:00pm

Sunday

Closed