Mark Miller Subaru In The News
Cox Automotive Presents 2023 Leader in Sustainability Award to Mark Miller Subaru
Mark Miller Subaru is honored to be presented with the Cox Automotive annual Leader in Sustainability Award.
This award recognizes a dealership for outstanding in-dealership sustainability programs related to waste reduction, energy, or water conservation focused on innovation, creativity, and engagement with its employees and the community. Since 2010 Mark Miller Subaru has donated over $3.2 million to charity to help people, pets, and the planet. As the first dealership in Utah to be certified in the Subaru Eco-Friendly Retailer Program, here at Mark Miller Subaru, we are dedicated to promoting green business practices and making a difference through community service.
At Mark Miller Subaru, we understand that being environmentally friendly is not just a trend; it's a way of life. That's why our two Subaru dealerships are solar-powered and have highly efficient water reclamation systems. Both Mark Miller Subaru locations have over 1,200 solar panels on the two rooftops. This allows 60% of our power to come from the sun. Both carwashes at either Mark Miller Subaru locations recycle their water saving 75 gallons of water per car wash!
With this award, Mark Miller Subaru will receive $10,000 to fund a sustainability project. We are so excited to announce that we will be partnering with our Subaru Loves the Earth partner Hawk Watch International with these funds to continue conservation efforts within our community! "We only have one planet, and we have to protect it." -CEO and General Manager Jeff Miller. 
TIS' THE SEASON TO RECYCLE WITH MARK MILLER SUBARU
Utah Jazz and Mark Miller Subaru donate 30 thousand dollars to West Lake STEM lab
WEST VALLEY, Utah — Through Adopt-A-School, the Utah Jazz and Mark Miller Subaru have donated nearly $30,000 to renovate the West Lake STEM Junior High computer language lab.
The unveiling of the lab is on Nov. 11 at 10:45 a.m., following a school assembly will take place said a release from the Jazz.
"Mark Miller Subaru is proud of our long-time partnership with the Utah Jazz and are truly honored to be standing alongside them in making this meaningful financial contribution to West Lake Jr. High School," said Jeff Miller, owner of Mark Miller Subaru.
Twenty-five different languages are spoken among the Multi-Language Learner students at West Lake STEM. Therefore, both organizations purchased the Renaissance 2.0 Language Lab System for the computer language lab.
Furthermore, the new lab includes 36 stations for students.
"It is our hope that this investment for advanced classroom technology will help English Language Learners at West Lake Junior High while simultaneously connecting students from various backgrounds and cultures to one another in both a powerful and life-changing manner," said Miller.
In addition to this project, three more will take place during the 2022-23 Jazz season at the school.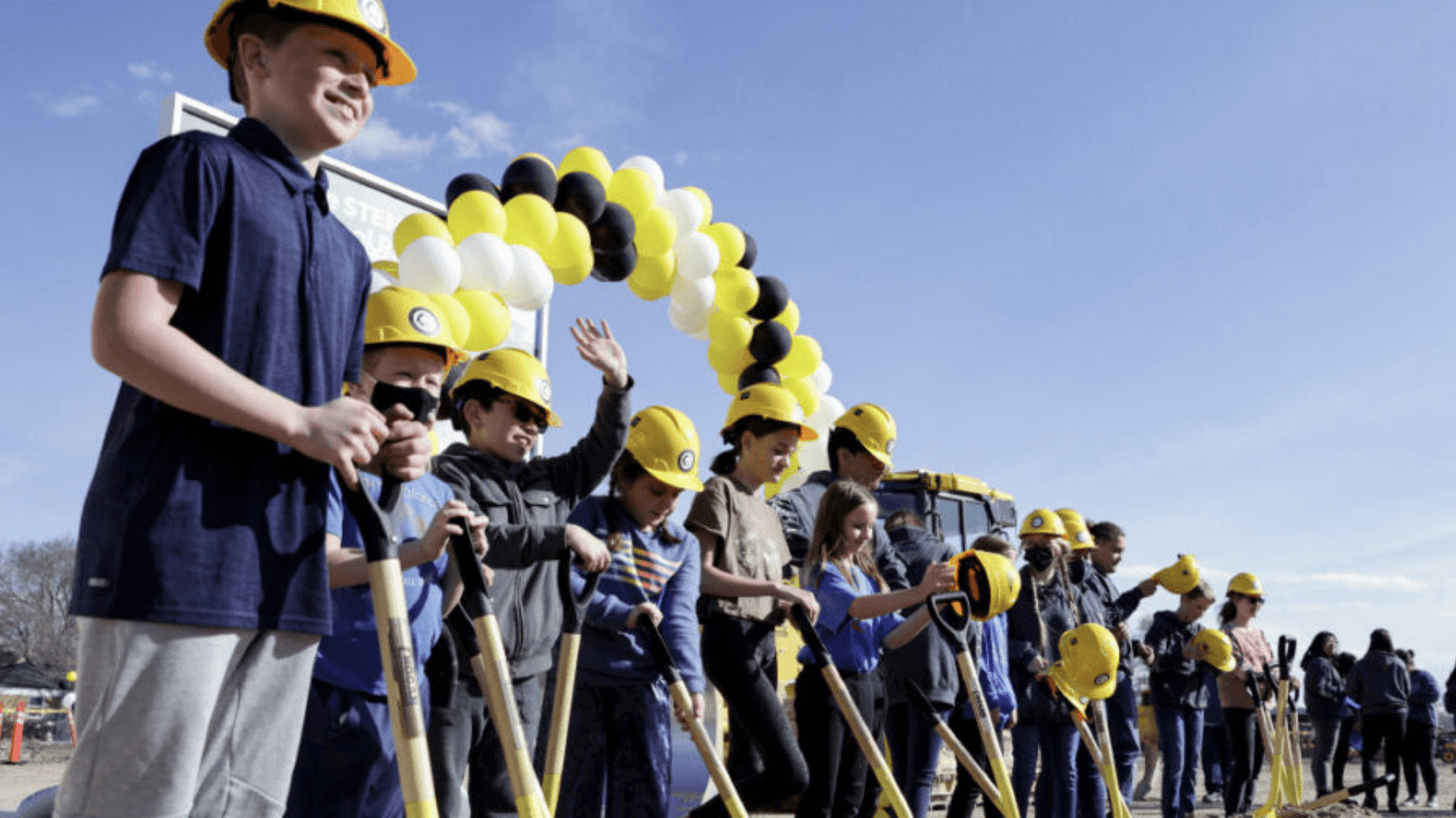 The Utah Jazz & Mark Miller Subaru come together to support English Language Learners at West Lake Jr. High
Mark Miller Subaru and the Utah Jazz are long-term business partners who recently started a new joint philanthropic initiative to support learning in our community.
West Lake STEM Jr. High school was selected to be the first beneficiary of this joint campaign.
While all schools have struggled during the past few years, West Lake STEM Jr. High in particular has faced even greater challenges due to the irreparable damage to the school that was caused by the 2020 Earthquake in Utah. The original West Lake Jr. High had to be demolished as a result of the earthquake, and students are currently being bussed to a previously decommissioned elementary school in Taylorsville.
West Lake STEM is a vibrant and diverse middle school. It uses creative, engaging, and hands-on teaching strategies to meet the diverse needs of its highly impacted student body. Within the halls of West Lake STEM, twenty-five different languages are spoken and for 70% of our students, English is not their first language.
Many students at West Lake STEM recently moved to America. Entering school for the first time in a new country presents significant challenges for Multi-Language Learner (MLL) students. Most of them are learning about their new community and trying to find a place of belonging. They walk on campus not having friends, not knowing their teachers, and not being sure what middle school is all about. For some students, this is their first experience in an educational setting. Many find that their teachers do not speak their language.
To assist West Lake STEM in supporting these English Language Learners, Mark Miller Subaru and the Utah Jazz have jointly donated a combined $30,000 for a new Language Lab within the school.
The West Lake STEM Language Lab will have a huge impact on our student's language acquisition. Specifically, their multi-language learners who need the support the most (typically our newest students learning English) will be benefitted from the lab.
Research shows that language acquisition improves through consistent practice. The language lab will increase practice opportunities and engagement in language learning. It also will support students socially and emotionally by providing opportunities for students to communicate with each other in a variety of ways, and with a variety of students thereby increasing their connections with others while practicing English at the same time.
The Language Lab was officially unveiled during a school-wide celebration on Friday, November 11, 2022.

---
Mark Miller Subaru donates nearly $200,000 in the 14th annual Subaru Share the Love Event
Mark Miller Subaru 14th annual Subaru Share the Love Event is excited to announce their biggest donation ever!
The Subaru Share The Love Event takes place each mid-November through December, where customers get to select a charity to receive a donation on their behalf.
Thanks to the Mark Miller Subaru customers, they donated $92,913 to Summit Land Conservancy and $106,054 to Big Brothers Big Sisters of Utah!!
Summit Land Conservancy is the only nonprofit dedicated to saving the open spaces of Park City and the Wasatch Back by protecting and defending local landscapes.
Cheryl Fox, Summit Land Conservancy, Executive Director explained the this money will support their efforts to protect an additional 12,000 acres of open space from Summit County to Weber County.
Big Brothers Big Sisters of Utah (BBBSU) works to create and support one-to-one mentoring relationships that ignite the power and promise of youth.
Amanda Harper, BBBSU shared that this donation will help them match 82 youths (Littles) with adult mentors (Bigs) and provide year-round support and services for these matches.
Through the support of Subaru of America, local Subaru retailers across the country, and Subaru customers, more than $225 million has been donated to charities across the country.
For more info about the Subaru Share The Love Event go to www.markmillersubaru.com.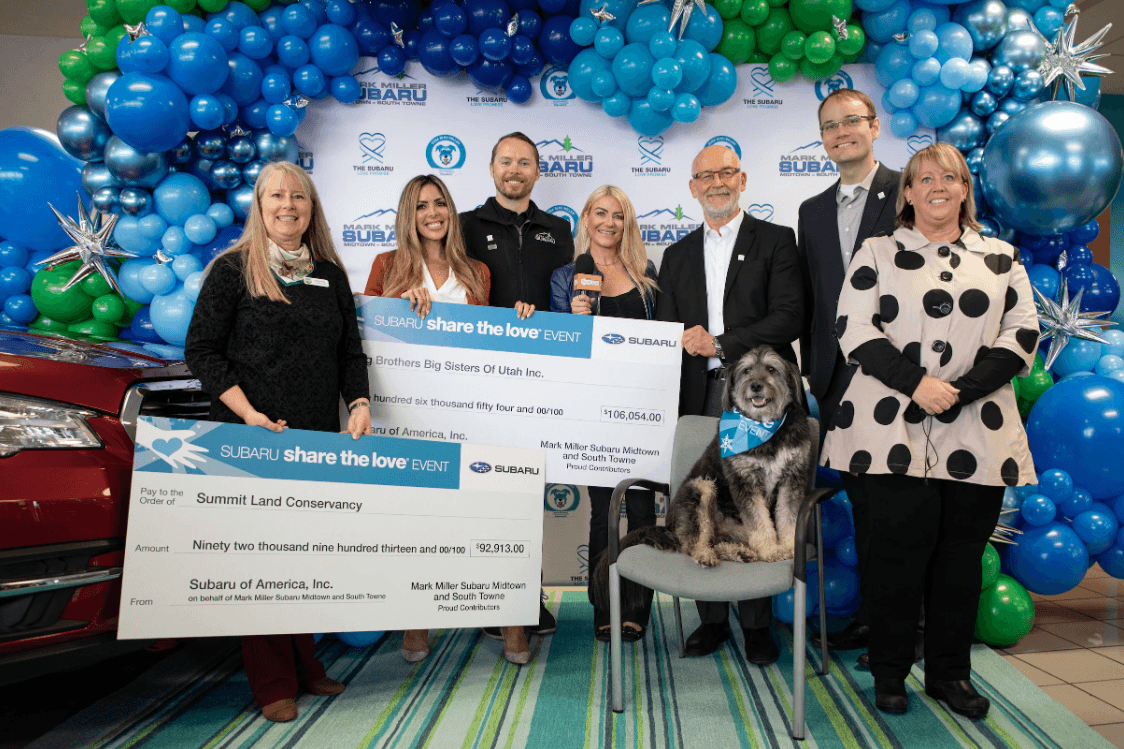 ---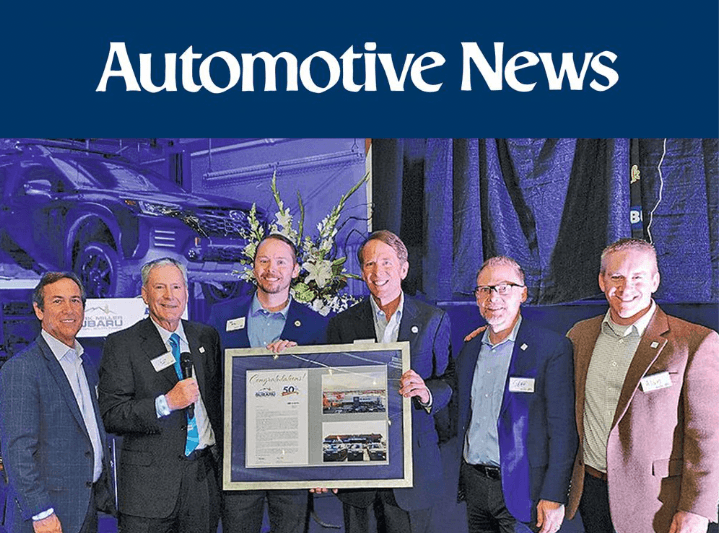 50 With Subaru
DECEMBER 6, 2021 – Jeff Miller, third from left, CEO of Mark Miller Subaru in South Salt Lake, Utah, and Mark Miller, fourth from left, former CEO, receive a 50-year award from Tom Doll, second from left, Subaru of America CEO. Also pictured from Subaru of America, from left: Tony Graziano, regional vice president, Jeff Walters, senior vice president of sales, and Alan Bethke, senior vice president of marketing.
---
51 Wasatch Front businesses call for more water conservation
JUNE 14, 2021, SALT LAKE CITY – More than 50 Wasatch Front businesses, as well as the Utah Rivers Council, are asking Utah's governor and legislature to do more to conserve water.
"They need to do far more from a conservation standpoint," said Steve Schmit, owner of Western Rivers Flyfisher. "We need to do something and we hope the governor is more aggressive, and the state overall has done very little from a conservation standpoint."
In a letter to the governor, the 51 businesses ask for a 2% reduction in water usage per year.
"We need water," Schmit said. "Not just the trout that we fish for in our streams but also for water quality, I mean it all trickles down to us eventually."
Wasatch Touring also signed the letter.
"The levels of the rivers and the reservoirs that we love to play and explore and recreate in have been going down," said Co-owner Dylan Timmer. "It's definitely coming to a point where it's going to take kind of a rallying cry for this."Another business calling for water conservation is Mark Miller Subaru.
"We have a lot of outdoorsy customers and they are out there," owner Jeff Miller said. "And they are on the lakes and up in these mountains and they are seeing these rivers."
The Subaru dealer is already doing a lot to conserve water and energy. From solar panels and xeriscaping to a recycled-water car wash, Miller says he is happy so many businesses signed the letter.
"It's heartening to see that others feel the same way that we do," Miller said.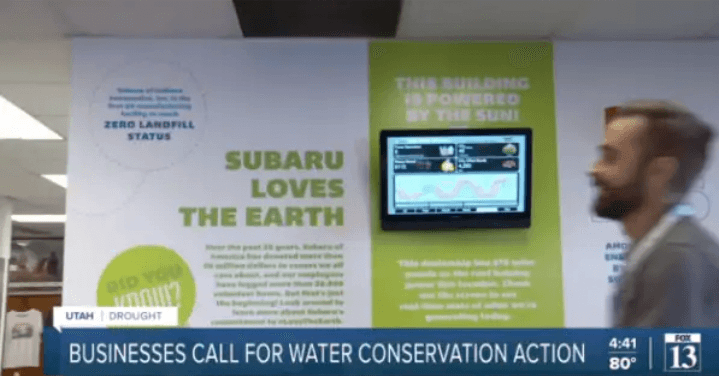 ---
Mark Miller Subaru is hosting their 13th annual Do Good Feel Good Event during the month of May
Mark Miller Subaru is hosting their 13th annual Do Good Feel Good Event during the month of May to support the community and their Love Promise charity partners. Budah talked with General Manager & CEO Jeff Miller who says for every car sold during May, Mark Miller Subaru will donate $75 to the Love Promise charity partner of the customer choice. Since 2010, Mark Miller Subaru has donated more than $2.6 million to support the local community and amazing nonprofits. This year's Love Promise charity partners are: Summit Land Conservancy, Street Dawg Crew of Utah, Fit To Recover, The Malinois Foundation, Big Brothers Big Sisters of Utah, Discovery Gateway, and Westminster College-Office of Diversity, Equity, & Inclusion. Miller says you can help your favorite Love Promise charity partner win $1,500 by voting for them during the Facebook voting contest. Mark Miller Subaru is also giving away a 3-year lease on a new 2021 Subaru Impreza during the Do Good Feel Good Event, including a $1,500 Mark Miller Design credit to help the winner customize their new Impreza.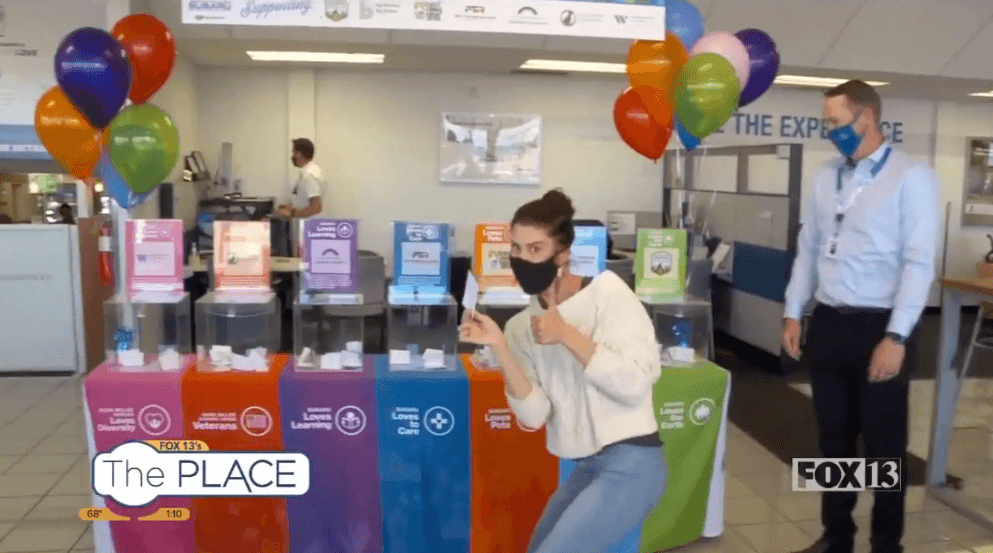 ---
An Excellent Equation for Success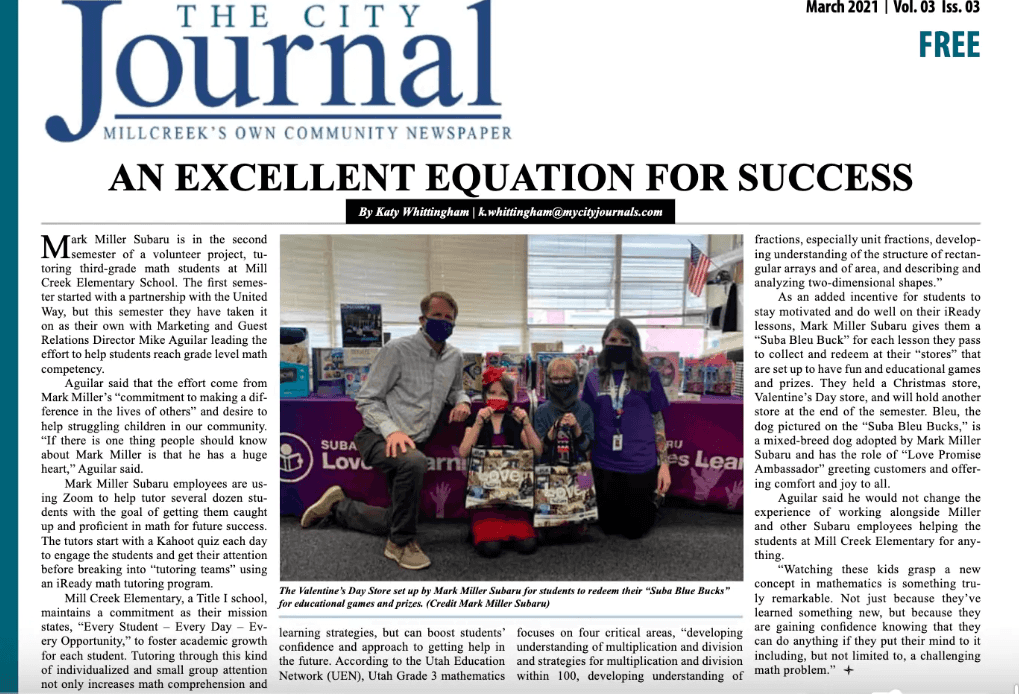 ---
Mark Miller Subaru is giving the gift of transportation
Due to the COVID-19 pandemic,Ronald McDonald House Charities made the tough decision to suspend their communal living model and instead found safe, separate temporary housing for pediatric patient families with high acuity children. However, that left many families with no means of transportation to get to and from Primary Children's Hospital. Mark Miller Subaru heard about this and quickly moved to offer Subaru loaners to families in need. Mark Miller Subaru is also donating PPE face masks to all of the Ronald McDonald House employees who are interacting with patients and the public to ensure staff remain safe and healthy while providing thee critical services. This is one of the first things Mark Miller Subaru's new General Manager and Chief Executive Officer did. Jeff Miller bought his dad out, after Mark Miler was in the automotive industry for 45 years. Jeff Miller now marks the fourth generation of the Miller family businesses that started in the early 1900's.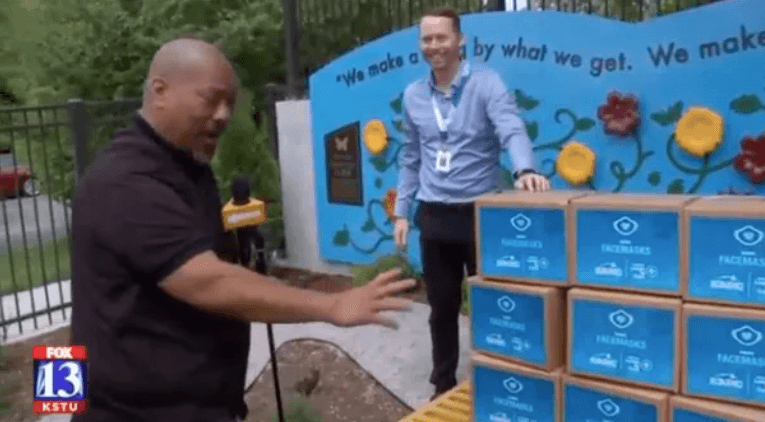 ---
Rez dog rescuer up for international 'Unsung Hero' award
…If the crew sees a dog in critical need on the street, they'll pick it up, but in deference to Navajo Nation law, they'll usually pull from existing rescues on the reservation. Sometimes Utah Subaru dealer Mark Miller helps out with a chartered plane, which cuts the trip down to a few hours. The lush mountains of Park City are a far cry from their high desert homeland, but the rez dogs adjust quickly, McCurtain said. In fact, they usually think they've died and gone to heaven…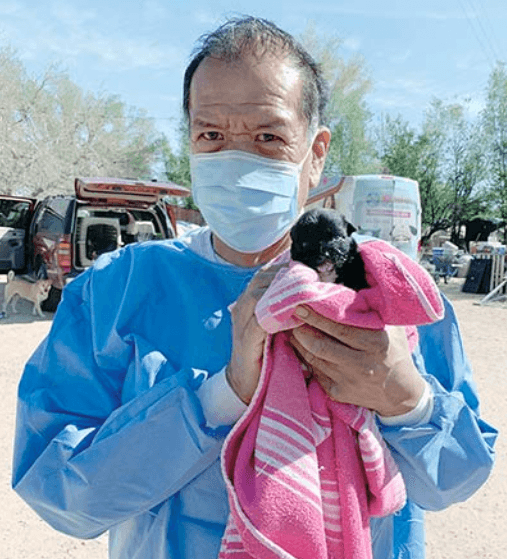 ---
Providing increased safety and service during COVID-19
The health, well-being, and safety of Mark Miller Subaru's staff, visitors, and guests is the most important thing to the entire Subaru Family. That's why Mark Miller Subaru has been working around the clock to implement increased cleaning and sanitizing procedures to keep everyone who visits Mark Miller Subaru safe. To support those who wish to remain home but are in need of service, they are temporarily offering FREE Mark Miller Direct valet service to anyone who lives within 25 miles of Mark Miller Subaru. Learn more in this interview with Service Manager Josh Goldsmith.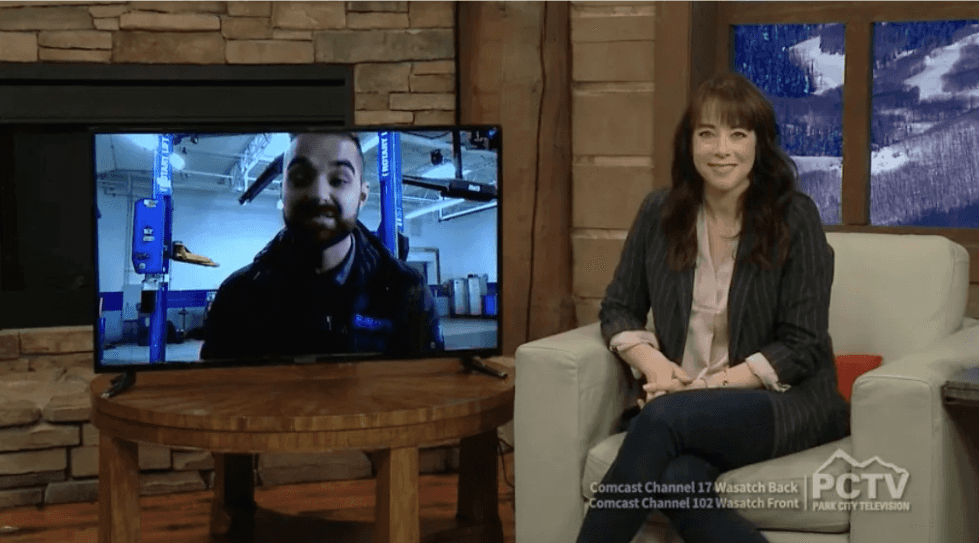 ---
Suba Bleu Miller is doing random acts of kindness
Our The PLACE co-host, Suba Bleu Miller, invited us to his digs — Mark Miller Subaru at South Towne.
He wanted to tell us about their Share the Love campaign. This holiday season, Suba Bleu will be Sharing the Love by doing random acts of kindness for individuals in the community. Follow his random acts on his Facebook Page.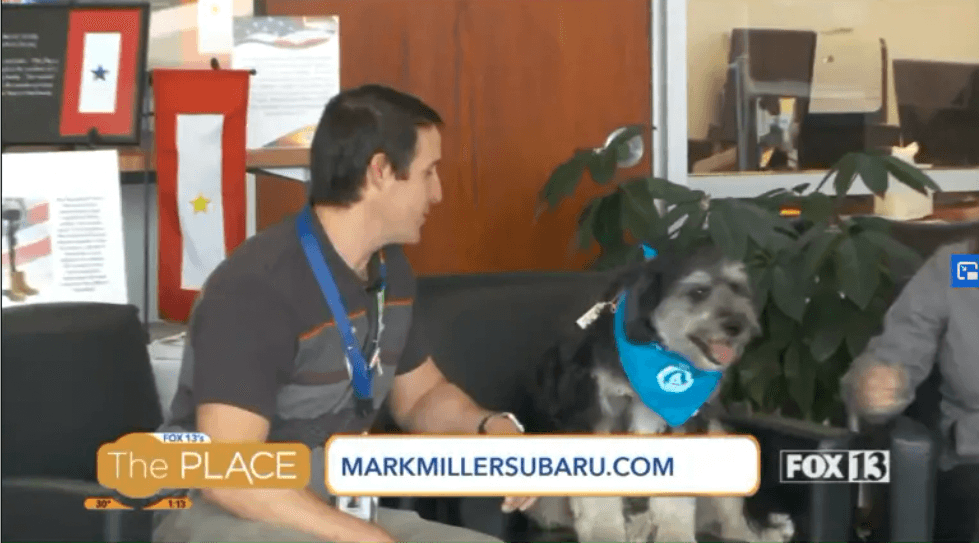 ---
How you can get 3 years of car payments forgiven, while also supporting local charities
The holiday season is one where many of us feel the urge to reach out and help somebody. But what if you could help someone, by shopping?
Jeff Miller, general manager of Mark Miller Subaru, stopped by to tell us about the Subaru Share the Love event happening through January 2, 2020, where they donate $300 to a local charity when you buy a car.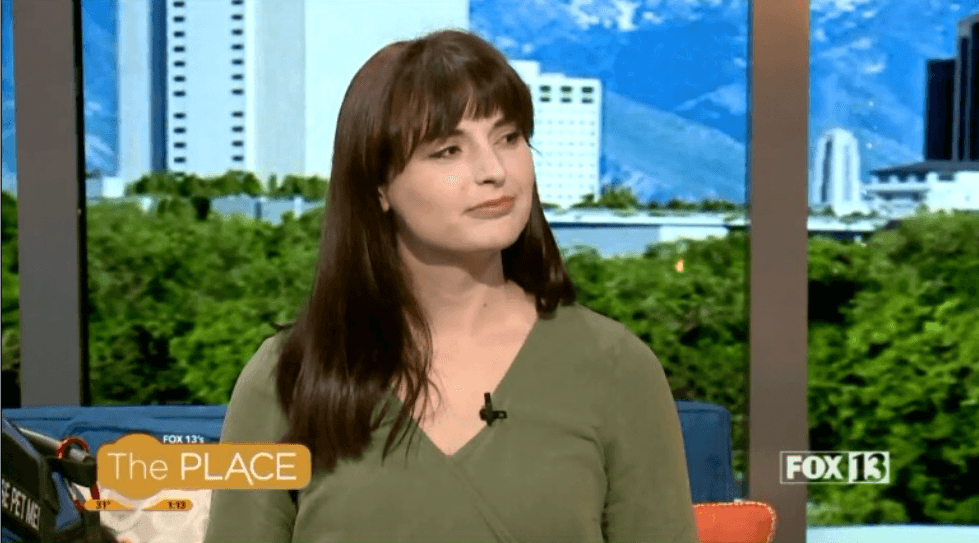 ---
Suba Bleu Miller joins us to talk about a new expansion adventure with 'The Sharing Place'
Mark Miller Subaru is proud to partner with The Sharing Place as one of its 2019 Love Promise partners.
The Sharing Place provides a safe and caring environment for grieving children, teens and their families to share their feelings while healing themselves. This is achieved through a support group model that emphasizes acknowledging any and all feelings related to grief and channeling those feelings through art, play and discussion. All of this is conducted in a comfortable and warm renovated home in Salt Lake City.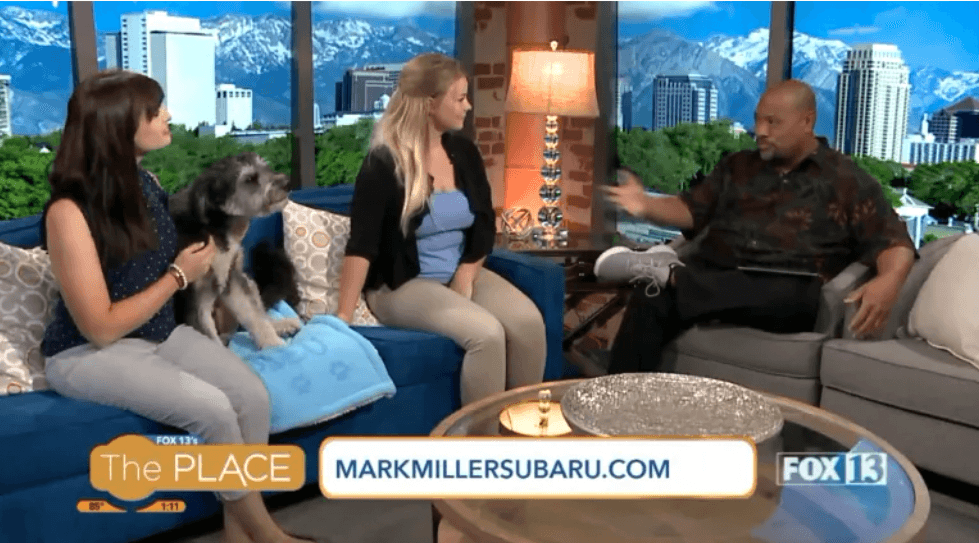 ---
Nuzzles & Co. rescues stray animals on Navajo reservation
There were 250,000 stray and roaming dogs and cats on the Navajo Reservation in the Four Corners area in 2014, when Nuzzles and Co., the Park City-based animal rescue nonprofit, began visiting the area for monthly rescue visits, according to the tribal council.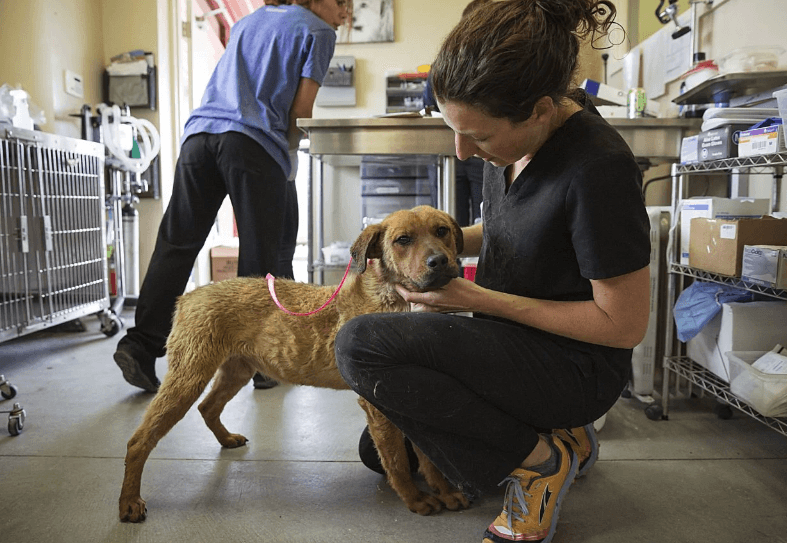 ---
Mark Miller Subaru and Nuzzles & Co. Pet Rescue 2018
A Utah non-profit, Nuzzles & Co., organizes animal rescues every year in the Navajo Nation near Kayenta, Arizona. Thursday was the largest mission this year. Starting at 5:45 a.m., volunteers loaded Mark Miller's plane with kennels to bring back dogs and cats in need of immediate care from the reservation.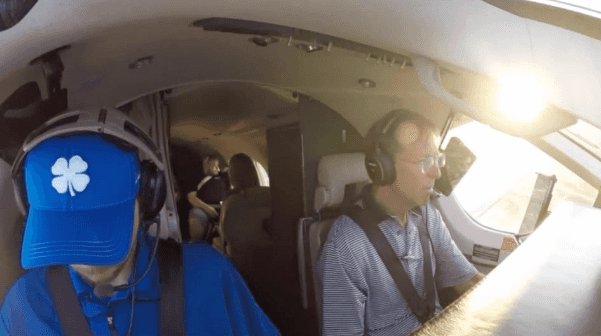 ---
Mark Miller Subaru Do Good Feel Good Kick Off
(KUTV) Salt Lake City – Mark Miller Subaru was just selected as the "2018 Love Promise Retailer of the Year," the most distinguished award Subaru of America awards each year, and is only given to the #1 Subaru Retailer in the entire country. Jeff Miller, General Manager, joined the hosts on Fresh Living today to talk about what the dealership is doing to celebrate.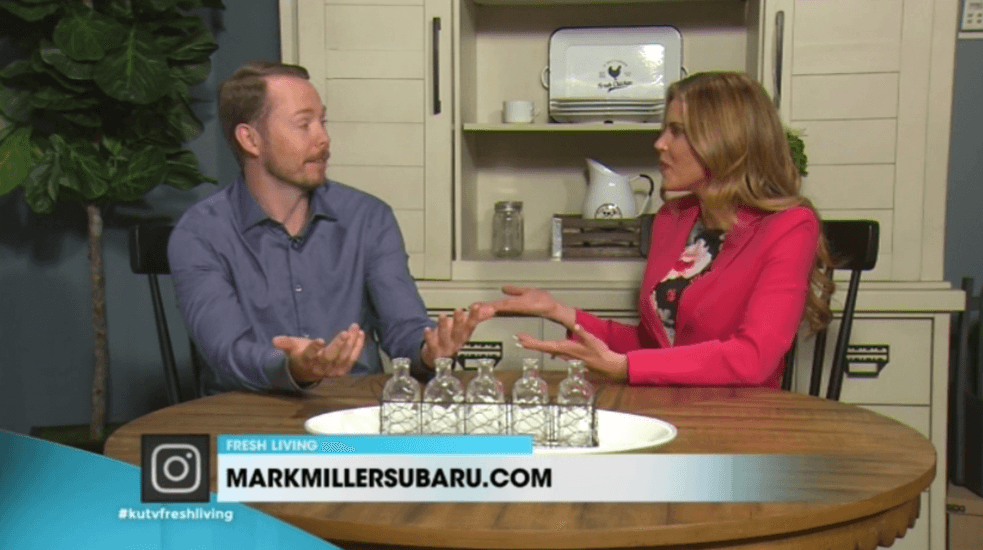 ---
Mark Miller Subaru Wins Love Promise Retailer of The Year!
Mark Miller Subaru is taking home this year's 2018 Love Promise Retailer of the Year. This award is bestowed upon one Subaru retailer throughout the country each year. Since 2010, Mark Miller Subaru has donated nearly $2 million through partnerships with over 100 Utah charities.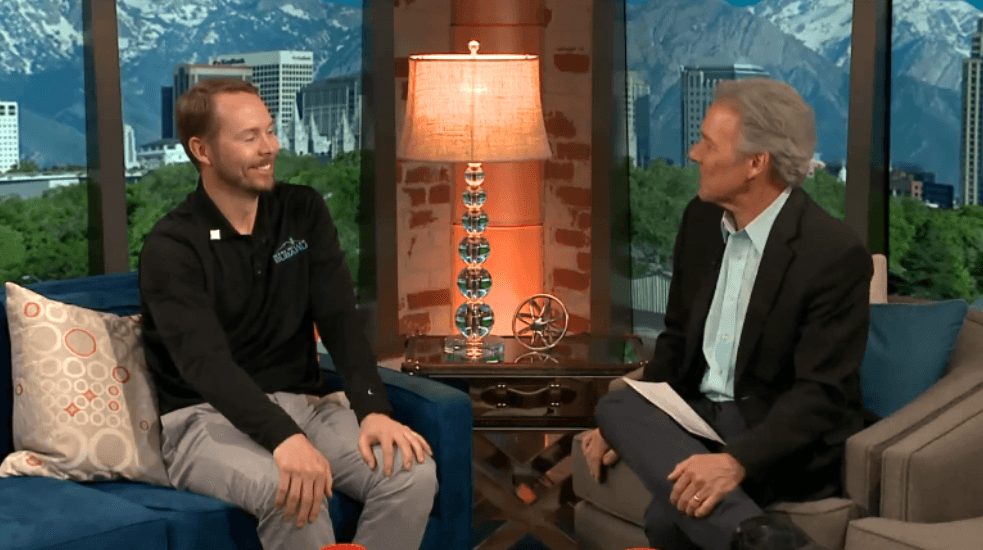 ---
Mark Miller Subaru Share the Love 2017
The Subaru Share The Love is a nation-wide sales and charity event where Subaru of America donates $250 for every new Subaru sold or leased between November 16, 2017 – January 2, 2018. The customer selects one organization out of two 'hometown' charities or four national charities to receive this funding.Mark Miller Subaru selected the local VOA Homeless Youth Resource Center and Nuzzles & Co. Pet Rescue as their two 'hometown' charities for 2017. Subaru of America selected ASPCA, Meals on Wheels, Make A Wish, and National Parks Foundation as the four national charities. Mark Miller Subaru donates an additional $50 (a total of $300) if the new car customer selects one of the two 'hometown' charities as the Share The Love recipient.
---
Help Utah's homeless teens this holiday season
The Salt Lake Tribune and Mark Miller Subaru are teaming up this holiday season to benefit Volunteers of America, Utah and would like your help to provide needed items for homeless teens and young people.
Donations are being accepted Dec. 1, 8 and 15 from 3 p.m. to 6 p.m. at the nonprofit VOA Youth Resource Center, 888 S. 400 West, in Salt Lake City.
The center – which provides emergency overnight shelter and other services to youth ages 15 to 22 – needs cash, warm clothing and blankets. The donations are tax deductible.
---
Gift of service dog transforms Army vet's life
Through the "Service Paws and Patriots" campaign, Mark Miller Subaru and several other local business were able to help place a fully trained service animal with an Army veteran struggling with PTSD. The city of South Salt Lake was able to place Tink, a service animal with Christine McKoon, a former combat helicopter pilot.
---
Hurricane affected animals receiving care, free services in Layton
Mark Miller Subaru teamed up with the Utah Animal Care Center to help animals affected by Hurricane Harvey receive forever homes. Many of the animals were found scattered throughout the Houston area looking for food and shelter. The Utah Animal Care Center provided free services such as spaying, neutering and shots to ensure that the animals were healthy before being placed for adoption.
---
Mark Miller Subaru & Love Utah Give Utah
Mark Miller Subaru and Love Utah Give Utah teamed up to give someone a brand new Subaru Impreza. This year Love Utah Give Utah received $1,085,982 in unique donations.
---
Mark Miller Subaru's New Mascot
With the help of the AMAZING Humane Society of Utah, Mark Miller Subaru was able to find a wonderful addition to our Subaru family! This furry friend is a trained therapy and service dog. After adopting him, we held a naming contest for him! All proceeds from the contest went to the Humane Society of Utah! The winning name was "Suba-Bleu Miller". Stop by either Mark Miller Subaru location and meet our pup!
---
Mark Miller Subaru 'Shares the Love' With the Children's Center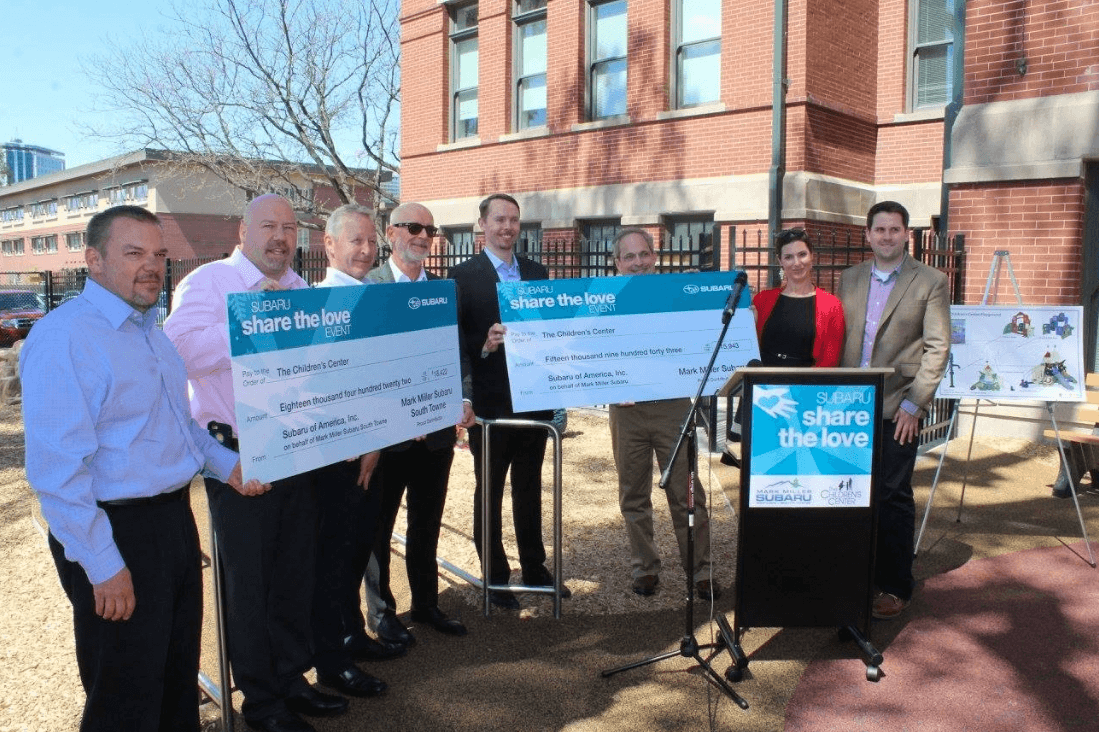 For Subaru "Share the Love" 2015, Mark Miller Subaru worked closely with the Children's Center to raise money for their new outdoor playground. Over $34,000 was raised during the campaign.The Children's Center provides comprehensive mental health care to enhance the emotional well-being of infants, toddlers, preschoolers, and their families.
---
Mark Miller Subaru Donates to The Fourth Street Clinic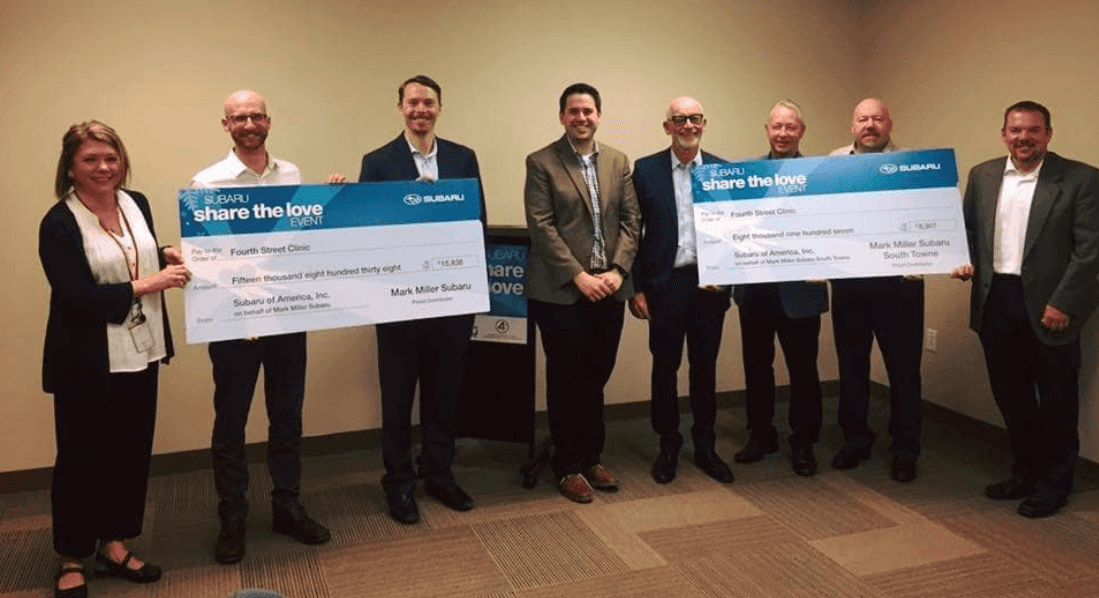 For Subaru "Share the Love" 2015, Mark Miller Subaru also partnered with the Fourth Street Clinic in Downtown Salt Lake City.The mission of the Fourth Street Clinic, 409 W. 400 South, Salt Lake City, is to help homeless Utahns improve their health and quality of life by providing high quality health care and support services. Mark Miller Subaru donated over $24,000 to the clinic during the campaign.
---
9 Utah companies, nonprofits, governments agencies honored for ethics
The David Eccles School of Business Daniels Fund Ethics Initiative, the Daniels Fund and the Community Foundation of Utah honored nine companies, nonprofits and government agencies at the third annual Utah Ethical Leadership Awards on Sept. 9, 2016. Mark Miller Subaru was awarded the "Most Ethical Business" Award.
---
Mark Miller: Healthcare Heroes
While Mark Miller's primary business is his family-run auto dealerships, Miller and his wife, Kathie, are passionate about philanthropy. Miller as served on the board of the University of Utah Hospitals and Clinics since 2010. He has advocated expanding Medicaid in the state and he and his wife's foundation raised over $700,000 for the University of Utah's NICU.