Subaru Collision Center
The certified advantage.
Did you know we have our own Subaru Certified Collision Center that provides professional, OEM-quality repairs specifically for Subaru vehicles? Our trained technicians use the latest tools and equipment to help restore your damaged Subaru back to its original factory specifications – including the recalibration of Subaru EyeSight® Driver Assist Technology.1 And most importantly, we use the proven fit and integrity of Genuine Subaru Collision Parts for replacement to help ensure your vehicle's appearance and protective capabilities are returned to like-new condition.
Dealership Info
Mon - Fri

9:00 AM - 8:00 PM




Sat

9:00 AM - 7:00 PM




Sun

Closed
Mon - Fri

7:00 AM - 6:00 PM




Sat

8:00 AM - 5:00 PM




Sun

Closed
Mon - Fri

7:00 AM - 6:00 PM




Sat

8:00 AM - 5:00 PM




Sun

Closed

135 East Baird Avenue, Salt Lake City UT
Please make an appointment for your free estimate!
Utah's Only Subaru Retailer with a Subaru Certified Collision Center
Make the certified choice to restore your Subaru back to the way you love!
Accidents are unfortunate and unpredictable, but choosing where to have your vehicle repaired can make all the difference moving forward. Subaru Certified Collision Centers provide the proper training and equipment necessary to restore your Subaru to its original factory specifications, and this includes the ability to accurately re-calibrate the components of Subaru EyeSight Driver Assist Technology. We also use the proven fit and quality of Genuine Subaru Collision Parts for replacement to help ensure that your vehicle is returned in like-new condition, along with the protective capabilities that kept you safe in the first place.
So, whether your Subaru received a small ding, scratch or dent in a parking lot or is in need of a major auto body repair, Mark Miller Subaru's Collision Center is here for you. Don't forget that all of our repairs are covered by a limited lifetime warranty!
Please Call Ahead to Schedule an Estimate Appointment.
Call Now - 801-506-1280
Zero Emissions Mission
At Mark Miller Subaru's Collision Repair Center and Bodyshop, we take our Carbon Footprint seriously. Everything we use in the repair process is recycled in some kind of way.
As you may be well aware, the air quality along the Wasatch front is among the worst in the nation. We are committed to do our part to reduce Volatile Organic Compounds (VOCs). VOC's are chemicals that evaporate easily at room temperature. There are thousands of different VOC's produced and used in our daily lives, which can affect both the environment and human health. We have made a concerted effort to reduce that amount of VOCs in our building by using low-emitting materials and adhesives. We do this to help keep Salt Lake a cleaner and safer community.
We use new H20 Waterborne paints that help eliminate poor air quality and we stick to a rigorous fluid recycling program. We even monitor electronically, how much paint we use.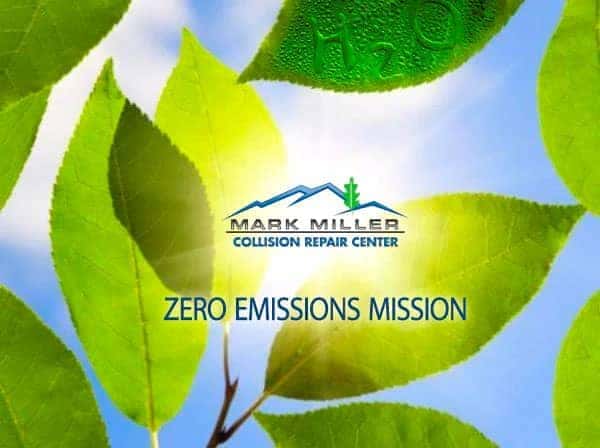 Certified Subaru Bodyshop & Autobody Repair in Salt Lake City, UT
We handle even the most severe of accident collision repairs, at Mark Miller Collision Center and Bodyshop, we use advanced frame dimensioning systems with computerized printouts to guarantee accurate repairs. Quality control systems and standard operating procedures prevent rework and reduce repair times.
When you trust your vehicle's repairs to Mark Miller Collision Center, you are guaranteed quality workmanship and attention to every detail. We provide continuous customer contact to keep you informed about the progress of your vehicle during the repair process. All repairs done at Mark Miller Collision Center and Bodyshop in Salt Lake City are covered by a limited lifetime warranty.
No matter what the size of your job is we back all of our work up at Mark Miller Collision Center & Bodyshop so you know that your repairs will last the life of your car.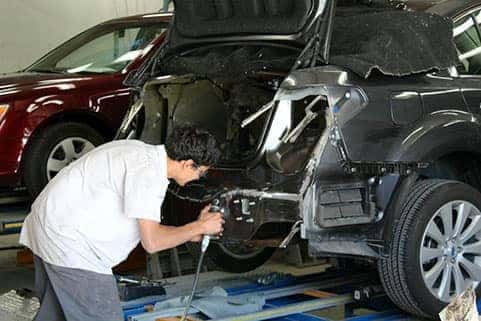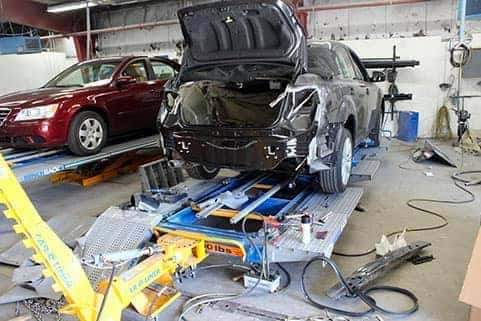 Dent Removal
We offer seamless paint-less dent removal as the perfect way to repair your car. Eliminate bumps and dents from your vehicles exterior without the need for costly repaints and touch-ups. Ask about our paint-less dent removal services.even if you do need scratch repair, along with any dent repairs, we can take care of everything in one stop!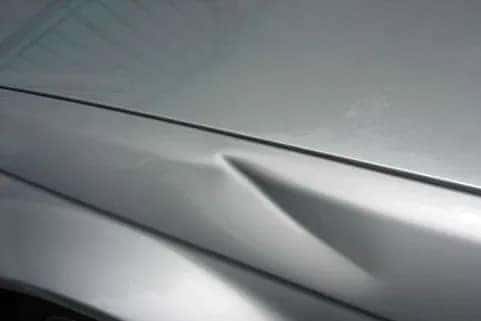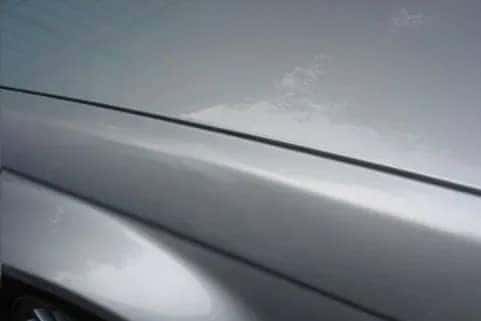 Paint
At Mark Miller Collision Center we are proud to use PPG Envirobase Waterborne paint. We offer complete vehicle painting with the highest quality automotive paints and clear coat. All of our car repaints are performed in our state of the art spray booths by skilled paint technicians. We remove all panels from your car to ensure a complete spot free paint job that will last.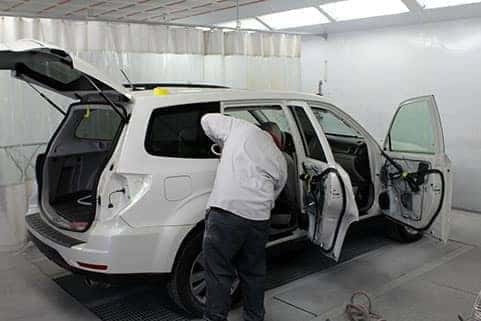 Mark Miller Collision Center is located directly behind the Dealership on 3535 South State St. South Salt Lake
Phone: 801-506-1280
135 East Baird Avenue, Salt Lake City UT
Hours:
Monday - Friday 8:00 am - 5:30 pm
Saturdays 8:00 am - 12:00 pm
Call for a Free Estimate!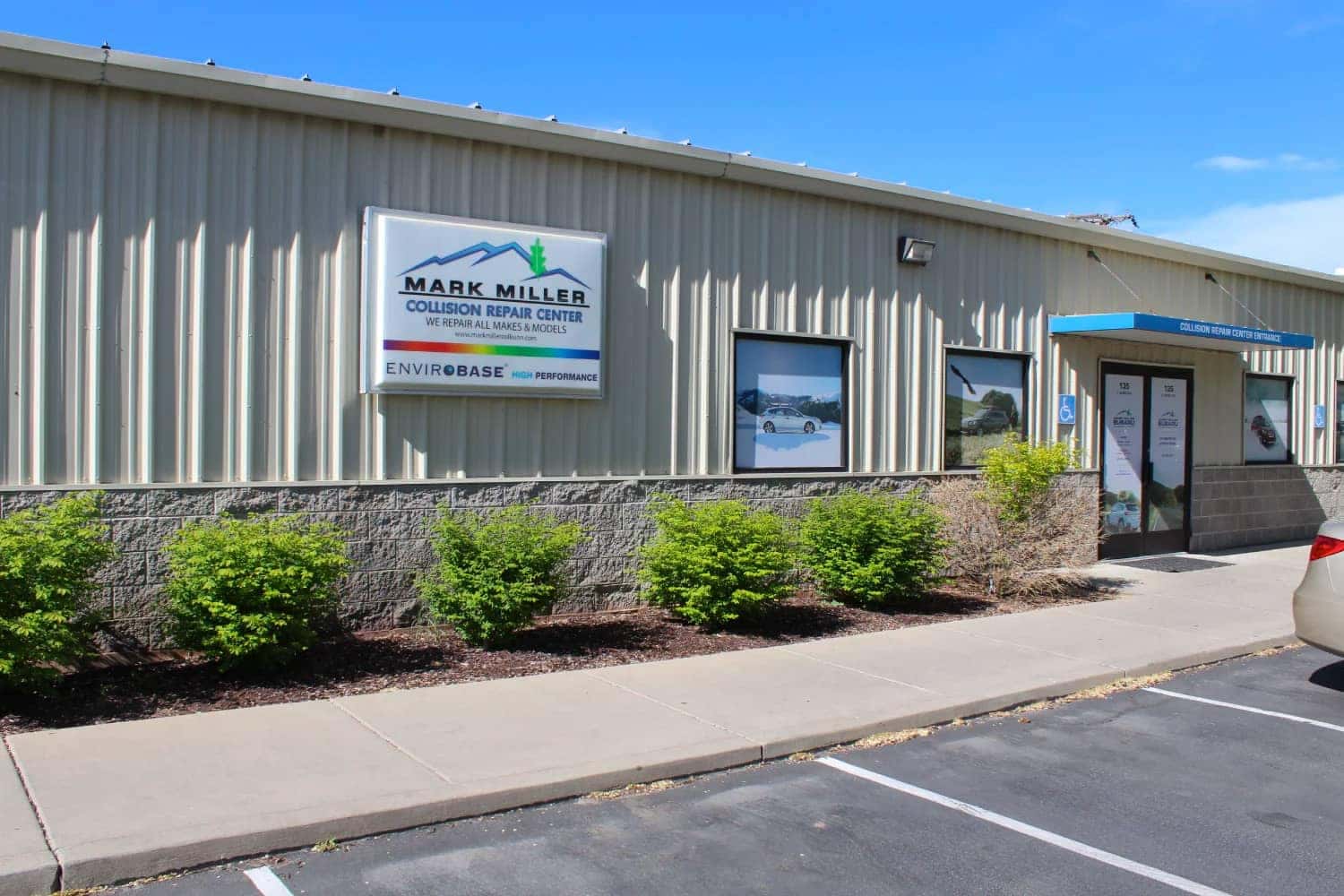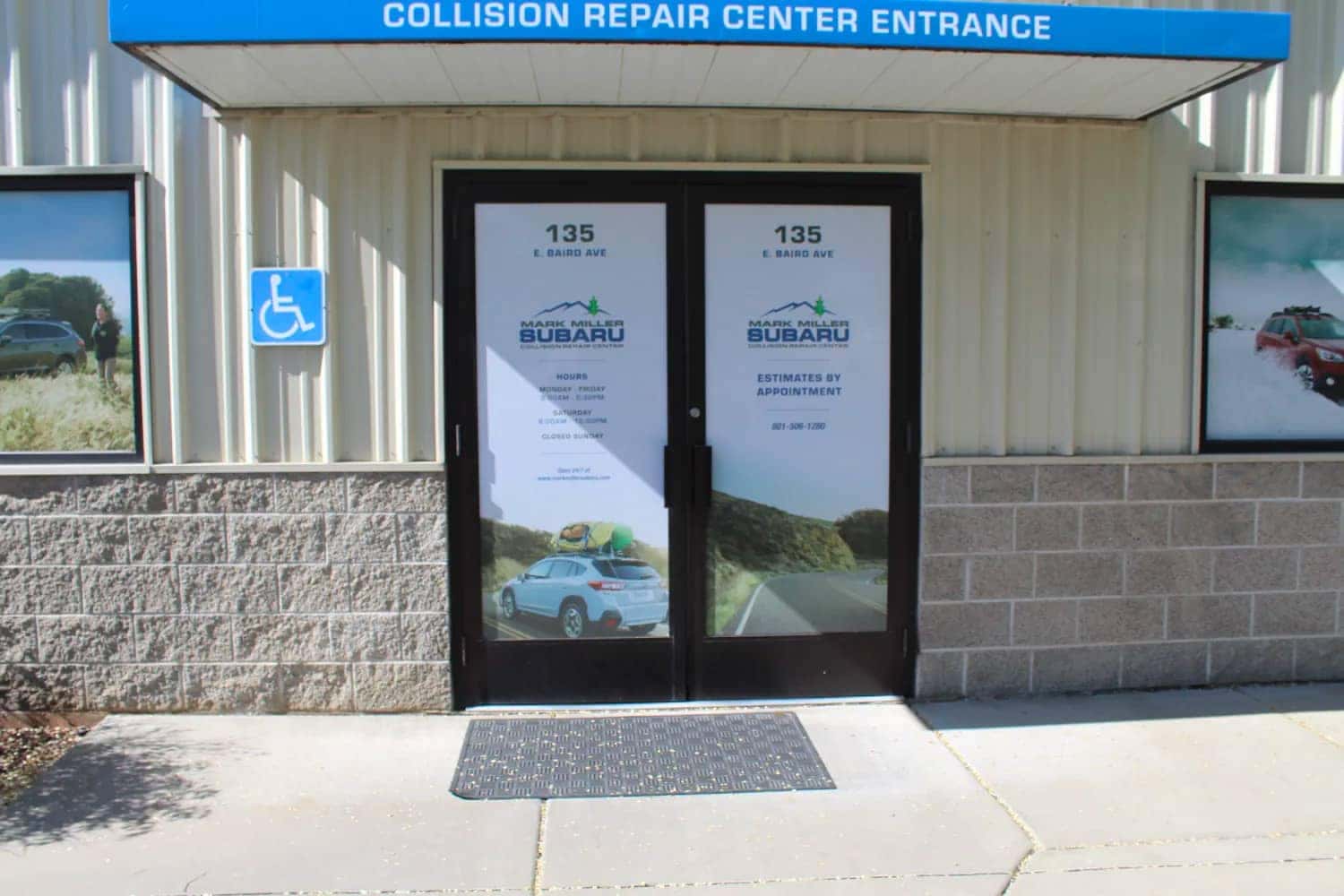 Contact Us!
Here at the Mark Miller Collision Center we know that accidents are stressful and create a hassle and jolt in your personal lives. It is our goal to make the process of getting back into your car as simple and easy as possible.
We offer FREE estimates on any type of vehicle, for any auto body, paint or dent repair.
Please call ahead for an appointment on Saturdays.
We work with ALL major insurance companies.
All of our work is backed with a written, lifetime warranty. Any defects in workmanship will be repaired free of charge unless caused by lack of maintenance or care of the vehicle.
No Matter what size the job is, we back all of our work at Mark Miller Collision Center so you know that your repairs will last the life of the car.
In case of an accident, call for a free local tow!
801-913-0444 or 801-869-2727
Knowing your repair rights.2
Whether you bought your Subaru new, used or leased, automotive insurance is required. And when you contact your insurance agent/company after an accident, it is important to know the customer rights that are included with any automotive insurance policy.
Your insurer may recommend a repair facility, but you have the right to decide where to have your Subaru repaired unless that right is limited by your insurance policy.
You may request that your insurer and repair facility agree to use only Genuine Subaru Collision Parts when making any parts replacements.
Why choose Genuine Subaru Collision Parts for replacement?
The type of replacement parts used to repair your vehicle after an accident can make a substantial difference. Subaru of America, Inc. strongly advises against using generic, recycled or non-original equipment body panels, bumpers or other parts when replacing damaged ones.3 Using only Genuine Subaru Collision Parts for replacement helps ensure accurate fitment, renewed safety protection, and a lasting repair.
Original fit and appearance
Genuine Subaru Collision Parts are the perfectly fitted replacement option guaranteed to restore the original appearance of your vehicle. Generic collision part companies may use different materials and manufacturing techniques that cause the finished product to reveal uneven or misaligned bodylines, creases, gaps, faulty trims, etc., after installation.3
Safety-tested
Genuine Subaru Collision Parts are identically engineered to meet the same strict safety and quality standards as the Original Equipment (OE) parts of your vehicle. Our commitment to safety is continually proven through strenuous independent vehicle crash testing with OE parts performed by the NHTSA NCAP† and the IIHS.††
Built to last
The durability of Genuine Subaru Collision Parts is a result of the materials used to manufacture them. Engineers have tested Genuine Subaru Body Panels against aftermarket versions in simulated, real-world and rust-causing conditions to demonstrate the differences in the types of protective layers that help prevent corrosion to sheet metal. Other tests have shown that Genuine Subaru Replacement Bumpers have better low-speed impact and concentrated-impact resistance than aftermarket replacement bumpers.
Service Amenities
Not only do we provide expert Subaru care, we are proud to offer these added benefits that make us different than the rest:
Animal friendly
Cafe
Children's play area
Complimentary refreshments
Complimentary vehicle pickup and drop-off
Hand sanitizing stations throughout the store
Socially distanced indoor and outdoor seating available
1If equipped. EyeSight is a driver-assist system that may not operate optimally under all driving conditions. The driver is always responsible for safe and attentive driving. System effectiveness depends on many factors, such as vehicle maintenance, weather and road conditions. See owner's manual for complete details on system operation and limitations.
2For more information about collision parts, repair and your customer rights, visit: crashrepairinfo.com
3Using generic replacement collision parts to repair vehicles equipped with Subaru EyeSight® may affect the proper operation of its crash-avoidance capabilities.
† A complete testing of the NHTSA (National Highway Traffic Safety Administration) NCAP (New Car Assessment Program) ratings can be found at www.safercar.gov. This information is also available by calling NHTSA's toll-free vehicle safety hotline: 1-888-327-4236
†† Insurance Institute for Highway Safety: www.iihs.org