What is the Subaru Love Promise?
Subaru and our retailers believe in making the world a better place and the Subaru Love Promise is our vision of respecting all people. This is our commitment to show love and respect to our customers and to work to make a positive impact in the world.
The 2022 Subaru Love Promise Customer and Community Commitment Award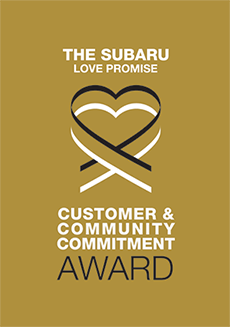 We've been nationally recognized for our dedication to our customers, our community, and the Subaru Love Promise.
We're honored to receive the 2022 Subaru Love Promise Customer and Community Commitment Award. This award nationally recognizes elite Subaru retailers who provide an exceptional customer experience at every interaction with Subaru. These retailers have also demonstrated an outstanding commitment to supporting passions and causes in their local communities in important areas such as the environment, community, health, education, and pets.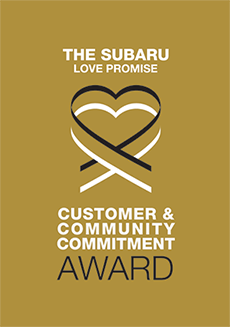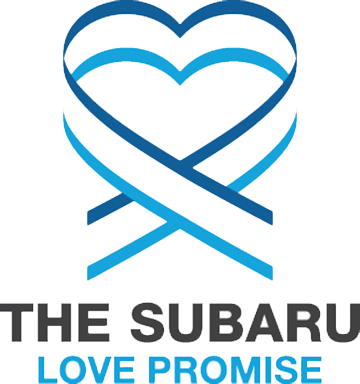 What is the Subaru Love Promise?
Subaru and our retailers believe in making the world a better place and the Subaru Love Promise is our vision of respecting all people. This is our commitment to show love and respect to our customers and to work to make a positive impact in the world.
How is Mark Miller Subaru Midtown dedicated locally to the Love Promise?
At Mark Miller Subaru, our Love Promise to the Utah and the Salt Lake area can be seen in our partnerships with local nonprofits and charities. We are grateful to not only to be part of the Salt Lake community, but to serve it as well.
Discovery Gateway Children's Museum
Big Brothers Big Sisters of Utah
Volunteers of America, Utah
Love Promise Stories from Mark Miller Subaru Midtown
Subaru and Mark Miller Subaru Midtown believe in making a positive impact on the communities in which we live and work. We uphold that belief through our Love Promise Community Commitment. Every month, we select inspiring stories from customers and partners from around our area who strive to support our collective commitment and feature them here
Memorial Day: a day to reflect & recommit our love - Mike A
When people think of the Beehive State, they typically think of our beautiful snowcapped mountains, the historic 2002 Winter Olympic Games, or they're fascinated by one of the world's most notable (and friendliest) religions. However, what's not often known about our nation's 45th state is that it's home to two incredibly important military bases in our national security infrastructure, Hill Airforce Base and the Dugway Proving Ground Army Base, in addition to being the home of the renowned Utah National Guard. Given the large armed forces presence in Utah, there is no surprise that our State is home to thousands of active-duty military personnel, veterans, and the families who comprise the critical support system for these brave individuals. Utah is a deeply patriotic state that pays gratitude and love to our nation's military. If you're a Utah business owner like we are, you are fortunate to eventually have a current or past member of the armed forces on your team. And as a proud employer of both active-duty personnel and veterans, we would be remise if we didn't take a moment this Memorial Day to reflect and honor the lives of employees from all industries who took leave from work to serve our Country, but who lost their lives on the battlefield. We are, and forever will be, grateful and indebted to those who paid the ultimate sacrifice in service to our country protecting the values that define what it means to be an American. While employing members of the armed forces is an honor that more businesses and organizations from all industries should take better advantage of, it's equally important for those businesses to play an active role in supporting these individual's calling to serve our country. And at Mark Miller Subaru specifically, we're proud to do our part to support their service and advocate for an employee's participation in the military. This includes, among of myriad of things, providing flexibility in scheduling to support their 'Mission Centric' responsibility to serve our community when their service is needed. Tanner Allen is one such employee. Tanner is a Utah National Guard active-duty member who recently received a calling to serve our community at one of our greatest times of need. Tanner has spent the better part of the past two years helping our Utahns navigate the COVID-19 pandemic through the Utah National Guard COVID-19 Task Force as a Mobile COVID-19 Tester. Tanner has maintained his role at Mark Miller Subaru and works full-time when not on active duty. As a token of his appreciation for the support he has received while employed at Mark Miller Subaru, he has nominated two of his supervisors from both the sales and service departments for the Patriot Award, a designation granted by the Employer Support of the Guard and Reserve (ESGR) to those business leaders who are dedicated to supporting citizen warriors through a wide range of measures including flexible schedules, time off prior to and after deployment, caring for families, and granting leaves of absence if needed. During the recent award ceremony bestowing the Patriot Award on Tony Soria, Mark Miller Subaru's CEO and General Manager, Jeff Miller, proudly took the steps to reaffirm our commitment to Tanner and other current and future members of the Utah National Guard by resigning the ESGR Statement of Support which is a solemn pledge to: 1) Fully recognize, honor, and comply with the Uniformed Services Employment and Reemployment Rights Act. 2) Provide our managers and supervisors with the tools they need to effectively manage employees who serve in the Guard and Reserve. 3) Appreciate the values, leadership, and unique skills Service members bring to the workforce and will encourage opportunities to hire Guardsmen, Reservists, and Veterans. 4)Continually recognize and support our country's Service members and their families, in peace, in crises, and in war. Simply put, Jeff reaffirmed Mark Miller Subaru's commitment to support our large armed services by signing this pledge, which is a promise to protect, support, and service our military personal in return for their service to our community, state, and nation! In fact, Jeff encouraged all business owners to commit their similar support to the Guard and Reserve by signing the ESGR Statement of Support. While we'd likely all agree that in the perfect world there would be no need for the protection our military provides, but now more than ever – with democratic institutions on attack across the world - we see how important it is to have a well-structured, properly funded, and well supported military apparatus. And while our brothers and sisters fight to defend personal freedoms guaranteed to U.S. citizens through democracy, Mark Miller Subaru will be here to support all service members by sharing our gratitude and Subaru Love with them.
---
Loving and Protecting the Earth - Cheryl F
The Summit Land Conservancy protects farms and ranches, mountains and meadows, rivers and trails in Northern Utah. This landscape provides the watershed for most of the people who live in Utah and for the Great Salt Lake, which is an essential natural resource for the West. With the support of partners like Mark Miller Subaru, local governments, and individuals, the Conservancy (an accredited land trust) keeps rivers running freely, saves the green places that draw carbon out of the atmosphere, and protects habitat for wildlife and humans. Subaru owners know that life is better with open space, and we are grateful that Mark Miller Subaru has so generously shown their love for the earth by supporting the Summit Land Conservancy's work to permanently protect our beautiful world. Thank you, Mark Miller Subaru, for allowing Summit Land Conservancy to join the 2021 Subaru Share the Love Event as a hometown charity partner, and for the astounding $92,913 donation that will help protect and conserve our open spaces and keep them open for public recreation!
---
Community Easter Egg Hunt for kids of all ages - Taylor O
What do nonprofits, people, and Easter all have in common? Community! Youthlinc welcomed Mark Miller Subaru as a partner and sponsor of our Community Easter Egg Hunt event at Murray City Park on April 16, 2022. More than 1,000 families and kids gathered at the park for some family-friendly, Easter Egg Hunt fun! Dozens of volunteers helped lead craft activities, age-specific Easter egg hunts, Easter bunny photos, face painting, and coloring on the Mark Miller Subaru ArtCar. Also on-site was Big Brothers Big Sisters of Utah accepting donations of gently used clothes/fabric/shoes to support their mission, and everyone who made a bag-full donation of clothes received a free drink from Thirst. On a chilly spring day, it warmed the heart to see so many come out and celebrate our community nonprofits and, of course, Easter! YOUTHLINC is a Utah-based nonprofit that invests in the service ethic of youth in order to foster individuals in our society who understand local and global needs, and who are deeply committed to work to relieve those needs through personal service, partnership, and good will.
---
Utah for Ukraine: Help, Support, Love! - George R
Our hearts are heavy for our Ukrainian friends who are currently living through the most heartbreaking atrocity in generations. As we read the horrific news headlines every day, we continue to send our LOVE and prayers to Ukraine and all affected by this senseless act of violence. Utah has a long tradition of supporting and welcoming refugees in need. Currently, Utah residents and agencies are hosting nearly 2,000 Ukrainian nationals, giving them shelter and safety. The suffering in Ukraine is creating a massive need to join together and help a community in crisis, which is why several Utah business and foundation leaders partnered with the Community Foundation of Utah to create the Utah for Ukraine Fund with a goal of raising $4 million to provide immediate, short-term relief to refugees fleeing Ukraine for safety. In the spirit of the Subaru Love Promise and Subaru Loves to Care/Help, Mark Miller Subaru and the Miller Family joined forces with the Utah for Ukraine Fund to match all donations from our customers and staff up to $10,000 in SUPPORT of this effort. Love sparks the hope that will keep Ukrainians fighting for their freedom and commitment to a democratic way of life, and financial support will provide the means for them to survive these dark times and rebuild their lives. The war has hit especially close to home for some of our staff, like George Rosca, Mark Miller Subaru Midtown Sales Manager. George was born in Galati, Romania, just a few miles from the Ukrainian border, and use to visit family and friends as a kid. That part of Ukraine used to be part of Romana before WW2 when the Soviet Union ceased control. Witnessing what's happening in Ukraine has been hard on George and his family. "Everyone at Mark Miller Subaru has been so supportive," says George. "I have received $300 in personal donations from staff that asked me to donate directly to the refugees through my family there on the ground, and both myself and Jeff Miller will be matching those donations in support of the Utah for Ukraine Fund."
---
Fighting Hunger, One Slice at a Time - Blair H
Mark Miller Subaru has been a long-time supporter of Volunteers of America, Utah (VOA) and we're so excited to be working with them as a Subaru Loves to Care partner in the Love Promise program. One of the first events we did together this year was to help feed homeless youth. Mark Miller Subaru and Bella Food Truck partnered with VOA to feed our youth clients (and staff) at the Youth Resource Center on National Pizza Day—February 9, 2022. The VOA Youth Resource Center is a facility that provides meals, emergency shelter, case management, and support for homeless and at-risk teens ages 15-22 to help transition them out of, and prevent them from entering, homelessness. We provide essential basic need items, 3 hot meals a day, pantry food, showers, laundry, life-skills groups, housing and employment case management, and dental and medical care assistance with access to mental health services on-site. Last year, our Youth Resource Center served over 25,000 meals to our youth clients, an effort made possible by the generous support of our volunteers who help serve meals and individuals and companies, like Mark Miller Subaru, who help fund the Youth Resource Center. Every year pizzerias across the nation participate in Pizza Across America on National Pizza Day, a campaign to give back to local communities and help fight hunger by donating pizzas to shelters and vulnerable populations. This year, 327 pizzerias donated 7,500 pizzas, including all the delicious pizza by Bella Food Truck that was served to our youth clients. And we took the opportunity to build awareness around the Youth Resource Center and encourage the public to get involved by signing up as a volunteer to serve or feed the youth or make a donation to support our programs. In addition to feeding our youth clients, Mark Miller Subaru raised $800 through a staff pizza day, selling slices during lunch and letting employees make additional donations to VOA. It warms our heart to see the community-minded ethos among everyone at Mark Miller Subaru. On behalf of our Youth Resource Center clients and staff, thank you for celebrating National Pizza Day with us!
---
Students Run the City for the Day - Jake B
Fifth grade students from Woods Cross Elementary School became little adults for the day at Junior Achievement City located in Discovery Gateway Children's Museum, in downtown Salt Lake City. JA City is home to over 20 storefronts sponsored by local businesses. These little adults brought this learning facility to life as they operated banks, managed restaurants, voted for a JA City mayor, developed working budgets and managed their business and personal finances. Mark Miller Subaru's Jake Boyle, Business Development Center Manager, volunteered and coached four students assigned roles as CEO, CFO, and engineers in manufacturing. "It was incredible to see these young students, mostly 10 and 11 years old run the city! They took their responsibilities very seriously and were enjoying the learning experience" Jake shared. Junior Achievement City programs promote 21st century skills including: critical thinking, collaboration, creativity, problem solving and communication. Mark Miller Subaru Loves Education and was happy to offer support to Woods Cross Elementary School and Junior Achievement.
---
Give LOVE & SUPPORT to those in need - Geoff D
Volunteers of America, Utah always steps forward to help the most vulnerable of our community. Last year, VOA Utah served over 9,000 individuals through homeless supportive housing programs, detox services, mental health counseling, and internship opportunities for men, women, youth, and families. We also provide hygiene kits, warm clothes, tents, and other supplies to homeless individuals living on the streets. For the past several years, we have been honored to partner with Mark Miller Subaru in support of our programs. Just recently, they donated several boxes of Subaru blankets to help keep our homeless community warm during Utah's cold winter months. Subaru Loves to Help and their commitment to our nonprofit community is nothing short of amazing and exemplary as a true community leader. Thank you Mark Miller Subaru for being such a wonderful community partner!
---
Finding Danica Her Forever Home - Victoria K
We were so happy to partner with Mark Miller Subaru once again for Subaru Loves Pets month and National Make a Dogs Day. Through daily adoption highlights and a free adoption event, we were able to find loving homes for more than 75 homeless pets. This including some hard to adopt Underdogs, like sweet Danica. A three-month-old puppy we named Danica came into our care in July from the Navajo Nation. We were told by our rescue partners that her previous family thought she had been hit by a car and that's why she lacked the complete use of her back legs. Because of Danica's health, her family and they were not able to care for her. After we took her in and had our vet examine and X-ray her, we came to a different diagnosis- Cerebellar hypoplasia or degeneration, either genetic or caused by a distemper virus she had as a puppy. We put her in a foster home that fitted her to a wheelchair and she miraculously began to use her hind legs. We were overjoyed and full of hope by her progress. She came back to us a few weeks later and was spayed, but she was overlooked for adoption everyday. One of our staff members noticed this, so started taking her home nightly and reached out to a local physical therapist, Dr. Hall at Salt Lake Animal Physical Therapy. After a few weeks working with Dr. Hall, she progressed with using her hind legs even more. Now, her back legs are stronger, she loves to play with other dogs, she learned to use a doggy door, can go up and down a small stairway, sleeps all night at the foot of the bed with no accidents-- and is truly an energetic and happy puppy! Yes, she still falls down and will drag herself around, but we know she will continue to gain strength. Although she's not "perfect" she's truly an upbeat dog with lots of love and life to give. Part of what we do at Nuzzles is take in the homeless, abandoned, and pets in need of medical care. Cases like Danica would not have a happy ending if she stayed where she came from, but because of the support from companies like Mark Miller Subaru, Danica isn't overlooked anymore. Danica appeared on KUTV as part of our media blitz for Make A Dog's Day and shortly after, we said goodbye to this sweet girl as she left for her forever home. Some dogs just need a little extra visibility, and we're thankful Mark Miller Subaru offered that to our baby Danica.
---
Rewards = Motivation - Jessica R
Mark Miller Subaru donated $500 to my classroom, allowing me to buy rewards for my students! I love being able to reward my students when they do something that deserves more than a A+ stamp :) Thank you so much for helping me help my students to see that their efforts are not wasted and are appreciated!
---
Uniting to Care for our Community - Joseph D
United Way of Salt Lake hosts an annual Day of Caring for local businesses to participate in volunteer projects to help build, strengthen, and support our local community. Mark Miller Subaru staff have been participating in Day of Caring projects for over 20 years, helping clean and beautify refugee centers, places of worship and schools, preparing packets for Head Start students, and volunteering as student tutors. Every year our staff is ready to roll up our sleeves and tackle whatever project United Way hands us. This year, on September 9, 2021, ten Mark Miller Subaru employees volunteered their time at Midvale Elementary to dismantle and clean-up some old garden beds to create a new buddy garden space for students, complete with a new Little Free Library. Collectively, this year's Day of Caring included 34 companies and nearly 1,000 volunteers who completed projects at 12 school and 18 nonprofits. Mark Miller Subaru and the Miller Family have been long-time supporters of United Way of Salt Lake, supporting the Collective Impact program and Promise Partnership to transform the educational environment for Utah Kids, mentoring 8th grade and 3rd grade math students to reach grade level math through a special iReady program. Mark Miller Subaru is one of the esteemed local businesses with 100% employee participation in the United Way Payroll Giving Program, with every staff member making a payroll donation to United Way. Every August we participate in the Stuff the Bus program to collect school supplies for students at Title I schools. We event hosted a yard sale event at Mark Miller Subaru Midtown to support United Way with items donated from our staff. United Way of Salt Lake has served and strengthened the greater Salt Lake community for 100 years, and Mark Miller Subaru is proud to support their amazing work under the Subaru Love Promise banner! By working together, we focus our resources to make Utah a better place for our students and residents.
---