The 2021 Subaru Love Promise Customer and Community Commitment Award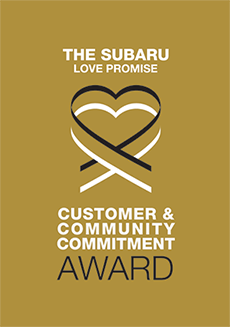 We've been nationally recognized for our dedication to our customers, our community, and the Subaru Love Promise.
We're honored to receive the 2021 Subaru Love Promise Customer and Community Commitment Award. This award nationally recognizes elite Subaru retailers who provide an exceptional customer experience at every interaction with Subaru. These retailers have also demonstrated an outstanding commitment to supporting passions and causes in their local communities in important areas such as the environment, community, health, education, and pets.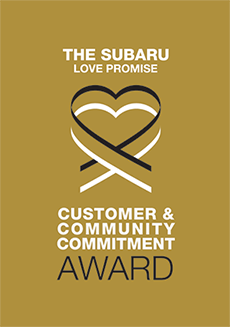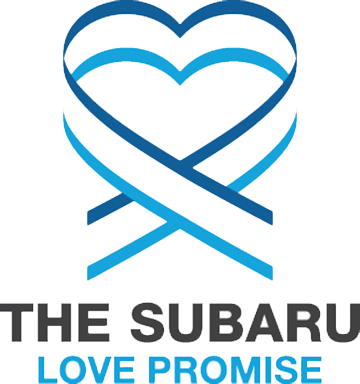 What is the Subaru Love Promise?
Subaru and our retailers believe in making the world a better place and the Subaru Love Promise is our vision of respecting all people. This is our commitment to show love and respect to our customers and to work to make a positive impact in the world.
How is Mark Miller Subaru Midtown dedicated locally to the Love Promise?
At Mark Miller Subaru, our Love Promise to the Utah and the Salt Lake area can be seen in our partnerships with local nonprofits and charities. We are grateful to not only to be part of the Salt Lake community, but to serve it as well.
Discovery Gateway Children's Museum
Big Brothers Big Sisters of Utah
Love Promise Stories from Mark Miller Subaru Midtown
Subaru and Mark Miller Subaru Midtown believe in making a positive impact on the communities in which we live and work. We uphold that belief through our Love Promise Community Commitment. Every month, we select inspiring stories from customers and partners from around our area who strive to support our collective commitment and feature them here
Mark Miller Is Helping Students Master Mathematics - Mike A
Subaru Loves Learning now more than ever. There is certainly no doubt that the Coronavirus Pandemic has had wide-reaching effects on communities across America. One particular group of individuals who has been greatly impacted by the pandemic are school-aged children across our country. In fact, according to Brookins Research, 'the math achievement of students in 2020 was about 5 to 10 percentile points lower compared to same-grade students the prior year." While this decline seems minimal given the circumstances of the pandemic, the problem is actually very troubling when compounded with the annual 'Summer Slide' in educational gains that typically occur over the summer break. Simply put: children are struggling more now than ever before, and they are in desperate need of our help. And through the Subaru Love Promise and the Subaru Loves Learning pillar, Mark Miller Subaru has come together to help in a very big way! In addition to making sizeable financial contributions to help address this problem, Mark Miller himself, along with his son Jeff Miller, and many Mark Miller Subaru employees have stepped-up to help ensure an entire grade-level of students receive the help they need. So Mark, Jeff, and members of the Mark Miller Subaru team began volunteering their mornings at the beginning of the school year with hopes of making a difference in the lives of the roughly 70 3rd Grade Students at Mill Creek Elementary, a Title 1 School in an impoverished neighborhood of Salt Lake City. The overwhelming majority of these children, who already are at a socio-economic disadvantage, were testing at/or below grade-level competency in mathematics. For all intents and purposes, the proverbial cards are stacked against these young students. However, with Mark Miller Subaru's intervention and with the help of remarkable tutors from Mark Miller Subaru's employee roster and members of the community at-large, students are getting the support they need to learn the critical concepts needed for success in mathematics. Tutoring by members of the Mark Miller Subaru team, which occurs 4-days a week from 8:45 am – 9:30 am, has helped students master core concepts in mathematics at a growth rate greater than that of students without a tutor from Mark Miller Subaru. While the school year isn't over, and members of the Mark Miller Subaru team are committed to seeing this project through until the end, we wanted to take a moment to pause and celebrate our efforts at Mill Creek Elementary. While it has been a lot of hard work, it has been worth every early morning. We know, beyond a shadow of a doubt, that the time we're spending with these young children is making a difference on their lives and is setting them up for long-term academic success. In Fact: since the beginning of the school year, we've seen a remarkable improvement in their understanding of fundamental principles. As you can see in the attached graph, only 7% of students started their schoolyear on 'Grade Level', (meaning they were prepared for the school-year), whereas 41% of students were two-or-more grade-levels behind. As of our most recent diagnostic, 41% of students are now at 'Grade Level' competency, and only 24% of students are two-or-more grade levels behind. Simply put, what we are doing is working!! In fact, our success caught the eye of a local newspaper who recently featured us on the cover of their publication. Check it out here: https://issuu.com/mycityjournals/docs/millcreek_se_mar_webIn conclusion, while Mark Miller Subaru is doing this important work as part of our Loves Learning commitment because it's the right thing to do… who know, maybe one of these young students will eventually grow-up to be an employee of Mark Miller Subaru or even an employee of Subaru of America. It's entirely possible! Regardless of what these young children grow-up to do, we know that they'll become highly productive and respected members of society, and it's truly humbling to know that Mark Miller Subaru and Subaru of America, through our Subaru Loves Learning mission, played a critical role in their future success.
---
Diverting Wrapping Paper from Landfills - Eric M
For the second year in a row, Recycle Utah joined forces with Mark Miller Subaru to encourage Salt Lake County and Summit County residents to recycle their used wrapping paper after the holiday season. Recycle Utah coordinated the delivery of a 30-yard container to the Mark Miller Subaru retailer location and encouraged our online followers and constituents to stop by their location to drop off their wrapping paper for proper recycling. Ultimately, our message is for people to use reusable boxes and reuse tissue paper for wrapping gifts each year and move away from wrapping paper and bows that are considered hard to recycle and wasteful. Many types of wrapping paper contain metals, glitter, glues and other contaminates that prevent it from being recycled like normal copy and newspaper products. It takes extensive attention and effort to ensure only wrapping paper and tissue paper make it into the recycle bins, and avoid mixing it with plastics, cardboard, metal papers, bows, and ribbons that can contaminate the collection and cause it to be shipped to a landfill instead of a paper recycling center. The average 30 yard roll off container holds 30 cubic yards of debris, which is equivalent to about 180 13-gallon (kitchen size) trash bags. Together, Recycle Utah and Mark Miller Subaru helped divert 2,340 gallons worth of used wrapping paper from our local landfills, sending it to be properly recycled. After unwrapping Christmas presents and seeing the mounds of paper in our living rooms, people really want to do the right thing and recycle it, but with all the tape and ribbons and bows, used wrapping paper isn't the easiest to recycle. That's why we encourage people to STOP WRAPPING and START BOXING with holiday festive boxes that can be reused for many years. But until wrapping paper is a thing of the past, Recycle Utah and Mark Miller Subaru will help provide recycling options for those who want to be good environmental stewards.
---
Mark Miller Subaru Loves Pets, Near & Far - Joseph D
Allegra lives in Coupon, Pennsylvania and messaged Suba Bleu Miller via Facebook to ask if we had any more Subaru diamond plate dog balls left (an older Subaru pet toy she picked up a while back). Her lab mix, Remi, had cancer in his hip that required removing the hip and leg to prevent the cancer from spreading. Remi was very attached to the ball since his surgery, carrying it around everywhere. Sadly, the cancer spread to his lungs and Remi is about to undergo further surgery, so Remi's humans were looking for a few extra balls as backups to make sure he had his comfort toys nearby. Although Mark Miller Subaru is based in Salt Lake City and not Allegra's local Subaru retailer, we knew we had to act to give Remi some extra love on National Make a Dog's Day. Unfortunately this specific ball is currently out of stock, but Suba Bleu and Mark Miller Subaru sent a care package of the latest Subaru pet toys in hopes Remi finds one of them as comforting as the ball for his next round of treatment and recuperation. Near or far, it's the Subaru Loves Pets way to care for the underdogs and go above and beyond to serve our customers, wherever they may live! Good luck, Remi – we're rooting for you!
---
Pride on Wheels at the Road Rally - Joseph D
Family, friends, and businesses gathered to celebrate National Coming Out Day on October 11, 2020 during the first-ever Utah Pride Road Rally event, hosted by the Utah Pride Center. More than 300 colorful, decorated, and decked-out cars "dragged" down Main Street in Salt Lake City as hundreds of community members celebrated diversity and inclusion. The event included drag performances, music, and the rainbow of colorful Pride costumes. After the Utah Pride Center had to cancel the annual Utah Pride Festival & Parade (held each June) due to COVID-19, they found a way to bring the community together in a safe and fun way. The Road Rally encouraged participants to show their support for the LGBT community by packing their cars with family and friends from within their bubbles, glamorizing their vehicles, and drive a prescribed route as sponsors cheered them on from the sidelines. Mark Miller Subaru has been a long-time sponsor of the Utah Pride Center and the annual Pride Festival, and was thrilled to join the celebration to support Subaru's commitment to diversity and LOVE. The annual Pride Festival is a major fundraiser for the Utah Pride Center, accounting for nearly 40% of their annual operating budget. The Road Rally not only provided a safe atmosphere for people to celebrate their Pride, it raised crucial funds for the life-saving work of the Utah Pride Center, such as their mental health program, suicide prevention program, and youth and family programs. During the past eight months of the pandemic most people have found comfort and safety in home confinement, but many LGBT youth and senior adults rely on the community space of the Utah Pride Center for connection, interaction, and counseling services. Without this important space, people slip further into isolation and depression. The Road Rally was a successful event in bringing the LGBT community together to see one another -- from a distance -- and re-connect to the faces and support structure that help us remember that together, we will get through this!
---
Fit to Recover Member Christi - Christi D
Christi - FTR Member and Mark Miller Subaru Scholarship Recipient I have been in recovery for 11 years. For the past 7 years I was the Coach for Addict to Athlete here in Salt Lake. I learned a lot about setting goals and finishing races, and holding yourself to a higher standard. I discovered that physical fitness helped with my anxiety, depression and PTSD and I was able to stop taking all meds and use working out to keep me mentally in control! I met Ian 8 years ago when he had a vision of opening a recovery gym. I attended some meetings at USARA. Honestly, I didn't think I was capable of doing any of the workouts. The gym had been open for a couple of years before I finally started to come to boot camp. I was an avid boot camp participant for a couple of years! I wanted to try out the other classes but I was too scared to go by myself. So I talked a friend into coming with me!! Lol I had very long gaps in between coming. Slowly over time I started coming a couple times a week, thinking that was all I could do! Boy was I wrong! January 2020, Ian talked me into doing the 4x7 challenge. That's 4 fitness classes a week for a month! I literally did not think I could do it, but I pushed through and completed the challenge. I was so proud of myself and set a goal to continue going to the gym 4 times a week. When Covid hit, I was laid off from work and saw that FTR was starting zoom classes and that we could borrow some equipment!! So cool! That's when I started working out 5 days a week doing the noon class!! I have been maintaining 5 days a week since March! I got my daughter, Sabrina, to come over and do the workouts with me. She had never worked out like that before! She had become my workout buddy! We have built a strong relationship and friendship through working out and I am super proud of her!!! The scholarship has been a huge blessing and kept me motivated to come to the gym!! I would feel terrible to have been chosen for the scholarship and not use it!! So Sabrina and I commit our time to the noon class Monday- Friday!! I am so thankful to have been chosen to receive the Mark Miller Scholarship!!! Thank you so very much!!
---
The 2019/2020 Love Promise Annual Report - Jeff M
As the world currently navigates the existence of the Coronavirus Pandemic with great uncertainty, there isn't a better time to reflect on the good that exists all around us. It has been truly inspiring to see people from all walks of life band together in support of others in our community during this time of crisis. It's the unification and compassion of our family members, friends, and the generosity of complete strangers towards their neighbors that gives all of us at Mark Miller Subaru great hope for our future. While there is certainly no doubt that the beginning of 2020 has been challenging, there is still so much to be proud of and even more to celebrate. It's in this spirit that I humbly share with you Mark Miller Subaru's 2019-20 Annual Report, a document that I'm incredibly proud of! The pages of this very special document will offer you a glimpse into Mark Miller Subaru's recent work 'Leaving a MARK' in our local community. In the pages of this report, we highlight the undeniable power of the Subaru Love Promise, a commitment by Subaru of America and retailers like Mark Miller Subaru to be 'more than a car dealer.' It's the pillars of the Subaru Love Promise that guide us to be good stewards of our community with hopes that we leave our world a better place for our kids and grandkids. And I'm happy to report that Mark Miller Subaru did just that this past year – we left 2019 better than we found it! To name just a few things, helped secure over $130,000.00 during the Subaru Share The Love event, placed three service animals with U.S. Veterans, and united as friends with a local Subaru competitor for the first time in history as the Co-Presenting Sponsors of the 2019 Utah Pride Festival. We're proud of our 'MARK' we've left on our community. I'm hopeful you'll be proud of our work as well. As you flip through the pages of this report, I invite you to depart from the uncertainty of today. Instead join me by reminiscing in the joy of our collective past while together we also begin daydreaming of the joy to come in our collective future... because a better future will indeed come. As we venture into this promising future, let's continue to do so together. Let's never forget that, in the spirit of Subaru, sometimes the road before us won't be found on a map, nor will that road be typically leveled or paved, but that hasn't stopped us before, and it won't stop us now. That's because when Subaru drivers are on a journey together, we're unstoppable. From the bottom of my heart, thank you for sharing your journey with us. VIEW THE FULL ANNUAL REPORT HERE: https://www.markmillersubarumidtown.com/2019-annual-report.htm
---
Suba Bleu's Clues "Love Promise" Scavenger Hunt - Joseph D
During a normal summer, Mark Miller Subaru would be active and busy outdoors supporting all sorts of community and cultural events, festivals, and other public activities. But this has been no normal summer. In an effort to stay active in our community with our Love Promise charity partners and help draw attention to their incredible work and need for public support, Mark Miller Subaru hosted a community scavenger hunt. Suba Bleu Miller is Mark Miller Subaru's "Love Promise Ambassador." Together, he teamed up with all six of our Love Promise charity partners to host our Suba Bleu's Clues "Love Promise" Scavenger Hunt. Twelve questions took participants online and outdoors, with half the answers found on the respective organization's website and the other half found at the GPS coordinates provided at registration. For each question answered correctly, participants received one entry into our gift outdoors-themed grand prize drawing. Thanks to everyone who participated, and to the below individuals who left these heartwarming notes in their answer forms. "Both of my boys are diagnosed as Highly Gifted Autistic kids, and while there are difficulties and benefits to anything that separates each of us from anybody else, it is difficult for Mom and Dad to find any activity that they both "fall for". Your scavenger hunt was great. Now I have to come up with another one myself." "My girlfriend and I have been cooped up all summer with COVID-19. We made a date night out of the scavenger hunt. We took our bikes out to all the GPS points for some exercise. It was a lot of fun learning about all of these cool non-profits. Thanks for all you do, Mark Miller Subaru." "Although we didn't get outdoors to answer those questions, my kids loved going onto the non-profit websites and learning about their work as they answered those six questions. Bravo on creating a fun event during these crazy times." Mark Miller Subaru's 2020 Love Promise charity partners that helped make this a fun, successful, and safe event include Subaru Loves Pets: Nuzzles & Co., Subaru Loves the Earth: Wasatch Community Gardens, Subaru Loves to Help: Fit to Recover, Subaru Loves Learning: Spy Hop, Subaru Loves to Care: The Sharing Place, and Subaru Loves Veterans: The Malinois Foundation. Visit their websites to learn more about each organization and see how you can support their important work.
---
Nothing Feels Better Than Giving Love Away - Joseph D
Mark Miller Subaru (MMS) had our most successful Share the Love Event this past year, raising $134,200 for our two hometown charity partners, The Sharing Place and The Malinois Foundation. For the first time ever, we were excited to "Return the Love" to one lucky customer to win three years of car payments paid for by MMS. Originally, we planned on hosting a community event to present our charity partners with their donation checks and draw the name of the lucky Share the Love customer to win our Return the Love giveaway, but COVID had other plans for us. After contacting all of our customers to let them know the change in plans, we finally hosted our Return the Love event virtually on July 20. Nearly 200 people tuned-in to the MMS YouTube channel to watch as we presented The Sharing Place with a check for $66,641, and The Malinois Foundation with a check for $67,559. Collectively, these funds will help more than 60 children who recently lost a loved one receive grief support services for a full year, and allow more than three veterans to be placed with service dogs that will provide them with the life-saving canine assistance they need. A big thanks to Subaru of America, Inc. and all of our customers for helping to make our record-breaking donation checks possible. The program concluded with our grand giveaway finale. Mark Miller Subaru General Manager and Chief Executive Officer, Jeff Miller, selected our lucky winner. We congratulated Erin West and her three years of car payments, which MMS paid out in one lump sum. Park City TV interviewed Erin and MMS marketing staff after the giveaway where Erin announced she was donating a portion of the award money to Feeding America to help with those affected by COVID. We could not have asked for a more heartwarming conclusion to our 2019 Share the Love event—supporting local charities and returning some love to our amazing customers! "The Sharing Place is eternally thankful for Mark Miller Subaru's valuable friendship and financial contribution to help support our grieving families. Mark Miller Subaru is truly a community minded company!" -John Gold, The Sharing Place, Executive Director "Thanks to our partnership with Mark Miller Subaru, we just placed our tenth service dog this year with a Veteran in need of canine assistance! The money received from the Share the Love Event helped make this possible. On behalf of the many Veterans we serve, thank you Mark Miller Subaru and Subaru of America, Inc. for being such amazing community supporters." – Kelley Rosequist, The Malinois Foundation, Executive Director
---
Elevating black voices because #BlackLivesMatter - Jeff M
As someone who was born with the unfair advantage of White privilege, I've never had to worry about another person trampling on my rights because of the way I speak or the way I look. It's recognizing this privilege that reminds me of how important it is to advocate for the rights of individuals who don't yet have the same rights and privileges I possess every day. The killings of George Floyd in Minnesota, Ahmaud Arbery in Georgia and Breonna Taylor in Kentucky are harsh reminders of the dangers that Black Americans face by simply living their everyday lives. Our world should be a place where people don't have to worry about their right to life being taken away from them because of the color of their skin. Everyone needs to work harder and with greater intention to ensure that our Black neighbors feel welcome, respected, cared for, and protected. Utah, and everywhere else in America, needs to become a more welcoming and inclusive place. A place where every human, regardless of race, feels safe enough to raise a family and live a comfortable life. Business owners, myself included, must do a better job of emphasizing diversity in our companies. We need to do more to encourage the advancement of our Black neighbors by providing them with greater opportunities inside our businesses and throughout the community. While Mark Miller Subaru has long championed diversity and inclusion, I know that, like many others, we can do better. I promise you that we will do better. That starts now. I'm honored to announce that Mark Miller Subaru announced a $5,000.00 challenge grant to our community in support of both the national and local ACLU Affiliates. We offered to match dollar-for-dollar for any donation made to the ACLU to help support the Civil Liberties of the Black community in Utah and throughout the Country. As soon as this was announced, a Mark Miller Subaru customer reached out to me personally and generously offered to 'match our match' which led to a total of more than $15,000.00 donated to the ACLU in less than 5-days! We were also proud to join Subaru of America following the completion of this Community Challenge by also donating $10,000.00 from Mark Miller Subaru Midtown to the Equal Justice Initiative, and an additional $10,000.00 from Mark Miller Subaru South Towne to the Southern Poverty Law Center's Teaching Tolerance Project. In total, and with the generous support of Subaru of America, Mark Miller Subaru and our local community generated more than $55,000.00 (in less than two-weeks!) towards raising the voices of America's Black community. As the Reverend Dr. Martin Luther King Jr. once said: "we cannot walk alone." To those who are scared and are hurting, please know that Mark Miller Subaru sees you, we hear you, and we grieve with you. Please never forget that Mark Miller Subaru is here to walk alongside you. We always have been and we always will be.In Solidarity, Jeff Miller
---
Honoring Hometown Heroes - Danielle L
Partnering with Mark Miller Subaru for Share the Love in 2019 was especially meaningful for myself and The Sharing Place. In our campaign leading up to the event, we honored hometown heroes. For The Sharing Place, a grief support center for families in Salt Lake City, that meant elevating the story of a very special Gold Star Family. When we sat down with this family to make a video, it was immediately evident how much love they exuded for their fallen service member. He was a husband and father who died while on Active Duty in the army. His wife absolutely lit up with the biggest smile when talking about him. The army, she said, was everything to him. He took his service very seriously and she was proud to stand by his side. In their interview, her two young kids argued over which prank their dad played was the funniest and what they each liked to do with him in the most endearing way. They just couldn't decide what the best thing about their dad was because there were too many. The whole family talked about how their grief support group had been a place where they weren't treated differently because of their situation and where they had found a safe space to share these stories about their soldier. As a military spouse myself, I understood the gravity of their sacrifice and was immensely grateful that Mark Miller Subaru was giving them a public platform to share their unique story with all its struggles and triumphs. I thought that moment was the best part of our partnership until a few weeks later at a special Share the Love kick-off event. In keeping with the theme, Mark Miller Subaru invited an organization to set up a display of service boots that belong to the fallen. The display itself was very powerful but as it turned out, this family who had made the video with us was also in attendance and were completely surprised to find their soldier's boot among the display. Our Gold Star widow approached me in tears and told me that she had no idea she would be reconnected with her husband that night in a physical way, and that it was "a good surprise". The best she could have asked for. Her kids were beaming too, excited that a piece of their dad was there with them. This campaign coming full circle shows just how deep an impact Mark Miller Subaru makes. While the marketing and financial contributions we received during Share the Love will certainly help The Sharing Place serve more grieving families, and more families who have lost a loved one in military or public service, this moment of thoughtfulness was what stands out to me. I could not be more proud to work with a company that goes above and beyond like this with everything they do.
---
Keeping Families Moving Safely During COVID-19 - Katie S
On March 18th, Ronald McDonald House Charities of the Intermountain Area (RMHC) received a notice from our global office that all hospital , programs like the Ronald McDonald Family Room, were to be suspended and that our space should immediately be turned over to our hospital partners to provide care to individuals affected by COVID-19. Not only was transitioning how our charity would deliver its mission in the community following this news going to be a major challenge, but a 5.7 earthquake struck Salt Lake City at 7:09AM on that very same day. The world beneath us was both metaphorically and literally shaking. RMHC serves families of pediatric patients – children with a serious illness or injury who are being treated in a nearby hospital. The patient families who were still being housed with RMHC on that fateful day had children with the most critical and serious cases; cases that required they stay close to the hospital, even as COVID-19 was spreading across the country. The decision was made to find temporary emergency housing for these vulnerable families; housing which would allow them to have access to a private kitchen and to not be in common spaces with other individuals. Their health and safety was our top priority. But finding them remote housing also meant that providing them with food and transportation was going to be much more difficult. It was no surprise to the staff of RMHC that one of the first phone calls to come in offering help was from Mark Miller Subaru. Mark Miller Subaru has been a consistent supporter of the charity and due to their relationship with us, they are aware of the unique needs of our families. Knowing that families would be further away from the hospital without access to transportation, they immediately offered to provide Subaru rentals to qualifying families at no cost to RMHC or to the family. This generous gift has provided great relief to families who were genuinely concerned about how they'd continue to get their child the critical medical care they desperately need. One family, for example, has a child receiving life-altering behavioral health care. They have been with RMHC for a very long time and will continue to need treatment for the foreseeable future. When the mother of the family realized they would be a recipient of a Mark Miller Subaru free rental, she wrote this to us in response: "This is a big help and blessing to our family. Our resources and funds are very limited, and this help is extremely beneficial to my husband and I and our family!!" Another family has a baby in the NICU who needs surgery and will be in Salt Lake City, far away from their hometown, for another 4-6 weeks. Right as Mark Miller Subaru called with the offer of the cars, this family's car broke down. The mother was so grateful and said that it couldn't have come at a better time. Having the rental allowed them to get their baby through the surgery and then deal with getting their car repaired after. All of us at Ronald McDonald House Charities of the Intermountain Area are so thankful for the love and care shown to us by Mark Miller Subaru. This is just one more example of how they care for this community – and in this case, for us and the families we serve. We have a saying at RMHC that "Together Is A Wonderful Place to Be", and 'Together' with Mark Miller Subaru we will get through this pandemic.
---
Healing Together - Danielle L
Mark Miller Subaru is a great supporter of nonprofit collaboration in their Love Promise Program. This year, with their support, The Sharing Place and The Malinois Foundation teamed up to support one another. The Malinois Foundation brought dogs finishing training to The Sharing Place's grief support group for preteens. Grieving preteens get comfort and dogs get socialization - a win-win! One preteen group was visited by Moose, a big teddy bear of a Bernese Mountain Dog. The grief group coordinator had this to say. "One of the kids who has barely said two words since he has started coming to the Sharing Place, looked into Moose's eyes and cried and told him all about his dad's death. It was so special to hear them explain exactly what happened through their eyes. This boy's mom texted me later and said how grateful she was, that is the most she has seen her son cry since the death. Everyone had a great time and really bonded as a group." For many kids, processing grief comes slowly, and for that boy, that night was a big release of emotion. He asks about Moose all the time and his mom is still grateful for the healing comfort that Moose brought to the group.
---
Recycling Wrapping Paper This Holiday Season - Joseph D
There are no two ways about it - Christmas is a special time of the year. No matter how you choose to celebrate it, whether with a big ol' tree and eggnog, or a quiet night in with Chinese food and a seasonal special on TV, everyone has their own little traditions. Most of the time, you're surrounded by a whirlwind of family, food and festivities, something that you look forward to every year. And the presents, oh the presents. Whether you're a giddy child or posed adult, there is something fun and magical about ripping open a wrapped present in anticipation of something you've been wanting for months. But what happens in the aftermath of all of that gift giving, present opening, and love sharing? Piles and piles of wrapping paper, bows, ribbons, tissue paper, and boxes. And if you come from a big family like ours, you know how much trash that can quickly turn into. This holiday season, Mark Miller Subaru decided to make it a little bit easier for our customers and neighbors to recycle their wrapping paper. That's why we partnered with TerraCycle and Recycle Utah to collect wrapping paper and other holiday items at both Mark Miller Subaru Midtown and South Towne locations, and transport those hard-to-recycle items to our partners for proper recycling. And when we asked, our community delivered. In fact, we collected nearly THREE Subaru Ascents full of used paper, bows, ribbons, and other wrapping supplies. Recyclable items that would have otherwise ended up in the landfill. We want to give a warm thanks to everyone who heard our call and dropped off their wrapping supplies. We appreciate your help in caring for our planet. It's the little things, like recycling your wrapping paper, that add up to make BIG differences! Keeping it Merry, Bright, and Green!
---
Opening Doors to Math & Science at Kearns Jr High - Scott B
Nearly two and a half years ago I was contacted by our United Way representative who asked me if I would be interested in working with Mark Miller Subaru on the challenging work of finding a replicable intervention to raise Math proficiency in 8th grade. My first question was "The Mark Miller as in the car dealer?" I thought, "what does a car dealer want to do with Math." At that time, I only knew Mark and his Subaru dealerships from commercials. Since that time, I have found that Mark's passion for caring for others, and "sharing the love" through the Subaru Loves Learning program, is much more than a marketing phrase. It is truly a commitment. My students, my school, and the Kearns community have benefited greatly from our relationship with Mark Miller Subaru. In addition to organizing math focused parent nights, and monthly meetings to strategize and implement ideas, Mark has spent countless hours learning about Math curriculum, researching computer programs, meeting with district and state experts in Math and education. He and Subaru representatives have also joined us on visits to students homes. I haven't heard of any other company with the level of partnership that Mark Miller Subaru has demonstrated. Who else sends a team of their employees every other day to work individually with students in a class that is a targeted intervention to help students that are behind in math. Not only is this a time commitment, but they have invested resources and additional time to develop motivational strategies to motivate, celebrate, and recognize student progress. Students in this class are making gains and experiencing successes in Math that they have not had before. Chief among these volunteers is Mark himself, working with students individually. I believe that the relationships they are building and the examples they are to these underprivileged students will have long-term positive impact on them that extends beyond Math. Most recently, this partnership has added the support of dozens of award-winning science books for our school, teachers, and students. All wonderful books from the AAAS/Subaru Science Books & Films Prize for Excellence in Science Books program. I am grateful for Mark Miller and the Subaru family for the strength they are to Kearns Junior High School. With their help, we are working to change the world.
---
Suba Bleu Miller's Adopt-a-versary - Jenny C
Nuzzles & Co. loves Suba Bleu Miller-the local celebrity Mark Miller Subaru mascot dog at a local Farmers Market. We know Mark Miller Subaru cares about their cute rescue dog so much that they want to help other homeless animals find loving homes. Thanks to Subaru of America and ASPCA we found homes for 5 dogs and 5 cats. Mark Miller Subaru went above and beyond like they usually do with a decked-out corner for all of the animals. Our friends from Mix 105.1 hosted a live broadcast to help spread the word and other local businesses supplied goodies to the new adopters. It was a wonderful party to celebrate rescue pets finding loving homes.
---
Not All Heroes Wear Capes - Stacie K
It was a magical afternoon on July 11th when the team at Mark Miller Subaru and The Leukemia & Lymphoma Society's Utah Chapter staff and members of the Board of Trustees joined forces to deliver blankets and notes of encouragement to patients at Primary Children's Hospital and the Ronald McDonald House in Salt Lake City, Utah. The Ronald McDonald family room at Primary Children's is a special, loving place. It's raw with emotions and you can tell how much it means for these families to have a safe, calm place to regroup and refresh. As we handed out blankets we had several people tear up as they graciously accepted this small gift of comfort and love. "It was impossible to not be touched by the families we got to meet. They were open, loving, kind and above all else resilient. This experience has humbled me and gave me a greater perspective on what truly matters in life" said Aunndrea Kunz, Marketing Coordinator at Mark Miller Subaru. After spending our time at Primary Children's Hospital, the teams gathered to warm the residents of the Ronald McDonald House with blankets, support, and love. Courtesy of Mark Miller Subaru, The Great Room in the Ronald McDonald House was magically converted into a secret layer exclusively for Superhero residents and their families. Ice cream, face painting, and superhero costumes for all to wear greeted the residents as they trickled in from their private rooms. Whatever hardships and challenges these families were faced with that day visibly melted away quicker than the ice cream in their hands as kids and adults alike raced to join the fun. "The joy was infectious!" said Ms. Kunz. "It was one of the most powerful things I have seen in my life. Watching families go through so much but still find a reason to smile and play together. It was strength like I've never seen it before and it was beautiful." A young woman came up to the Mark Miller Subaru staff and thanked them for supporting people who are fighting leukemia. Her father had been through chemo several times and had decided after it came back again to stop all treatment so he could just live his life. "They almost lost him to a common cold the week before our event" shared Ms. Kunz. "I had to excuse myself to the bathroom to clean up my face after hearing this heartbreaking story." "My name is Kenzyn and I have monsters on my feet, but they're nice so you don't have to worry." These were the first words that 6 year old, vibrant burst of energy, Kenzyn, proudly shared with the Mark Miller Subaru and LLS teams as she hugged her new blanket like an old friend. Kenzyn and her family are from Montana, but Primary Children's Hospital in Salt Lake City is the closest facility for her very special needs. Kenzyn's dad pushed a stroller that held her baby brother who has only known his sister's places of treatment in Salt Lake City as home. Her mother cautiously guarded her nasal feeding tube as Kenzyn twirled around to show one of LLS' board members her furry monster slippers and her star patterned summer dress with a hole cut out on the chest for her treatment port. Kenzyn lost her hair from 10 rounds of chemotherapy or maybe perhaps it was the result of one of her four brain surgeries or one of her several rounds of radiation therapy. Regardless of why or how, her beautiful head is evidence that she has lived more life at age six than most do by age 60, but her eyes sparkled with a sweet and curious innocence that can only be found in children. The LLS Board Member enthusiastically asked, "Kenzyn, would you like to have your face painted like a fairy princess today?" "No way!" She gave him an incredulous look as if she were offended at the idea. "How about a sparkly unicorn?" This time, she didn't say anything to acknowledge such a horrible thought. She didn't need to, her raised eyebrow and smirk said it all. "You can pretend to be anybody or anything today! Who would you like to be, Kenzyn?" Without hesitation, she excitedly shouted, "BATMAN!" And that day, thanks to Mark Miller Subaru, the amazing Kenzyn in her star dress and furry monster slippers, put on a cape and transformed into the world's bravest Batman. The afternoon made an impact on all that were involved. LLS is truly grateful for the incredible partnership with Mark Miller Subaru and the feeling is mutual as Ms. Kunz shared, "thank you LLS for all that you do, your fight is a noble one and I was honored to stand by your side."
---
Love Goes The Distance 2019 - Jenny C
On April 24th, Nuzzles & Co. and Mark Miller Subaru loaded up five Subarus with 3,000 pounds of dog and cat food and medical supplies, and a caravan of volunteers set out for Southern Utah! Upon arrival, the food was distributed to our reservation fosters and partners, before getting ready for our 3rd annual "Love Goes the Distance" rescue mission. The next day, Mark and Jeff Miller piloted Mark's private plane southward to load it up with the reservation dogs and cats in most need of medical attention. They flew two round trips in one day to get pregnant dogs, orphans and critical needs pets back to Salt Lake City, where more volunteers greeted the plane and its adorable occupants and swiftly transported them to the Nuzzles Rescue Ranch for care. At the ranch, the animals were given immediate medical treatment. A team of staff and even more volunteers were ready to bathe, feed, and snuggle our newest rescues. Meanwhile, Subaru volunteers loaded up the Subarus with crates of dogs and cats healthy enough to make the six-hour drive back to the Rescue Ranch. Volunteers at the Ranch stood ready for the third wave of rescued dogs and cats. By day's end, all 111 dogs and cats were saved and snuggled into their comfy beds safely at the Rescue Ranch or placed in the loving arms of foster families. They are now getting all the love, attention and care they need to be ready for adoption in a few weeks. (Three of the rescued dog were pregnant, and one has given birth to a litter of nine—so the total so far is 120 animals saved in one day!)This never would have been possible without the generous efforts of Mark and Jeff Miller as well as all the employees and volunteers from Mark Miller Subaru. We thank them for pouring their hearts and souls into this rescue mission. Together, we changed the lives of hundreds of dogs and cats and gave them a place Where Love Wins.
---
Eco Rangers Visit Mark Miller Subaru - Haley L
To kick off Earth Month, Recycle Utah and Park City Day School drove to Mark Miller Subaru Midtown to conduct a "Green Audit" on their store. The Eco Rangers (a group of 5th graders committed to sustainability outreach and education) showed up ready to evaluate, question and learn about the sustainability practices at Mark Miller Subaru. They were greeted by Megan Robison, Marketing Manager for Mark Miller Subaru, who took them to a conference room to learn about the Eco Ranger program and why these students are involved. She used the time to get each student to talk and feel welcome, before heading out on the tour to conduct the "audit." The students toured the entire facility, including the car wash and service areas. They checked out everything from the contents of the recycling bins to the faucets in the bathroom and the solar panel information. They were encouraged to ask tough questions and give suggestions, ranging from decreasing the amount of time the men's sink faucet ran, to asking if Subaru would make a car with solar panels on the top. After their tour, General Manager, Jeff Miller, brought the students into his office to listen to each of their questions and concerns. Both Megan and Jeff treated these students professionally and with the utmost respect, empowering the students to speak up, suggest improvements and to learn new ways businesses can be green too! These young environmental advocates are honing skills that will help them throughout their lives, not just as environmental advocates, but also as strong community leaders. It is not often that they visit a business and the General Manager sits down and gives them the same attention he would a high-level investor. After the event, one student even mentioned how cool it was that "The man who owns Subaru works with us." The positive impression left of Mark Miller Subaru (and Subaru as a whole) on these young students will last a lifetime. I bet when they are driving around in their first Subarus they will think highly of this day.
---
Community First - Meg C
I just purchased a car from Mark Miller Subaru Midtown from Bob McCord. I heard about the dealership because of their support of Recycle Utah and the commitment to sustainability. I donate and volunteer with Recycle Utah, and when they learned I was car shopping they shared with me all the sustainability initiatives at Mark Miller. I was blown away! A car dealership! In Utah! Crazy. I was even more surprised when I went to the dealership to see the signage educating customers on everything from the solar panels on the roof, to the recycled water in the car wash. Each sign not only advertises what Mark Miller is doing but educates the customers on small things they can do in their day to day lives to make a difference. I was also shocked to see that Mark Miller Subaru not only supports Recycle Utah, but they also support 4 or 5 other organizations. The commitment to the community and to the environment is why I will never consider going anywhere else. I am proud to be the new owner of a Subaru Forester from Mark Miller Subaru.
---
Sharing our Stories and Snuggles - Danielle L
At The Sharing Place, kids are used to talking to other kids about loss and grief feelings, but recently, one of our preteen grief support groups got the chance to talk to some furry friends thanks to Mark Miller Subaru. Suba Bleu Miller and his two therapy dog friends, Arrow and Moose, joined the group to help us have a conversation about unconditional love and support in our time of grief. Each teen took a turn approaching the dog of their choice and telling the pup how it felt to have a mom, dad, brother, or sister who died. While they talked to the dog about their feelings and stroked their fur or snuggled up, adult volunteers asked what it felt like to receive the unconditional love and support of an animal companion. They asked if the kids had people or pets in their life who can offer that when they need it. There were so much laughter and lightheartedness in this group, along with a few tears, and by the end, our adult volunteers and group coordinator were blown away. They reported that all of the preteens shared more with the pups than they had ever shared with their human friends in a group. Some of them had even been able to express emotions they had not accessed in a group before like anger or crying. Even more impressive, they were able to do this in front of new people - the handlers who came with the dogs. Even though The Sharing Place is a safe place for preteens to talk about their feelings and loss experience, they are at an age where it is difficult to be vulnerable with other kids because there's the pressure to be mature and "cool" that comes with being on the cusp of adulthood. Sharing stories with the dogs was a perfectly healthy way to practice confidence and vulnerability when talking about the loss that will help these teens as they enter high school, develop relationships, and get into the working world. The therapy dogs and Suba Bleu helped break down those barriers, just by being there, and created a comforting and totally relaxed environment for everyone. Our group coordinator who facilitates this support group each session wrote on her post-group log that it was "The BEST GROUP EVER!" and that there were too many "wow moments" to count. Thank you to Mark Miller Subaru and the therapy dog team for helping our preteens heal! We can not wait for the next visit, because the first made such a difference.
---
Loving our Pets while Loving our Earth. - Mike A
In the fall of 2016 Mark Miller Subaru adopted Suba "Bleu" Miller from the Humane Society of Utah. And nearly 2.5 years later, we couldn't be happier with our decision to add Bleu to Mark Miller Subaru's family. Not only because Bleu brings so much joy to our employees and our customers, but because he has opened our eyes to new areas of need in our community. Areas of need that would otherwise not be on our immediate radar. While taking Bleu to Herman Franks Dog Park, one of Salt Lake City's busiest dog parks, members of the Mark Miller Subaru team noticed the growing number of broken plastic lawn chairs that would cycle through the park. Local residents would bring their own lawn chairs for respite as they watched their dogs play. These plastic chairs, however, aren't very durable and would eventually end up broken and in the garbage. In fact, the park was being overrun with broken lawn chairs simply from this lack of seating at the park. This became a vicious cycle that Mark Miller Subaru wanted to help stop. With the help of Salt Lake City Mayor Jackie Biskupski and the City's Parks & Recreation Department, Mark Miller Subaru underwrote the cost of FIVE (5) new park benches which were installed on Valentine's Day. Mayor Biskupski, along with members of her administration, were on-site to accept the donation on behalf of Salt Lake City's residents and their four-legged companions. In doing so, she offered the following remark: "This is definitely one of the best Valentine's Day gifts a mayor can receive! When companies like Mark Miller Subaru invest in our community, they invest in all of us. I am sure these new benches will become a great place for people to relax as their dogs get some exercise. I can't wait to bring my dogs, Eva and Ember here!"After removing benches from storage, one of which was stored inside of a 2019 Subaru Ascent, Mayor Biskupski and Jeff Miller, general manager of Mark Miller Subaru, placed the benches throughout the Park. Following the placement of the benches, Mayor Biskupski and Jeff then walked the park to remove the broken plastic chairs that were plaguing the beautiful green space. At the conclusion of the placement, Jeff shared a hug with Jackie and offered the following thought: I sincerely hope that this donation will stop the cycle of plastic chairs being used at this beautiful park. May these benches help keep Herman Franks Dog Park a clean, sustainable, and enjoyable spot for dogs and their humans for years to come."
---
Nuzzles & Co. Rescue Dogs go to loving homes - Jenny C
Last November, Nuzzles & Co. received a call about seven young puppies in a remote area who were in need of our help. The puppies were found in a cardboard box in a dumpster, with no mother in sight. Our rescue van was hours away, but one of our dedicated volunteers cared for them until we arrived on the scene. There were many times our staff worried the puppies were not going to make it. But they did! All seven of them survived after medical treatment and care, and they were ready to be adopted just in time for the Holidays! We knew these puppies needed to find the best homes with families who treasure them as much as we did. Luckily for us, Mark Miller Subaru's adoption event was just around the corner. The puppies made their debut at the Mark Miller Subaru adoption event, sponsored by our friends from ASPCA and Subaru of America. Thanks to our amazing partners, the adoption fees were covered. These puppies were a big hit! Hundreds of holiday shoppers gathered around to adopt our cute puppies. The attention was almost too much to handle, and In fact, one shopper loved one puppy so much that he thought he'd skip the adoption process and take the puppy home right away. Once our team noticed the puppy was missing, we alerted authorities right away. As our local police went into action, Mark Miller Subaru's team rushed to spread the word to find our missing puppy. With the support of the community and the Mark Miller Subaru team, we received a Christmas miracle when Officer Smith returned the puppy about an hour later! We are so honored to be a part of the Mark Miller Subaru family, who not only sponsored the event with the help of the ASPCA and Subaru of America, but who SAVED THE DAY by helping us get each puppy into a loving home.
---
Service Paws & Patriots - Kelley R
When members of the armed forces head into battle, they do so selflessly with a sense of pride and love for our country. These brave men and women sacrifice so much to protect and defend the freedoms that civilians enjoy on a daily basis. Upon their return, though, many service members find it difficult to reintegrate back into society because of the difficult circumstances they faced while in active duty. While their faces may light up with joy upon being reunited with family, many are plagued with dark memories that are not easily erased. Mark Miller Subaru believes wholeheartedly that we have a social responsibility to help 'ease' their transition home because, after all, our 'home' – this country we all love - exists because of their brave service. One of the ways Mark Miller Subaru is able to support Veterans in our community is through the partnership with The Malinois Foundation. The Foundation is a local charity that provides fully-trained and accredited service animals for Veterans who've experienced mental, emotional, or physical trauma because of their service. While providing a service animal for a Veteran doesn't erase their lived experience while serving in the armed forces, studies show that "Veterans with service dogs had significantly lower levels of PTSD symptomology than those who did not have a service dog. They also had lower levels of depression, lower anxiety and increased social participation, meaning a willingness to leave their house to engage with society in different activities." (O'Haire). Sadly, though, access to service animals is limited due to the financial investment required to fully train a service animal. In fact, the average cost of a service animal is anywhere between $20,000 - $40,000 depending on their training. This 'out of pocket' expense is unrealistic for a Veteran in-need immediately following their tour of duty. That's where Mark Miller Subaru, with the generous support of Subaru of America, comes to their aide. Working with the Malinois Foundation and community partners like the South Salt Lake Chamber of Commerce, Mark Miller Subaru was honored to place a newly trained service animal, Nicholas, with an Army Veteran during the annual 'Paws for Patriots' campaign. Paws for Patriots has one simple goal: to place services animals into the hands, hearts, and homes of the brave men and women who have sacrificed so much in service to our country. Dan, the Army Veteran who received Nicholas, enlisted in the United States Army with the intention of helping soldiers and their families with emotional distress, but he never imagined that he would need similar help of his own. His entire world turned upside down during a 2008 military deployment in eastern Europe, where he became very ill, and eventually developed the diagnosis of Addison's disease. Upon receiving Nicholas during a placement ceremony last week, Dan mentioned that one of his biggest desires for a service dog was so he could stop being such a burden on his wife, and he said that Nicholas has already improved his life in just one weekend. Dan works for the VA providing support to Veterans in rural areas, so Nicholas will be able to impact even more lives than he has already. The power of the Subaru Love Promise is unmatched because, through it, we can change the world. It was Mark Miller Subaru's honor to help change Dan's world by helping him receive Nicholas. While Dan's past may have once held him back, his future is bright in the hands, er, 'paws' of Nicholas.
---
1 yr., 15 Imprezas, 60k miles, 8,600 lives touched - Mike A
Over the past 12 months, and with the generous support of Mark Miller Subaru, employees and community members of Volunteers of America, Utah have driven more than 60,000 miles across our state, inside of 15 Subaru Imprezas, allowing us to touch the lives of over 8,600 individuals experiencing homelessness, mental illness, and addiction. While these individuals may not have the financial, mental, or physical capacity to own a Subaru of their own, we believe that this should not preclude them from receiving the love and care that a Subaru can so delicately and generously deliver. These Subaru Imprezas empower us to reach those who need our help, and they do so safely throughout the year. This includes, of particular importance, delivering support to individuals who've taken shelter outdoors in the mountain valleys along the Wasatch Front.As one of the VOA's Homeless Outreach Supporters, Mark Miller Subaru has helped to make this outreach effort possible. From assisting with financial contributions to collecting critical resources, such as food, clothing, and health care products, we're able to aid the most vulnerable humans among us. When others look beyond the timid, lost, and sometimes fearful eyes of those in need of help, Volunteers of America and Mark Miller Subaru embrace these souls with open and devoted arms. That's because every human on earth is deserving of compassion and love. It's so fitting that we're able to deliver care in a Subaru because, after all, it's Love that makes a Subaru, a Subaru.
---
Special Delivery: Bleu Spreads Hope & Love - Emily M
The Leukemia & Lymphoma Society had an absolute blast with the folks at Mark Miller Subaru Midtown delivering warmth in the form of blankets and message of hope to the patients at Utah Cancer Specialist Clinic in Murray on June 29th. Megan and her crew at Mark Miller brought along their MVP (Most Valuable Puppy) Suba Bleu to help with the delivery. Before heading inside to deliver blankets, we had the unique opportunity to meet Pat who had just received his last Chemo treatment as we arrived for our delivery. As he left the clinic he rang the last treatment triumph bell. Pat and his wife were kind enough to join us for the blanket delivery pictures outside. Mark Miller employees and LLS staff alike celebrated Pat's accomplishment as he gave his wife a sweet kiss. After congratulating Pat, Bleu and the rest of our gang headed inside to delivery blankets and messages of hope to the patients in the clinic receiving treatment. Bleu was definitely the hit of the day- spreading happiness and cheer to all he came in contact with. "It's amazing what a nice gift and a dog can do for these patients." Michelle of Utah Cancer Specialist remarked, "When patients are made happy during treatment, blood pressure decreases and their stress levels are lowered. We love when our patients receive notes of encouragement, a warm blanket or a furry visitor; getting all three today is such a treat!" Bleu was sure to stop at each patient and all the clinic staff to give them a friendly hello. All of us at The Leukemia & Lymphoma Society are so thankful for the partnership we have with Mark Miller Subaru and we want to give a special shout out to Suba Bleu, Megan, and the other Subaru employees present at this delivery for being so friendly and loving to the patients at Utah Cancer Specialist!
---
Getting our hands dirty to help the earth - Grace O
Since environmental threats impact everyone, it's vital to work in many different communities in order to learn what they prioritize and to help them make local changes. But as a small nonprofit, having the resources -- from travel capabilities to staff time -- to do this can sometimes be tight. Luckily, Mark Miller Subaru recognizes the importance of this and took action with us this Earth Day to work in a community outside of our Salt Lake City limits in a way that mattered to the local neighborhood. Ready with work gloves, sunscreen, and determination, we went down to Sandy, UT with Mark Miller Subaru to spend Earth Day cleaning up Dimple Dell Regional Park. The dealership sponsored this community event and as their Subaru Loves the Earth partner, we were able to come along, educate volunteers about our clean air and clean energy campaigns, and get our hands dirty by joining the clean-up! The park has an unfortunate history with people dumping in it, so after the morning orientation and a photo-op with a miniature horse, who was there for moral support, we went into the hills of the 646 acre park with 500 other volunteers to clean up trash that ranged from plastic water bottles to mattresses. At the end of the day, 5.36 tons of trash came out of the park and we, thanks to Mark Miller Subaru's support, were able to be active in a community in a meaningful way.
---
Breathe Clean & Flow - A Practice for Clean Air - Hannah W
Standing up for clean air. Subarus and a pup named Suba Bleu. A thoughtful yoga practice. Who knew these things could come together with such harmony! HEAL Utah is a small environmental nonprofit fortunate enough to be Mark Miller Subaru's Subaru Loves the Earth partner for 2018. HEAL stands for Healthy Environment Alliance, and with community allies like Mark Miller Subaru, we are able to make an important difference in our state. With a staff of six, we are constantly planning and implementing a range of solutions to help clean Utah's air, transition to renewable energy, protect our state from toxic threats such as nuclear waste, and addressing climate change. In addition to working on policy and regulatory efforts, a vital part of our success lies in educating the public and giving them the tools to make meaningful changes in their own lives and make their voices heard. Mark Miller Subaru jumped right in to help HEAL get the word out about making our state a healthier place to live, work, and play, with a specific focus on addressing our state's air pollution problem. As HEAL and the Mark Miller Subaru team planned our Do Good Feel Good collaborations, we learned a special someone ALSO cares a lot about clean air in Utah: Suba Bleu Miller. The dealership's furry Love Promise Ambassador loves clean air and playing outside, and he knows that all of our pets AND our humans need environments free from pollution to thrive. Bleu wanted to help us educate the public about Utah's pollution problems, and what better way to be mindful of pollution and our health than through the practice of yoga?! So in one of their random acts of kindness Bleu and Mark Miller Subaru sponsored an evening of rooftop yoga and a happy hour with us at HEAL and our friends at SEEK Studio. Over 60 people came to enjoy this beautiful spring evening to reflect on our air, breathe deeply, connect with the community, and learn about what we can all do to stand up for clean air. SEEK owner Sarah Betts led the practice, saying "In many ways this practice of yoga is a practice of activism, of learning what it is that's important in your life beyond job titles, incomes, and general busyness of life. You show up here on your mat to practice standing up for something you believe in, and that starts right here in your body - actively deciding to take better care of yourself. And over time, what felt like a small step - a few "down dogs" and some time in half pigeon - turns into something bigger as your practice becomes one of improving not just your body but the world it lives in day in and day out. So, as we flow out here in this incredible evening under the blue sky, breathing in the fresh air, I invite you to become your own activist, starting here in your body to improve the conditions of the vessel that carries you throughout your day, and expanding outward into your community, deciding what it is that you care to improve, for yourself and so many others that share these resources." After yoga, HEAL shared details about Utah's air pollution challenges, solutions we are working on, and ways that anyone can get involved to make a difference. Megan and Bleu from Mark Miller Subaru talked about their efforts to share the love and work with organizations like HEAL to spur change. Everyone learned something from Bleu that day. We all left feeling empowered to do good for ourselves, our communities, and the environment. Thank you Mark Miller Subaru for your support of a HEALthy Utah!
---
PRIDE in their Community - Kelley R
It is no secret that Mark Miller Subaru is a strong supporter of the LGBTQ Community but I don't think everyone knows just how far that impact reaches. Without MMS we would not be able to place the number of Service Dogs we do and one story in particular shows their impact on the LGBTQ Community. Buddy served honorably in the military, but because of his sexual orientation he suffered more personally than many Veterans. While serving his country he endured many hardships including Military Sexual Trauma. Once back home he had severe PTSD and feared to leave his home. This is how Buddy lived for years until he met us (The Malinois Foundation). We immediately knew we needed to help Buddy find his freedom again and set to work. Because of MMS and their incredible support of our organization, we were able to place Marley with Buddy as a service animal. The impact on this life was immediate. This man who risked his life for our freedoms suddenly was regaining his. Without Mark Miller Subaru we would not have been able to help this amazing Veteran as quickly as we did. It is so important to take a stand and show that ALL Veterans matter. Their support is not surface deep. Their roots are reaching the most vulnerable community members and we could not be prouder to be a part of it!
---
Utah Grizzlies - Military Appreciation Night - Kelley R
Our mission is clear: Provide as many Active Military and Veterans with life-saving Service Dogs as possible. What isn't always so easy is getting our message to the people who need to hear it most. That is where Mark Miller Subaru comes in. The meaningful, life changing connections we were able to make at the Utah Grizzlies Military Appreciation Night because of Mark Miller Subaru is astounding. There are so many lives that will forever be benefited by the knowledge of how to obtain the Service Dog they need, and we are so grateful to Mark Miller Subaru for giving us the platform to reach the people who needed us most. They gave us the space to invite out the Veterans we have already helped and share their journeys with people who might have otherwise given up hope. They gave a voice to our mission, a jump start to help Veterans in our community, and brought hope to many active Military and Veterans who could really use our help! Every Service Dog we place serves an important mission and because of Mark Miller Subaru we will be able to reach even more people and save more lives; one Service Dog at a time.
---
Math Adds Up Activity Center - Kiki M
United Way of Salt Lake has been working closely with the City of South Salt Lake to achieve results for the region's children and families. As part of a strategy to improve 8th Grade Math, a dinner was held at Kearns Jr. High to engage parents and their 7th grade students to explain the importance of Math proficiency and get them excited about the new efforts and energy focused on improving Math at their school. Mark Miller Subaru made many contributions to the successful execution of this event, but most importantly, they volunteered to provide childcare so the parents with younger children could attend without having to employ a babysitter. The childcare was a tremendous hit with both kids and their parents! Mark Miller Subaru staff invited two of their Love Promise Partners, Nuzzles & Co. and the Malinois Foundation to assist with their "Subaru Loves Pets" theme. Between the two partners, the children were able to free play with puppies in a snuggle lounge, and learn how Service Dogs are trained and how people should interact with them. Mark Miller Subaru even brought their own Suba Bleu Miller to perform tricks and deliver treats to the kids! In addition to all of these dog activities, the crew also provided a healthy dinner, and conducted several other activities for the kids including coloring and activity sheets. The childcare was a great service allowing the parents to focus on the presentations and conversations going on upstairs without having to worry about their younger children who were in good hands with the Mark Miller Subaru team.
---
A Christmas Miracle - Reini B
My dear friend was diagnosed w stage 4 breast cancer. She is currently fighting for her life as the cancer has spread through her brain and her body. There are no further treatment options left. She is currently on hospice. She is 35 and married to an incredible husband. Together they have 3 boys, ages 9, 6, and 4.This Christmas, I submitted her story to 105.1's Mark Subaru contest. She was selected. Santa went to their house and delivered Christmas to the Forsyth boys. Their dad said it was incredible and was beyond grateful! It will be a Christmas that they will fotever cherish.
---
12 Strays Of Christmas - Sean H
Mark Miller Subaru is one supporter of Nuzzles & Co. who always goes above and beyond for the cause. Most recently, they set up a series of radio appearances for our organization with a top local station. For 12 weekdays, a different adoptable cat or dog was featured each day and it was aptly named The Twelve Strays Of Christmas. The radio show gave amazing exposure for these animals through the time on the morning show, and through their online audience. So far, EIGHT of those animals have been adopted! We could not thank the Mark Miller team enough for using their reach to set this up for us, and for being there each morning on the radio to encourage listeners to adopt a pet in need of a home. One cat featured, who was an especially heartwarming case for us, was an nine year old cat named Snaggle. Snaggle is a very special boy with a rough history that left him with no teeth, but a warm personality. He had been with Nuzzles & Co. for quite a long time. Not even two weeks after being featured on the radio show and the station's website, Snaggle finally found his perfect, forever family! It was so special for all of us to see, and, of course, it was very special for little Snaggle! I believe it's this kind of happy ending where the Subaru Love Promise is truly realized. The Twelve Strays Of Christmas radio series was not only transformative for the lives of a dozen animals, but also for our organization as a whole. Since it began, we have gained hundreds of new followers on our social channels. We've seen a renewed sense of energy in our employees as people have come in and recognized their favorite animal from the radio. We have heard from new fans who are eager to become long-time supporters. In a sentence, The Twelve Strays Of Christmas campaign was the perfect way to end a good year that catapults us into an even brighter year ahead. Thank you, Mark Miller Subaru, for the tremendous good that you do for animals in need!
---
Mark Miller Subaru warms donors hearts - Sarah C
The culture and daily life at Mark Miller Subaru exudes the Subaru Love Promise. Their impact on the community can be counted in many different ways, within in all of the Love Promise tenets. But none deserve the attention of Subaru more then in Mark Millers commitment to CARE through their relationship with Volunteers of America and the Homeless Youth Resource Center in Salt Lake City UT. Volunteers of America, Utah is a social services non-profit that provides support services for the community's vulnerable groups including those struggling with homelessness, mental illness and addiction. The VOA works to reach and uplift those in the greatest need, breaking down barriers and enabling our clients to transform their lives. No organization has provided more support and resources than Mark Miller Subaru. Mark Millers financial donations this year alone have exceeded $60,000, part of which goes towards providing shelter, food and most of all a safe place for despondent and at-risk youth in the community for almost 2,400 nights. Then there are the countless volunteer hours that the team at Mark Miller puts in at the youth center. 27 Mark Miller team members volunteered with the VOA's Holiday collection and distribution effort for a total of roughly 250 hours. It included an in-store collection effort where employees collected clothes diapers, gloves, hats, wrapping paper, boxes, blankets all to be donated to the VOA. Then they volunteered at the shelter to help sort the hundreds of desperately needed collected items. The items that were collected were immediately distributed to those in critical need especially because the weather is rapidly changing in Utah. Then there are the outreach programs organized by Mark Miller. Mike Aguilar, Mark Miller Subaru marketing manager, created a program with a local LGBTQ resource center called "We See You, and We Love You". This campaign sought to unify people and raise awareness around the suffering of LGBTQ homeless youth in our community. The goal was to distribute 25,000 rainbow wristbands to safe and affirming people who could be seen as a 'beacon of hope' for youth living on the streets. The initiative was so successful that 50,000 wristbands were distributed. Mark Miller also helps by collaborating with other organizations in the community to create additional donations and visibility. Unfortunately, the character limits here won't allow me to expand further, but their impact and commitment are I'm sure a shining example of what Subaru and Mark Miller stands for.
---
Project Oxygen plants over 2,000 trees! - Amy M
Project Oxygen, a tree-planting collaboration between Mark Miller Subaru and TreeUtah, was a huge success on October 21st, 2017. Over 60 community volunteers showed up on the brisk Saturday morning to plant 2,000 Cottonwood and Coyote Willow trees along the banks of the Jordan River in Taylorsville. The river in this section will benefit from the stabilizing force of the quick-growing willow roots, which will also allow time for the cottonwood trees to grow up within them to re-establish the forest canopy in the future. The water quality in the Jordan River will improve, and most importantly, our air in the Salt Lake Valley will be that much more clear, thanks to Mark Miller Subaru's Project Oxygen!
---
Uinta Senior Citizens Inc. recieves 1 of 50 cars - Amy K
https://www.uintacountyherald.com/article/local-senior-center-one-of-50-across-nation-to-receive-new-subaru-to-help-feed-homebound-senior-citizens. By: Cal Tatum, Herald Reporter -For the past 10 years, Subaru has partnered with Meals on Wheels, donating more than $12 million and providing funding for about 1.7 million meals. In celebration of its 50th anniversary, Subaru America is donating 50 Subaru Outbacks to a Meals on Wheels programs, and Uinta Senior Citizens Inc. of Evanston was chosen to receive one of the custom-wrapped cars.To thank Subaru America for its donation, the senior center and the Evanston Choir got together last month and filmed a video of them singing a slightly rewritten version of the theme song from the show "Golden Girls," titled "Thank You for Being a Friend." Mark Madia led the vocal group and videotaped the song. Subaru's partnership with Meals on Wheels is a part of their Subaru Loves to Help program. It is an effort to make a positive impact on communities nationwide.The Uinta Senior Center transports nearly 90 meals per day in Evanston and about 50 meals in Bridger Valley. The centers also serve between 40 and 80 meals per day. Last year Subaru donated more than $23.4 million to national and local charities and throughout the life of the program the car company has donated more than $94 million.Senior center officials loaded up their vans on Monday, Nov. 20, to celebrate in Salt Lake City, where they picked up their new wheels.
---
Supporting local businesses in Salt Lake City - Amanda R
My name is Amanda Robison, and my dream of owning a small business in Salt Lake City has come true, thanks to the support of Mark Miller Subaru. My business, Green City Seam, has a mission to keep local, outdated promotional banners out of the landfill by upcycling them into dog collars, leashes, bags, lanyards, etc. This opportunity has allowed me to use my passion of sewing and creating, into becoming an entrepreneur and small business owner. Mark Miller Subaru doesn't just say they care about our community and earth, they show it through everything they do, and their support of small businesses is outstanding. I couldn't be more appreciative of them providing me with this opportunity, and I look forward to growing my business, and helping more organizations throughout the Wasatch Front, like Mark Miller Subaru, take further steps towards being green.
---
Mark Miller Subaru - Day of Service Field Trip - Megan R
The Mark Miller Subaru team is committed to doing what it takes to make the world a better place, and one of the easiest ways to achieve that is by supporting organizations who have the same goals. On Sunday October 22nd, the employees at Mark Miller Subaru took a field trip to two very inspiring organizations: Nuzzles & Co. Rescue Ranch and the Homeless Youth Resource Center. At the Nuzzles & Co. Rescue Ranch, we were greeted by a room full of cats who are nearing the end of their life, and Nuzzles & Co. is committed to providing them with somewhere to be comfortable up until the very end. After touring their facility and helping with service projects, it is very clear that Nuzzles & Co. really means what they say: EVERY animal deserves a second chance.After visiting Nuzzles & Co., we made our way to the Homeless Youth Resource Center to tour the facility and learn about the resources they provide for those in need. Learning that their permit only allows them to sleep 30 individuals each night so they must turn away any additional youth, seeing a young mom there with her two babies, and learning that most youth end up there because their parents are sex workers, addicted to drugs, or just abandoned them altogether, were just a few of the reasons that made this a heart wrenching experience. Although this is all very difficult to take in, it is reality, and it is an amazing feeling to know that the Youth Resource Center is there for those individuals in need.
---
A Memorable Evening For Our Homeless Youth - Sarah C
Volunteers of America, Utah is a social services non-profit that supports and empowers our community's vulnerable groups including those struggling with homelessness, mental illness and addiction. We work to reach and uplift those in the greatest need, breaking down barriers and enabling our clients to transform their lives. Through our partnership with Mark Miller Subaru, we were able to create a memorable and cherished memory in the lives of many of our homeless and at-risk youth. The youth at the Volunteers of America, Utah Youth Resource Center were served dinner by our volunteers alongside new Utah Jazz player, Ricky Rubio. After dinner, the youth got to play some one on one on the court against this local NBA player. "This is the best day of my life, my birthday is in two weeks - I couldn't have gotten a better birthday present!" said one of our youth clients.With everyone's support, we were able to give this special gift to to this individual and others who use our facility - and what an marvelous gift that is!
---
Suba Bleu Miller's Adopt-A-Versary! - Megan R
Mark Miller Subaru not only loves pets, they love helping homeless pets find their forever homes! Using financial support generously donated by ASPCA through the Subaru Share The Love event, and by partnering with Nuzzles & Co., 19 animals found their "Furr-Ever" home during Suba Bleu's Adopt-A-Versary. Suba Bleu himself was adopted by Mark Miller Subaru a year ago from the Humane Society of Utah. This celebration of his life was to recognize him for helping Mark Miller Subaru "Leave A Mark" on people and pets in our community. For his "Adopt-A-Versary" Bleu didn't accept gifts, he helped give the gift of life to other homeless pets. In addition to celebrating Bleu, Mark Miller Subaru excitedly launched the all-new 2018 Crosstrek (Suba Bleu's favorite car). Taking cues from the new Subaru Crosstrek Commercial, we agree that "Love Is Out There." We invite people to find it, with an adopted shelter pet by their side. Like Butch from the Subaru commercial, love is easy to find – even in unexpected places. Hundreds of visitors attended Bleu's Adopt-A-Versary, with some traveling from near and far (there was even a couple from Wyoming!) to meet Suba Bleu, and to find a new addition for their family. Thank you Subaru and the ASPCA for making this special day possible.
---
Subaru Loves Science - Laura C
Discovery Gateway Children's Museum has brought science into classrooms across Utah for the past 20 years. Each year, our educators travel to every corner of the state and bring chemistry to nearly 50,000 fifth-grade students and teachers in 614 schools. We are committed to sharing our love of science even if that means driving through a foot of snow or traveling several hours to a school with a single fifth-grade student. Teachers, like Mary Willis at Lake Powell School in Kane School District, appreciate that Discovery Gateway Children's Museum makes an extra effort to reach the rural and more isolated schools "…where we are so far away from things, our students do not have opportunities to visit places for hands-on experiences." We are so grateful to have partnered with Mark Miller Subaru to help our education team reach these schools. With a safe and reliable Subaru, educators can focus solely on instilling a love of learning about science in the students.
---
Veterans and the Subaru Love Paw-mise - Kelley R
Placing a service dog has an impact greater than most of us could fathom, but Christine put to words what that impact is for her, "to live and not merely exist." It is hard to believe that someone's life can be changed in a moment, but this is what happened for Christine the moment she was handed Tink. The Malinois Foundation was founded to place these life saving dogs with the brave American's who risked everything for our freedoms. The time, commitment, and cost of doing this, however, leaves this much needed service unavailable to many our Veterans. Despite our countless volunteer hours and fundraising efforts, we could not provide the service we do without incredible community partners like Mark Miller Subaru. I struggle to finds the words to describe the impact their generosity has on our organization and our Veterans. We are not just placing a service animal with a Veteran, we are saving a life. We are giving our Veterans back the freedoms they lost while protecting ours. We are telling our local Veterans that we have not forgotten the sacrifices they have made for us. We are saying "thank you" one service dog at a time, and this would not be possible without community partners like Mark Miller Subaru.
---
MMS Loves [Houston's Homeless] Pets - Becky V
It certainly comes as no surprise to me that Mark Miller Subaru "Loves Pets." From adopting a homeless dog – Suba Bleu – in an effort to promote "adopt don't shop," to saving 85+ homeless animals from Arizona's Navajo Reservation, Mark Miller Subaru works tirelessly to give homeless animals a voice in our community. This past weekend, Mark Miller Subaru extended a loving hand to a special population of homeless animals in desperate need. While it's impossible to prepare for catastrophic events like Hurricane Harvey and Irma, Mark Miller Subaru is committed to helping homeless pets at a moment's notice, wherever they live. With the help of CAWS, a locally based animal shelter, Utah received roughly 140 animals who were homeless in the greater Houston area following Hurricane Harvey. To make room in Houston's shelters for animals needing to be reunited with families, Salt Lake City flew in some of these homeless animals to help. This made certain that 1) the animals who were missing from families would benefit from the City's limited resources; 2) that homeless animals in Houston would not be euthanized; 3) that these amazing animals would not be forgotten. Mark Miller Subaru helped cover the cost of a special clinic which provided for the neutering of these pets, all essential vaccinations, and immediate attention to life threatening illness or injury sustained by Hurricane Harvey. These pets, once homeless, scared, & alone because of Harvey, now have a second chance at life.
---
Making a Difference in Cambodia - Cortney W
This summer I had the amazing opportunity to travel to Cambodia for a Medical Outreach trip. While we were there we held six clinics in rural areas for those who are out of reach to receive medical care. We also had the opportunity to go to a Primary school for an education day. We, as a volunteer group, were in charge of preparing the lesson for the students. I talked to people who were from Cambodia and who had lived there themselves in order to plan a lesson that would positively impact the lives of the students. After discussing a few ideas with them I learned that the hygiene in Cambodia is very poor. We made a plan to teach the students about proper hygiene. Thanks to Mark Miller Subaru we were able to purchase 175 hygiene kits to hand out after the lesson to each of the teachers and students. I believe we made an impact on the lives of those who were present. We sent them off with the right tools to stay healthy by practicing good hygiene. This would not have been possible if it were not for the donation of Mark Miller Subaru. Thank you so much for your generosity! It has made a huge impact in the lives of those students and the volunteers who were involved. Thank You!
---
Saving Sadie: A mission for the most vulnerable - Beth L
This May, Nuzzles & Co. Pet Rescue and Adoption partnered with Mark Miller Subaru to make a trip to help save shelter animals at the Navajo Nation Reservation. There are scarce resources to save animals locally, but by collaborating with us, together we saved 86 animals in one day. One of the very special animals in this group was Sadie. This young, homeless mother dog had just given birth to a litter of puppies. While scavenging for food, she was caught in a wildlife trap just several yards away from her babies. Unable to get back to nurse them, she chewed her own leg off to free herself from the trap. She returned to her babies, bleeding heavily but able to finally feed them. She and her babies were on the brink of death when we found them. Mark Miller flew them back to Nuzzles' Rescue Ranch, where they received live-saving medical attention, including a surgical amputation of the rest of Sadie's leg. Soon, she was adopted to a loving family and knows comfort and safety for the first time in her life. We celebrated this story at Nuzzles' annual fundraising gala this month, where Mark Miller Subaru again came through to help raise additional funds. They not only attended, but also helped Nuzzles raise $14k through a drawing for a trip for two to Paris. Every dollar will go to save more animals like Sadie—the most vulnerable who just need someone to take a chance on them. Thank you, Mark Miller Subaru, for giving, time and time again, to help us save those who need us most.
---
20 businesses 18 charities 1 Subaru Love Promise - Jenny C
Charity golf tournaments are common place. But in true Subaru fashion, Mark Miller Subaru (MMS) took the path less traveled and revolutionized a typical golf outing. This year, MMS decided to unite both their charity & business partners under the banner of the Love Promise. Non-profits are usually hyper focused on raising funds to support their missions & rarely have a chance to celebrate the work of other charities. It's unfortunate because, at the end of the day, we're all in this together. We all work to make our world a better place. MMS provided us with that unique opportunity! Each hole represented a charitable partner working to "#LeaveAMARK" on our home, and those who participated got to meet all of us! Also, each charity was partnered with a business partner of MMS which wasn't just by chance; it was with intention. MMS is working to encourage their business partners to incorporate principles of the Love Promise in their own business. Because just like many non-profits exist to improve the world, MMS believes that businesses, specifically their partners, should join in this endeavor. By introducing us to their partners, MMS opened important doors for us, doors that may eventually to sustain our future. While it's easy to keep things the same, Mark Miller Subaru knows that any opportunity to support one charity should be used to support all charities. I'm proud to say that I saw the Subaru Love Promise coming alive on this special day.
---
Mark Miller Subaru helps make the arts accessible! - Shandra B
Art Access is an organization that works to make the arts accessible for all Utahns by providing creative opportunities for people with disabilities and other marginalized communities and through public engagement in the arts. This year was our first working with Mark Miller Subaru, and we could not be more grateful and proud to partner with Subaru's Love Promise. Not only have they made a tremendous impact on our work, but they do it with such love and support; consistently showing up all around the community with passion for the people we serve. Mark Miller Subaru sponsored our 300 Plates Exhibition and Fundraiser, which funds half of our programs. Thanks to Mark Miller Subaru we are able to run programs like our veterans art workshops, art therapy for survivors of sexual trauma, artist residencies for children with disabilities and professional development for artists with disabilities. The arts are critical for self-expression, self-esteem, community building and building compassion and understanding in our society. Having access to the arts is transformative for those we serve. One of the participants of our art therapy for survivors workshop said "This was an incredibly powerful, positive way to process what happened to me as a teenager in a safe, supportive environment.Thank you so much for providing this kind of healing opportunity". Moments like this would not be possible without the help of the Love Promise and our friends at Mark Miller Subaru, thank you!
---
Proud to be a part of the Love Promise - Monica O
The Utah Pride Center has had the fortune of working with the Mark Miller Subaru team for the past few years. They have sponsored and supported many of our events, helping us to raise awareness for our organization and the unique issues within the LGBTQ community. Additionally, the support they have provided helps us fund essential, lifesaving programs offered by the Utah Pride Center. As part of their Love Promise, Mark Miller Subaru has gone above and beyond to help one of our most vulnerable populations, LGBTQ homeless youth. Developing partnerships with the Utah Pride Center and the Volunteers of America Youth Resource Center, they have provided outreach and resources to provide a strong sense of community and support for this population. Mark Miller Subaru's commitment "to be a positive force in something bigger" is making a significant impact in our LGBTQ community. Their passion for giving is making a huge difference in ALL communities.
---
United in Art, Celebrated through Love. - Mason F
As an artist and member of the Utah Arts Festival organization (UAF), I have the unique opportunity to view the world through the creative eyes of individuals on a daily basis. UAF, for example, brings people together from all walks of life in celebration of their individual world views, regardless of those views, which manifest into beautiful reality through art. UAF's 2017 theme of "United in Art" sought to elevate our community beyond the political and social spheres towards a dimension of collaboration, celebration, and, above all else, unity. What better brand to unite others than Subaru, the 50-year-old automotive company built on one simple concept: Love. With the help of the Mark Miller Subaru, I developed a large-scale mural which embraces the beautiful Utah landscape & integrated feelings of unity and love, themes embraced by Subaru. I then welcomed members of the community to join me in bringing this artwork to life. A defining moment for me in this process was when children from the local homeless youth shelter assisted my team in creating this masterpiece. These youth have very little in this world. But for a brief moment, and through the power of art, we were able to elevate them to a different universe; a universe where it doesn't matter who they are, what matters is that 'they too can make this world beautiful.' To the naked eye it may seem like a simple piece of art, but to me, Subaru &, most importantly, to the youth who participated: it a symbol of love.
---
Subaru and NWF Love the Earth! - Josh L
We won a garden from Subaru! We have flowers for a 4'x16' garden, and today they delivered bird feeders, houses, and tools for use with the garden. We are excited to get it in!
---
Sharing Love Leads To Magical Smiles! - Stephanie S
Ronald McDonald Houses are specifically designed to support families while their children are undergoing treatment at nearby medical centers, but we know it is also important to reach out to the young patients, too, as they oftentimes face devastating challenges. For these courageous children, we also want to offer special joyous moments and little pick-me-ups that acknowledge successes and triumphs as well sparking hope during setbacks. And, well, sometimes that takes a little magic. And that magic sparked inside of our 'House that Love Built' thanks to Mark Miller Subaru and Subaru of America's "Share The Love" program! When our local Ronald McDonald House expanded several years ago, we included a special, magical space designed for children: The Magic Room. This special room has become a place where children can go on days of triumph & days of difficulty. In a beautifully decorated atmosphere of fantasy & mystery they choose a special toy to keep for celebration or for comfort, allowing them to simply be children and to spark the glow of wonder that best defines childhood. Stocked with toys to suit every age, the Magic Room is a portal to the imaginary worlds that sustain the young in challenging times. We are deeply grateful to Subaru of America's Share The Love campaign and to Mark Miller Subaru for their steadfast support of this special Magic Room. When it comes to magic, Subaru makes for wonderfully enthusiastic wizards! So from the bottom of our hearts, thank you!
---
70 Dogs and Cats, Homeless and Hungry No More. - Beth L
Nuzzles & Co. is a Utah animal rescue that focuses on saving the most vulnerable pets in our region's shelters. The ones in most danger of dying—the injured, the delicate babies, the aging, the disabled, animals with medical needs, and even pregnant mothers. We take a chance on these dogs and cats. They have a lot of love to give, and with a little TLC and medical care, we can get them on their feet and adopted into loving homes. Giving these animals their desperately needed medical care is expensive, but we never met a life that wasn't worth saving. That's why we're dizzyingly grateful for Mark Miller Subaru's help in raising nearly $11,000 this spring to cover the medical expenses of dozens of cats and dogs we've rescued from some of our lowest-funded shelters in the state, on the Navajo Reservation. These dogs and cats have lived their lives on the streets, in snowbanks, behind dumpsters. With minimal scraps for food and hardly any water, they've struggled day-to-day, with most dying from injuries, malnourishment, or dehydration. But with the Navajo Nation's support and incredible help from Mark Miller Subaru, we've not only gathered dozens of homeless dogs and cats and brought them back, but now we can truly give them the medical care and treatment they need: broken legs will be fixed. Fleas and ticks removed. Life-saving surgeries performed. Tummies filled. Babies saved. Thanks to Mark Miller, these animals know they're loved. And that they'll never suffer again.
---
Conservationists and biologists of tomorrow - Joseph D
In partnership with Mark Miller Subaru, HawkWatch International is creating new generations of conservationists and biologists. Sophie Gauthier just graduated from Waterford School as a Cum Laude inductee, National Merit Scholar, and Scholastic Gold Key Award winner in creative writing. She will be attending Lewis and Clark University next fall to obtain a degree in wildlife biology. Sophie is a Bird Docent volunteer for HawkWatch International (HWI), which means she handles our "raptor ambassadors" and takes them out into the community to provide raptor education programs. She became interested in raptors during her freshman year when HWI staff brought a live hawk into her biology class. HWI's "Raptor Biology Through the Seasons" is an informal science and math education program that teaches biology students across the state of Utah topics on raptor biology and ecology, research and data collection, environmental issues and conservation, and discusses career opportunities in science and biology. Pictured here is Sophie handling HWI's Swainson's Hawk, Aymara, while speaking to freshman biology students about her volunteer work. We are so proud of Sophie and wish her the best of luck in college, and know we will be seeing her again soon.
---
105 Days of Love - Jon W
When we came up with the idea of challenging our listeners to do a random act of kindness every day for 105 days, Mark Miller Subaru stepped up in a bif way! They donated hygene kits to a listener who was travelling to Honduras, they helped a Mom who just had heart surgery get her house cleaned and they flew to Southern Utah to help rescue homeless pets. What an incredible team who stepped up the momment we asked for help!
---
Love UT Give UT's Love Subaru - Alex E
Mark Miller Subaru brought Subaru's Love Promise to life in their local community through a partnership with Love UT Give UT, a 24 hour fundraising event hosted by the Community Foundation of Utah and presented by Mark Miller Subaru. Love UT Give UT's vision is a day for Utahns of all backgrounds and beliefs to come together to raise funds for the amazing nonprofit organizations and schools who support this great state. Mark Miller Subaru helped create an experience which brought more than 12,000 people across Utah together, raising $1.085 million and bolstering fundraising for Utah nonprofits. Charitable giving is such a major part of the work they do and is valued greatly by their employees; in fact, since 2010, Mark Miller Subaru has given $1,174,846.99 to local charitable organizations. ALL people who donated had a chance to win a brand new Subaru Impreza from Mark Miller Subaru (the "Love Subaru"). Thank you to everyone for spreading the love, and 'Love is what makes a Subaru, a Subaru.' View our video here: https://www.dropbox.com/sh/lwd9snmwv8o4jx0/AAD-yQunWcc5KO3L04wr_j6Ia?dl=0)
---
A dog to save my life. - Kelley R
At the Malinois Foundation we are so blessed to be able to provide service animals to our Veterans in need. This is the story of one such Veteran we are currently trying to help. "I deployed to Iraq in 2007 & worked in a field hospital. Seeing the things we did in the hospital were ugly in more ways than can be explained. As I returned, it was a battle to return to civilian life. Bouncing from job to job, town to town, I never had a purpose or a plan. At 35 years old, I finally decided to go to school. I am half way through my associates degree. Even in a class room full of students, I still feel alone, depressed & secluded. I try to stay at the school late into the evening.I hate the loneliness I feel. Loneliness seems to be my only companion. I hate being alone. One of the other students has a service dog to aid him. He explained to me the comfort the dog brings him & how it helps keep him calm. The dog keeps him centered. It occurred to me that's what I need in my life. A service dog to keep me calm, centered, & most of all, away from the suicidal thoughts that join me late at night. I want to be happy; I want to have the same companionship that was in the Army; I want peace. I struggle with school, but the only thing that keeps me going is the bigger long term picture. For me, that is not graduating, but staying alive and not succumbing to the demons that plague me. I want the love of a companion. The everlasting love that can come from a dog. And also a best friend."
---
From Homeless to Housing in need of basic needs - Britnee D
Thanks to Mark Miller Subaru, the Housing Authority of Salt Lake City was able to raise over $12,000 for formerly homeless veterans and individuals that are again facing homelessness because of the inability to pay rent or buy essential items like transit passes, blankets and cleaning supplies. Funding for such expenses have been incredibly difficult to come by, but Mark Miller Subaru was able to provide these to our residents. On top of the money donated, they also provided basic needs such as: coats, clothing, hygiene items, and organized a luncheon to thank our homeless programs that served their country. It was incredible to see each resident talk personally with the representatives from Mark Miller Subaru and feel the love that the program was inspired by. The collection of critical resources for Veteran's initiative will not be soon forgotten and each of our residents has voiced their gratefulness for all the support provided. One resident was particularly touched by the donations. This individual had served his country in the Air Force and remarked that after coming home from Vietnam, he didn't feel appreciate for his service. Experiencing homelessness and living on the streets was worse than any wartime he had seen, but he is trying to get things back together at our complex. Seeing the kindness and the donations made him realize how attitudes had changed since he had served. He feels proud again to be a combat Veteran. Thank you Mark Miller Subaru staff!
---
Mark Miller Subaru takes PRIDE in their giving - Monica O
The Utah Pride Center exists to unite, empower and celebrate our LGBTQ community by providing a welcoming and safe place for education, partnerships, services and events which advance our collective health, wellness and success. Mark Miller Subaru has helped us achieve this mission time after time during 2016. Through their sponsorship of the Utah Pride Festival and our Golf and Halloween event, they helped provide celebration and empowerment to over 135,000 participants in the greater Salt Lake Area. Additionally, they were part of the very powerful "We See You, We Love You" campaign which sent out a loving message to homeless youth and others that were struggling during this Holiday Season. Mark Miller Subaru goes above and beyond in ALL communities and believes we are all unique, worthwhile and loved. We enjoy the partnership with Mark Miller Subaru not only because of the financial help they provide, but because we feel that they genuinely care about the issues, the organizations they support, and more importantly the people we each serve. Mark Miller Subaru is truly dedicated to improving the world and the lives of its people. THANK YOU Mark Miller Subaru from the Utah Pride Center!
---
Mark Miller Subaru Barks the Bark with HSU - Jenny C
We save many animals at the Humane Society of Utah. Of the 11,000 lives we are saving this year, Suba Bleu Miller (Bleu for short) is my favorite story! Bleu was found as a stray by a county shelter, adopted, and eventually surrendered by his new owner to us. His history is a bit of a mystery, but I knew he had plenty of love to share. I also knew Mark Miller Subaru needed a "Love Promise Ambassador" to do just that. Bleu would be the perfect fit as a new employee of Mark Miller Subaru, and it was truly love at first sight. Mark Miller Subaru transformed this dog. Once a deserted, skinny, unkempt shelter puppy, now a happy, healthy, and loved part of the Mark Miller Subaru family. And Bleu loves his new job! He travels to various charities bringing joy to those in need. We love our Corporate Partners who help us share the message of adoption, this helps save the lives of countless shelter pets. Mark Miller Subaru does that, and more! They don't just talk the talk, they bark the bark. I speak for the entire Humane Society of Utah when I say, we could not be happier for Bleu and Mark Miller Subaru. And we know that Suba Bleu will be an incredible ambassador of the Subaru Love Promise for many years to come. View story here: https://www.youtube.com/watch?v=W83Yr7GcXdE&feature=youtu.be
---
Team Hawaiian Chaos - Cassie S
We are off next month to the DockDogs World Championship. This will be the 2nd year we have traveled in our Outback. We love that the car gets great gas mileage, does well in the bad weather since we travel from Utah to Iowa and it fits everything we need. We are excited to compete for the the 5th year in a row and hope to bring home another World Champion. Kona was the 2013 Iron Dog Warrior Champion and we have lots of 2nd and 3rd place finishes and have made finals every year. Thank you Subaru for providing a car that gets us around safely to all these events.
---
It takes a community to save a raptor - Joseph D
HawkWatch International works to protect hawks, eagles, owls, and other birds of prey through research and public education. As part of our American Kestrel Study, we partnered with Mark Miller Subaru in Salt Lake City, UT to host a community event to support this project. More than 100 individuals came to the dealership to help us build 75 nest boxes that will be used in our research study. Individuals and family groups received an "assembly kit", built their nest box, and got to sign the back. The boxes were kept by HawkWatch International to be used in their spring 2017 study season. American Kestrels have been in decline for many years, but we do not know why. These nest boxes are installed throughout Utah and monitored by volunteers to collect important information that may help solve this mystery and protect North America's smallest, most colorful falcon. This was a fantastic event full of family fun, live raptors, lessons on conservation, and, most importantly, a message on living a Subaru "Eco-friendly" life! Thanks for your partnership, Mark Miller Subaru!!
---
Mark Miller Subaru Embodies the Love Promise - Aimee D
The goal of the Utah Arts Festival is to introduce people to a breadth of creative works in an effort to expand their view of art and to illustrate the accessibility and relevance of art as individuals and as a community. To achieve this means creating both artistic and human connections with our audience by offering a space for audiences of all tastes, interests, cultural backgrounds and economic standing to come together. We couldn't do that without the support of local companies like Mark Miller Subaru who share a similar philosophy and goals. Mark Miller Subaru has a strong history of community involvement and is committed to creating connections that go beyond simply selling cars. Their investment in the 2016 Utah Arts Festival helped make it possible for us to offer free admission to all members of the public on Thursday, June 23, allowing more than 18,000 people to attend for free. Their involvement holds a "stamp of approval" in our community that I believe helps the organizations they support beyond their financial contributions. They see the vision of our nonprofit organization and understand our capacity to impact community when we work together. With their support we did great things this year, and we know that will continue to build on that in the years to come. Mark Miller Subaru embodies the Subaru Love Promise. They have proven that they are genuinely driven by service, not just within the confines of their dealership, but within the community at large.
---
Building a community through art! - Michael A
For the first time in the 40-year history of the Utah Arts Festival (UAF), the doors of the Festival were open to all people – free of charge – on the first night of the event! This was only possible because Mark Miller Subaru (MMS) joined a handful of other institutions (including the State of Utah) in underwriting costs associated with Festival admission. While this may seem like a relatively small act of kindness, this was one of the most important element's of this year's event. Utah is home to a large minority population (including larger than normal Hispanic and refugee communities) who traditionally cannot afford events like the Arts Festival. MMS decided to support the Festival in making it accessible to all people regardless of their ability to pay. In addition to underwriting admission, MMS hosted a unique "Community Art Project" during the Festival which more than 25,000 people participated in! As the exclusive automotive partner of the Festival, the Outback was named the "Official Vehicle" of the Festival and was wrapped as a giant "Coloring Book" to engage the entire community. This Outback became the most popular, community centered activity of the Festival! It was so popular that members of the MMS team had to continually clean portions of the car to allow for more individuals to participate! The most rewarding part of this community art project, however, was the wide-range of individuals who participated in creating this visually stunning master-piece!
---
Project Oxygen at Mark Miller Subaru - Adia W
For the last two years, Mark Miller Subaru of Salt Lake City, Utah has been a proud partner of Project Oxygen. This partnership, which also includes Salt Lake County Million Trees and local non-profit TreeUtah, is commitment by the dealership to make a positive impact on the environment by planting a tree for every car they sell. This endeavor is part of the dealership's Driving Green program where they participate in numerous sustainable efforts to help improve Utah's poor air quality and give back to the local community. This spring's tree planting event took place on Salt Lake's West side near the Jordan River at a new location along the Jordan River, by the Salt Lake Regional Athletic Complex. Along with Tree Utah and numerous volunteers, we were able to plant 2,000 trees and bring the total up to 10,000 trees planted since the partnership began in 2014. Project Oxygen will hold another tree planting event in the fall to continue efforts in making a lasting impact on our environment.
---
Mark Miller Subaru at the Utah Pride Parade - Adia W
Mark Miller Subaru in Salt Lake City was able to truly lead the way for gay pride at this year's Salt Lake Pride Parade. As the presenting sponsor of both the parade and the festival-opening Sapphire Spectacular Gala, the dealerships support of the LGBTQ community was in full effect. Employees and friends joined to carry banners, pass out wristbands and cupcakes and drive a colorful line-up of Subarus including an Outback wrapped in Pride colors, a Forester, a Crosstrek hybrid and a sleek black WRX tricked out with a four-thousand-dollar sound system that played tunes along the parade route. Mark Miller Subaru was proud to be such a big part of this year's pride festival, and in light of recent events nationally in the gay community, strong support and love for the population locally and beyond keeps becoming more and more important.
---
Microchips Save Lives - Heidi M
We are fortunate to partner with Mark Miller Subaru on a bi-annual basis to offer free microchips for pets in our community. We can't thank them enough for allowing the dogs and cats of Utah to take over the showroom while receiving their life-saving implants! To date, nearly 4,000 pets have received microchips. If that isn't impressive enough, just watch this video https://youtu.be/-5L1Nl3vNIs!
---
Mark Miller Subaru Loves Monarch Butterflies - Adia W
The Butterfly Heroes are at Mark Miller Subaru! The beloved and beautiful Monarch butterfly is a familiar favorite among children and adults alike! Sadly, the decline in milkweed plants that are the only natural home for Monarch larvae has caused the Monarch population to plummet by over 90 percent in recent years. To help raise awareness for this issue, Mark Miller Subaru has partnered with the National Wildlife Federation for the Butterfly Heroes program as part of our Subaru Loves the Earth initiative during the month of April. Do you love butterflies as much as we do? Would you like to learn more about how you can join us in our effort? Stop by either or Midtown or South Towne location to get information on the Butterfly Heroes program, pick up a pack of seeds to start your own butterfly habitat, and help save these beautiful creatures.
---
Fourth Street Clinic - Winter Warmth Drive - Laurel I
At Mark Miller Subaru we teamed up with our Home Town charity, Fourth Street Clinic, to conquer homelessness here in Salt Lake City. So we loaded up a Forester with blankets, jackets, gloves and more to keep them warm! Highlight and right click the following link to learn more about Fourth Street Clinic please visit www.fourthstreetclinic.org or Like our Page on Facebook.
---
Howl-O-Ween pet chipping with Mark Miller Subaru - Heidi M
Mark Miller Subaru loves pets. We truly do. Is there anything better than a tail wagging or a quiet purring as your walk through the door? Many owners gathered at both our locations to keep their pets safe with a microchip. Banfield Pet Hospital was amazing and so were our friends over at Humane Society of Utah. Over 200 pets are now safe!
---
Black Diamond Fundraising Party - Paul D
We were proud to be apart of the 2015 Fall Fundraiser Party in its 22nd year. This is the largest fundraiser of the year for the Utah Avalanche Center and 90% of the event costs are donated, so nearly all of what you spend for an evening of food, drink, prize drawing, socializing, music, and great auction items goes directly to paying for the avalanche advisories and education that you use all winter to have fun and stay safe.
---
20th Annual Charity Golf Tournament - Cody B
A beautiful day greeted many golfers and supporters on the morning of the 20th annual Mark Miller Subaru Charity Golf Tournament. All proceeds benefiting the Humane Society of Utah and the Children's Center. Over $4,500 was donated to both charities. The donations will provide many amenities to beloved pets and resources to children and their families!
---
Urban Arts Festival 2015 - Urban A
Mark Miller Subaru was proud to sponsor the Urban Arts Festival. We loved the creativity that we saw, from all types of artists. Graffiti Murals littered the area bringing a great artistic vibe to the Gateway Mall. Tons of fantastic local rappers gave us real, local jams and helped us dance our way through the day.
---
Who we are is what we leave behind - Solar - Nikki A
"We've got to be environmental stewards. We've got to protect what we have so it's there in the future for your kids and our future grandkids to enjoy" - Jeff Miller At Mark Miller Subaru we believe who we are is what we leave behind. We need to protect and preserve the world we live in. Subaru is a truly different type of car company and same goes for our customers that love the outdoors and adventure. That's why we went solar, because it's the right thing to do. Company: Hunt Electric, Salt Lake City UT Module Count: 684 Panels Electricity Generated: 218 KW Highlight and right click the following link to view our Love Promise in action, https://www.youtube.com/embed/TdMf274U0BU
---
Pride Is...Mark Miller Subaru - Utah Pride F
Since 2010 we have been a very proud sponsor and supporter of the Utah Pride Festival. This year was the biggest and best yet as the LGBT community gathered in downtown Salt Lake City. We featured a very special piece at our booth in which people could write what "Pride Is" to them on the official Subaru Outback. Mark Miller Subaru plans on supporting for years to come.
---
2015 Solar Installation at Mark Miller Subaru - Nikki A
The environment here in Utah continues to be of utmost concern to us at Mark Miller Subaru. It's the place we live, raise our children and holds many of our memories. Our goal is to keep it green and lessen our footprint. Why? Because it's the right thing to do for our customers and for the earth. Come see our installation on 3535 S. State in Salt Lake City Utah.
---
Mark Miller Subaru Keeps Utah Green - All Green E
Subaru of America is truly leading the way for keeping our earth clean and green for many generations to come. During the Subaru Loves The Earth campaign they teamed up with All Green Electronics Recycling for a massive event. Mark Miller Subaru was proud to back that and gathered our own electronics in the showroom. On top of this effort as a dealership we planted another 2,000 trees with TreeUtah to support our own green health in Utah.
---
Mark Miller Subaru and CAWS, Saving Lives - Katy S
Partnering with Mark Miller Subaru for the Do Good Feel Good Event 2015 was an absolute pleasure! Mark Miller helped to raise $13,353.75 for CAWS during this event. This donation will help CAWS save the lives of hundreds of kittens during this summer. We are so grateful and proud to have partnered with Mark Miller. It is so wonderful to know that there are businesses working so hard to support the organizations in the community that they serve. Thank you Mark Miller Subaru!!!
---
Thanks for your community support! - Paul D
Cody, Chris, & Madison have been super supportive of the Utah Avalanche Center and our mission to keep people on top of the Greatest Snow on Earth. They have attended and supported several of our events and made a major donation, all to support the community and a cause they care about. Look at all they are doing for the community and the smart choices they are making to maximize their environmental responsibility - these guys really care about doing well by doing good and have been great to work with. I wish other companies would all be as great to work with.
---
Subaru Loves Pets Partnership - Cody B
The Wasatch Front Subaru Retailers and Mark Miller Midtown never want us to lose our pets! On Feb. 14, 2015, the Humane Society of Utah and Mark Miller Midtown hosted the first quarterly Subaru Loves Pets Event for the year. Free Avid microchips were offered to the public as a community service to increase the likelihood of owners finding their lost furry loved ones. Bringing awareness to the plight of homeless animals in Utah and encouraging the public to microchip their pet as a safe, permanent form of identification, the first Subaru Loves Pets Event was a great success. Over 700 Utah pets now have the means to find their way home in the unfortunate event the pet goes missing. The Humane Society of Utah is grateful for the sponsorship and support from Subaru and looks forward to future collaborative events to service our community and our beloved pets. To view a video recap of the event visit: http://youtu.be/z-IKA7-tOV4
---
Project Oxygen - Amy C
TreeUtah and Mark Miller Subaru began a partnership in early 2014. Since then we have planted 4,000 native trees with help of hundreds of local volunteers. The trees we planted will clean our water and air -- eventually removing almost 200,000 pounds of carbon dioxide a year. All of us at TreeUtah are deeply grateful for Mark Miller Subaru's strong commitment to the environment and our community. We could not have made 2014 such a successful year without their help. We look forward to a continued partnership for years to come. Together, we are making Utah a greener place to live, work and play!
---
Mark Miller supports the Humane Society of Utah - Heidi M
Mark Miller Subaru embodies the spirit of the Subaru Love Promise! On top of sponsorship support that provides necessary funds for our life-saving programs, they actively partner with our organization throughout the year hosting adoption events and microchip clinics to assist us in meeting our most important goal, placing and keeping more animals in loving homes than ever before. We couldn't ask for a better partner!
---
Proud to support Ronald McDonald House Charities - Vickie M
We are so thrilled and truly blessed to be a selected charity of Mark Miller Subaru and be able to participate in the Subaru Share the Love event. What an honor. We are truly grateful to Subaru of America, the Mark Miller Subaru dealership, and their customers who together are striving to make a difference in our community. Like a ripple in a pond, your effects are far reaching. Ronald McDonald House Charities relies heavily on our partners, and we could not fulfill our mission without you. Your kind support means that a mother, father, sibling or grandparent can be there to wrap their child in a familiar hug and whisper words of encouragement and love during the seemingly interminable hospital days. Your support will help nurture parents and caregivers who, exhausted at the end of their long days, will find not only a warm bed, but nourishing food, restorative activities and above all else, comfort and kindness. Your support will allow families to focus on what is most important their children. On behalf of all who will be benefited by your kindness, thank you!
---
Mark Miller Subaru Goes Above And Beyond For Boys & Girls Clubs of Greater Salt Lake - Mike H
Working with Mark Miller Subaru has been an absolute joy. The MMS staff has gone above and beyond to provide the assets, support, and opportunities that will help us drive impact to our organization during the Share the Love event. Most importantly, the MMS staff shared the love in their own way by hosting a successfully winter clothing drive, and treating the kids at our Boys & Girls Clubs to a fun afternoon of tricked-out Subarus and pizza. We are grateful to have this special support from our local Subaru dealership.
---
Mark Miller Subaru's Unique Interest in the Community - Summer S
My first car was a Subaru. I bought it used and abused and it still ran like a champ. I was in love. Eventually, I had to part ways with my beloved GL but I always knew I wanted another Subaru. Years later as a business owner I was approached about partnering on events with Mark Miller Subaru. I, of course, did not hesitate because although I no longer owned a Subaru, I was still a fan. Time went on and several events later I began to realize several things. Subaru itself was amazing. It really had a unique interest in the community and Mark Miller Subaru not only supported events at my store they also graciously contributed to events for the Sugar House community. Pretty soon I had a Subaru again and more and more of my customers followed suit. Do you blame them? Those who drove Subarus were like some crazy family and it was good to be part of the family again. Before I bought my second Subaru I had been hesitant about buying a new car. Okay maybe hesitant is an understatement-I was actually petrified. At this point, I had never had a car payment in my life and was very hesitant to even consider buying a new car. I began to talk to the Event Coordinator, Chris Woolston about my trepidation. He assured me that buying a car from Subaru would not be the experience I was so frightened of. I finally braved visiting the Mark Miller dealership at Southtowne and quickly found out he was right. I ended up getting exactly what I wanted without feeling like I was
---
Caring goes a long way - Lundy W
To the manager, My name is Lundy Wren. I and my granddaughter Kathryn McKeever came to your dealership on June 10, to look for a car. She lives in Cedar City, Utah and had driven up late the night before. We only had one day to get a deal done because she had to be back for work on Wednesday and by the time we reached your store it was late in the afternoon. Manny came out to greet us and right away I felt at ease with his easy demeanor. I could tell right off there would be none of the high pressure sales tactics we had encounter in most every other dealership we had been to throughout the day. He patiently showed her car after car until she found one she loved and let her drive it. It was a White 2013 Subaru Legacy. He took us into your waiting area and offered us refreshments while we got the process started. Both men were extremely knowledgeable of the products and their jobs and took excellent care of us through the entire process. They really seemed to care about us. If they were just acting then they are extremely good actors. I don't think it was an act, I think they really are good at their jobs and really do care about the people they come in contact with. If these two fine gentlemen are any indication of the caliber of people you have working there then it's understandable why you've been in business so long. Please pass my thanks and kudos on to both of them and thank you so much for having them there to help us. Sincerely, Lundy M. Wren
---
Huge Success for Mark Miller and TreeUtah - Amy C
April 21st, 2014 was a huge success for Mark Miller Subaru and TreeUtah. The planting started with Salt Lake County's Mayor, Ben McAdams giving a dedicated kick off speech along with Jeff Miller, General Manager of Mark Miller Subaru. Encouraging words followed by President of TreeUtah, Amy Collins, on how these events truly impact Utah. Together, with all of our volunteers and co-workers we were able to plant 2,000 Trees. A number that marks the half way point to our combined goal of 4,000 trees in Salt Lake County. After all the hard work everyone enjoyed a delicious meal prepared by our cook Jason Greer. The remaining 2,000 trees will be planted this fall, stay tuned and up to date with us as we continue to better our part with emissions and recycling in our day to day business operations and community. We believe in truly making Utah a greener place to live and helping preserve the environment we love so much. Huge thank you to all the volunteers,TreeUtah and other community members. Sincerely, Mark Miller Subaru
---
Mid-Week MTB Race Series - Brooke H
Mark Miller Subaru proudly sponsors the Mid-Week MTB Race Series, a local and organically growing community of riders. Giving every rider the chance to learn and most importantly take a break during the busy week to get out in nature. Goals of the race series: The series is founded on offering a race environment for all ability levels at an affordable price $15. Additionally we offer the opportunity for families to get out together or for a parent to get their children started in mountain biking by offering a FREE kids 12 & under race. If the venue can accommodate we put on 2 FREE kid races, one especially for the little tikes on peddle-less bikes & one for those capable the rip'n groms. Summer nights are purely focused on having fun, racing and spending time together, not only as a partnership but as great friends. Mark Miller Subaru and the Mid-Week MTB Series look forward to years of memories and living the culture of Subaru. Join the fun today. - Mark Miller Subaru
---