What is the Subaru Love Promise?
Subaru and our retailers believe in making the world a better place and the Subaru Love Promise is our vision of respecting all people. This is our commitment to show love and respect to our customers and to work to make a positive impact in the world.
The 2021 Subaru Love Promise Customer and Community Commitment Award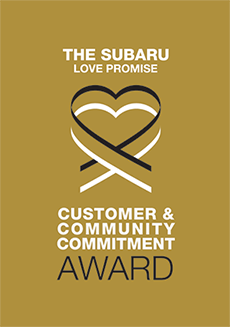 We've been nationally recognized for our dedication to our customers, our community, and the Subaru Love Promise.
We're honored to receive the 2021 Subaru Love Promise Customer and Community Commitment Award. This award nationally recognizes elite Subaru retailers who provide an exceptional customer experience at every interaction with Subaru. These retailers have also demonstrated an outstanding commitment to supporting passions and causes in their local communities in important areas such as the environment, community, health, education, and pets.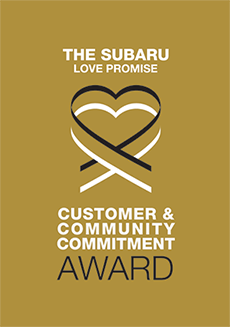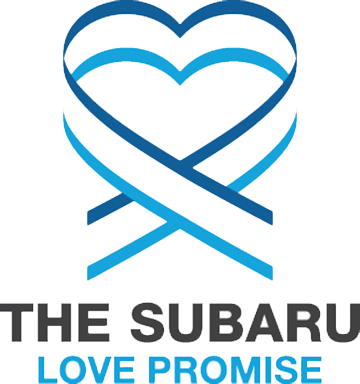 What is the Subaru Love Promise?
Subaru and our retailers believe in making the world a better place and the Subaru Love Promise is our vision of respecting all people. This is our commitment to show love and respect to our customers and to work to make a positive impact in the world.
How is Mark Miller Subaru Midtown dedicated locally to the Love Promise?
At Mark Miller Subaru, our Love Promise to the Utah and the Salt Lake area can be seen in our partnerships with local nonprofits and charities. We are grateful to not only to be part of the Salt Lake community, but to serve it as well.
Discovery Gateway Children's Museum
Big Brothers Big Sisters of Utah
Love Promise Stories from Mark Miller Subaru Midtown
Subaru and Mark Miller Subaru Midtown believe in making a positive impact on the communities in which we live and work. We uphold that belief through our Love Promise Community Commitment. Every month, we select inspiring stories from customers and partners from around our area who strive to support our collective commitment and feature them here
Finding Danica Her Forever Home - Victoria K
We were so happy to partner with Mark Miller Subaru once again for Subaru Loves Pets month and National Make a Dogs Day. Through daily adoption highlights and a free adoption event, we were able to find loving homes for more than 75 homeless pets. This including some hard to adopt Underdogs, like sweet Danica. A three-month-old puppy we named Danica came into our care in July from the Navajo Nation. We were told by our rescue partners that her previous family thought she had been hit by a car and that's why she lacked the complete use of her back legs. Because of Danica's health, her family and they were not able to care for her. After we took her in and had our vet examine and X-ray her, we came to a different diagnosis- Cerebellar hypoplasia or degeneration, either genetic or caused by a distemper virus she had as a puppy. We put her in a foster home that fitted her to a wheelchair and she miraculously began to use her hind legs. We were overjoyed and full of hope by her progress. She came back to us a few weeks later and was spayed, but she was overlooked for adoption everyday. One of our staff members noticed this, so started taking her home nightly and reached out to a local physical therapist, Dr. Hall at Salt Lake Animal Physical Therapy. After a few weeks working with Dr. Hall, she progressed with using her hind legs even more. Now, her back legs are stronger, she loves to play with other dogs, she learned to use a doggy door, can go up and down a small stairway, sleeps all night at the foot of the bed with no accidents-- and is truly an energetic and happy puppy! Yes, she still falls down and will drag herself around, but we know she will continue to gain strength. Although she's not "perfect" she's truly an upbeat dog with lots of love and life to give. Part of what we do at Nuzzles is take in the homeless, abandoned, and pets in need of medical care. Cases like Danica would not have a happy ending if she stayed where she came from, but because of the support from companies like Mark Miller Subaru, Danica isn't overlooked anymore. Danica appeared on KUTV as part of our media blitz for Make A Dog's Day and shortly after, we said goodbye to this sweet girl as she left for her forever home. Some dogs just need a little extra visibility, and we're thankful Mark Miller Subaru offered that to our baby Danica.
---
Rewards = Motivation - Jessica R
Mark Miller Subaru donated $500 to my classroom, allowing me to buy rewards for my students! I love being able to reward my students when they do something that deserves more than a A+ stamp :) Thank you so much for helping me help my students to see that their efforts are not wasted and are appreciated!
---
Uniting to Care for our Community - Joseph D
United Way of Salt Lake hosts an annual Day of Caring for local businesses to participate in volunteer projects to help build, strengthen, and support our local community. Mark Miller Subaru staff have been participating in Day of Caring projects for over 20 years, helping clean and beautify refugee centers, places of worship and schools, preparing packets for Head Start students, and volunteering as student tutors. Every year our staff is ready to roll up our sleeves and tackle whatever project United Way hands us. This year, on September 9, 2021, ten Mark Miller Subaru employees volunteered their time at Midvale Elementary to dismantle and clean-up some old garden beds to create a new buddy garden space for students, complete with a new Little Free Library. Collectively, this year's Day of Caring included 34 companies and nearly 1,000 volunteers who completed projects at 12 school and 18 nonprofits. Mark Miller Subaru and the Miller Family have been long-time supporters of United Way of Salt Lake, supporting the Collective Impact program and Promise Partnership to transform the educational environment for Utah Kids, mentoring 8th grade and 3rd grade math students to reach grade level math through a special iReady program. Mark Miller Subaru is one of the esteemed local businesses with 100% employee participation in the United Way Payroll Giving Program, with every staff member making a payroll donation to United Way. Every August we participate in the Stuff the Bus program to collect school supplies for students at Title I schools. We event hosted a yard sale event at Mark Miller Subaru Midtown to support United Way with items donated from our staff. United Way of Salt Lake has served and strengthened the greater Salt Lake community for 100 years, and Mark Miller Subaru is proud to support their amazing work under the Subaru Love Promise banner! By working together, we focus our resources to make Utah a better place for our students and residents.
---
A Committment to Math Education - Amber C
Focused on the future of our students, the team at Mark Miller Subaru has been committed to excellence in math education in the Granite School District. Over the past two years, they have invested time and resources into helping Mill Creek Elementary develop a one-on-one tutoring program with the school's third-graders to ensure students develop the foundational math skills they will need to be successful in their academic careers and in life. Math skills are academically important as they improve a student's ability to reason and think analytically. Math is also essential to daily life. The ability to reason mathematically helps students make the types of logical and practical decisions that can impact them positively for a lifetime. We LOVE Mark Miller Subaru for its commitment to students and their futures.
---
Nearly $1.5 Million given in 1 Day. That's Love. - Michael R
The metaphorical grapevine began to blossom early on the morning of June 25, 2021 as employees of Mark Miller Subaru awoke to begin their day. That's because word rapidly began to spread among Mark Miller Subaru's 258 employees that its owner, Jeff Miller, had decided to enrich the lives of the entire workforce by investing $1,418,625.00 worth of direct payments to every Mark Miller Subaru employee, an average of $5,498.55 per employee, in one single day of generosity, all in the spirit of the Love Promise. Why? Because, in Jeff's own words, 'caring for our own family is more critical than it has ever been.'The Subaru Love Promise is a powerful tool for creating an immense amount of good in our world. Typically the emphasis on investing financial resources leans in the direction of local charity which is, and will always be, a critical element in ensuring that Subaru continues to be more than a Car Retailer. However, a community of homes can only stand if its foundation is secure. Sadly, the past 18 months have been incredibly challenging for our workforce in a myriad of ways, and the foundation in our community was beginning to crack. While the Miller Family has certainly continued to support charity during the difficult era of Covid-19, Jeff Miller decided that the work to manifest the Love Promise in our community was only one element of lifting people up in their greatest time of need. To that end, Jeff decided that it was time to turn his philanthropic energy inward, and to invest in those employees who not only make Mark Miller Subaru a special place, but who themselves were not immune to the negative impacts that the Pandemic created. So, after some thoughtful consideration of what he could do to positively impact Mark Miller Subaru's workforce, he decided that an investment of nearly $1.5 million dollars directly into the hands of his employees would leave an undeniable MARK on their lives and on the lives of their families… and it did. The Millers have long believed that 'if you take care of your employees, they'll take care of your customers and community, and the rest will take care of itself.' In fact, this belief instantly manifested itself into reality following the news of the financial investment into the Mark Miller Subaru team. Not only was positive energy palpable across our sister stores, but employees began expressing their gratitude by doing what Subaru employees do best: by giving back to the community. Countless employees not only began paying off childcare, housing, and other forms of debt acquired because of the pandemic, but employees began making substantial gifts to local charity in the spirit of the Love Promise! Employees like Marty Hood, a frontline and entry-wage Call Center employee who made a very sizeable and personally meaningful gift to the National Center for Missing and Exploited Children, a charitable cause that has a special place in his heart. Many other organizations benefited from the generosity of Mark Miller Subaru's employees as well! From causes that care for pets to those causes that champion on behalf of our environment, Jeff's investment into his workforce created a large ripple effect that spread positive energy and goodwill throughout the State of Utah, and this is precisely the power that the Subaru Love Promise holds. While some individuals may be hesitant about sharing their personal treasure with others, this philanthropic spirit has never come as a challenge to the Miller family. This generous spirit has been passed down from generation to generation and continues to make Mark Miller Subaru a special place in our local community. Afterall, when our foundation begins to crack it's the Miller family's dedication to the Love Promise that makes our community whole again. On behalf of the 258 employees of Mark Miller Subaru, thank you to Jeff Miller and the Miller family for their generosity, their kindness, and – above all else - for sharing their heart with us in our greatest time of need.
---
Love Promise and Rainbows - Crystal G
As Utah natives and loyal Subaru owners, we were thrilled when we heard that our local Mark Miller Subaru had partnered with Project Rainbow in support of our LGBTQ+ community. We currently own our fifth Subaru because of the safety and reliability that it provides for our family during our summer/winter outdoor adventures. We have also been supporters of Project Rainbow's flag program since we heard about it a few years ago. This year we volunteered to be our neighborhood liaisons to help spread word of their mission even further. The Project Rainbow flag program allows community members to have a rainbow flag staked at their home to help fund campaigns that promote LGBTQ+ visibility throughout Utah. We are a family who values diversity and this is a neat way for us to show our LGBTQ+ ally status. This year we flew our flag extra high, in honor of our middle child who recently came out as non-binary. We feel lucky to raise our children in a world where they have the opportunity to explore who they actually are, instead of who others expect them to be. We are so proud of our child, and it has been fun getting to know them in a whole new way. I can't imagine how freeing it must be! A million thank yous to Mark Miller Subaru and to Project Rainbow for partnering together to stake 4,500 flags during this year's Utah Pride Week! The sight of all the rainbows gave me hope that someday children like mine will be free to just BE.
---
Mark Miller Is Helping Students Master Mathematics - Mike A
Subaru Loves Learning now more than ever. There is certainly no doubt that the Coronavirus Pandemic has had wide-reaching effects on communities across America. One particular group of individuals who has been greatly impacted by the pandemic are school-aged children across our country. In fact, according to Brookins Research, 'the math achievement of students in 2020 was about 5 to 10 percentile points lower compared to same-grade students the prior year." While this decline seems minimal given the circumstances of the pandemic, the problem is actually very troubling when compounded with the annual 'Summer Slide' in educational gains that typically occur over the summer break. Simply put: children are struggling more now than ever before, and they are in desperate need of our help. And through the Subaru Love Promise and the Subaru Loves Learning pillar, Mark Miller Subaru has come together to help in a very big way! In addition to making sizeable financial contributions to help address this problem, Mark Miller himself, along with his son Jeff Miller, and many Mark Miller Subaru employees have stepped-up to help ensure an entire grade-level of students receive the help they need. So Mark, Jeff, and members of the Mark Miller Subaru team began volunteering their mornings at the beginning of the school year with hopes of making a difference in the lives of the roughly 70 3rd Grade Students at Mill Creek Elementary, a Title 1 School in an impoverished neighborhood of Salt Lake City. The overwhelming majority of these children, who already are at a socio-economic disadvantage, were testing at/or below grade-level competency in mathematics. For all intents and purposes, the proverbial cards are stacked against these young students. However, with Mark Miller Subaru's intervention and with the help of remarkable tutors from Mark Miller Subaru's employee roster and members of the community at-large, students are getting the support they need to learn the critical concepts needed for success in mathematics. Tutoring by members of the Mark Miller Subaru team, which occurs 4-days a week from 8:45 am – 9:30 am, has helped students master core concepts in mathematics at a growth rate greater than that of students without a tutor from Mark Miller Subaru. While the school year isn't over, and members of the Mark Miller Subaru team are committed to seeing this project through until the end, we wanted to take a moment to pause and celebrate our efforts at Mill Creek Elementary. While it has been a lot of hard work, it has been worth every early morning. We know, beyond a shadow of a doubt, that the time we're spending with these young children is making a difference on their lives and is setting them up for long-term academic success. In Fact: since the beginning of the school year, we've seen a remarkable improvement in their understanding of fundamental principles. As you can see in the attached graph, only 7% of students started their schoolyear on 'Grade Level', (meaning they were prepared for the school-year), whereas 41% of students were two-or-more grade-levels behind. As of our most recent diagnostic, 41% of students are now at 'Grade Level' competency, and only 24% of students are two-or-more grade levels behind. Simply put, what we are doing is working!! In fact, our success caught the eye of a local newspaper who recently featured us on the cover of their publication. Check it out here: https://issuu.com/mycityjournals/docs/millcreek_se_mar_webIn conclusion, while Mark Miller Subaru is doing this important work as part of our Loves Learning commitment because it's the right thing to do… who know, maybe one of these young students will eventually grow-up to be an employee of Mark Miller Subaru or even an employee of Subaru of America. It's entirely possible! Regardless of what these young children grow-up to do, we know that they'll become highly productive and respected members of society, and it's truly humbling to know that Mark Miller Subaru and Subaru of America, through our Subaru Loves Learning mission, played a critical role in their future success.
---
Diverting Wrapping Paper from Landfills - Eric M
For the second year in a row, Recycle Utah joined forces with Mark Miller Subaru to encourage Salt Lake County and Summit County residents to recycle their used wrapping paper after the holiday season. Recycle Utah coordinated the delivery of a 30-yard container to the Mark Miller Subaru retailer location and encouraged our online followers and constituents to stop by their location to drop off their wrapping paper for proper recycling. Ultimately, our message is for people to use reusable boxes and reuse tissue paper for wrapping gifts each year and move away from wrapping paper and bows that are considered hard to recycle and wasteful. Many types of wrapping paper contain metals, glitter, glues and other contaminates that prevent it from being recycled like normal copy and newspaper products. It takes extensive attention and effort to ensure only wrapping paper and tissue paper make it into the recycle bins, and avoid mixing it with plastics, cardboard, metal papers, bows, and ribbons that can contaminate the collection and cause it to be shipped to a landfill instead of a paper recycling center. The average 30 yard roll off container holds 30 cubic yards of debris, which is equivalent to about 180 13-gallon (kitchen size) trash bags. Together, Recycle Utah and Mark Miller Subaru helped divert 2,340 gallons worth of used wrapping paper from our local landfills, sending it to be properly recycled. After unwrapping Christmas presents and seeing the mounds of paper in our living rooms, people really want to do the right thing and recycle it, but with all the tape and ribbons and bows, used wrapping paper isn't the easiest to recycle. That's why we encourage people to STOP WRAPPING and START BOXING with holiday festive boxes that can be reused for many years. But until wrapping paper is a thing of the past, Recycle Utah and Mark Miller Subaru will help provide recycling options for those who want to be good environmental stewards.
---
Mark Miller Subaru Loves Pets, Near & Far - Joseph D
Allegra lives in Coupon, Pennsylvania and messaged Suba Bleu Miller via Facebook to ask if we had any more Subaru diamond plate dog balls left (an older Subaru pet toy she picked up a while back). Her lab mix, Remi, had cancer in his hip that required removing the hip and leg to prevent the cancer from spreading. Remi was very attached to the ball since his surgery, carrying it around everywhere. Sadly, the cancer spread to his lungs and Remi is about to undergo further surgery, so Remi's humans were looking for a few extra balls as backups to make sure he had his comfort toys nearby. Although Mark Miller Subaru is based in Salt Lake City and not Allegra's local Subaru retailer, we knew we had to act to give Remi some extra love on National Make a Dog's Day. Unfortunately this specific ball is currently out of stock, but Suba Bleu and Mark Miller Subaru sent a care package of the latest Subaru pet toys in hopes Remi finds one of them as comforting as the ball for his next round of treatment and recuperation. Near or far, it's the Subaru Loves Pets way to care for the underdogs and go above and beyond to serve our customers, wherever they may live! Good luck, Remi – we're rooting for you!
---
Pride on Wheels at the Road Rally - Joseph D
Family, friends, and businesses gathered to celebrate National Coming Out Day on October 11, 2020 during the first-ever Utah Pride Road Rally event, hosted by the Utah Pride Center. More than 300 colorful, decorated, and decked-out cars "dragged" down Main Street in Salt Lake City as hundreds of community members celebrated diversity and inclusion. The event included drag performances, music, and the rainbow of colorful Pride costumes. After the Utah Pride Center had to cancel the annual Utah Pride Festival & Parade (held each June) due to COVID-19, they found a way to bring the community together in a safe and fun way. The Road Rally encouraged participants to show their support for the LGBT community by packing their cars with family and friends from within their bubbles, glamorizing their vehicles, and drive a prescribed route as sponsors cheered them on from the sidelines. Mark Miller Subaru has been a long-time sponsor of the Utah Pride Center and the annual Pride Festival, and was thrilled to join the celebration to support Subaru's commitment to diversity and LOVE. The annual Pride Festival is a major fundraiser for the Utah Pride Center, accounting for nearly 40% of their annual operating budget. The Road Rally not only provided a safe atmosphere for people to celebrate their Pride, it raised crucial funds for the life-saving work of the Utah Pride Center, such as their mental health program, suicide prevention program, and youth and family programs. During the past eight months of the pandemic most people have found comfort and safety in home confinement, but many LGBT youth and senior adults rely on the community space of the Utah Pride Center for connection, interaction, and counseling services. Without this important space, people slip further into isolation and depression. The Road Rally was a successful event in bringing the LGBT community together to see one another -- from a distance -- and re-connect to the faces and support structure that help us remember that together, we will get through this!
---